BT and Salesforce tie up in Cloud of Clouds vision
Salesforce customers can now connect directly to BT Cloud Connect services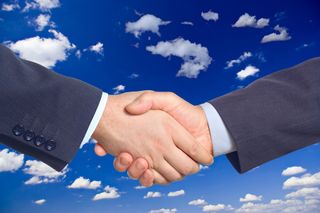 BT and Salesforce have announced a partnership allowing any of Salesforce's customers to connect to BT's Cloud Connect suite of services.
The move will provide Salesforce's customers with more flexibility, promising to boost performance and reliability across many of the applications organisations require access to. BT's Cloud Connect will be available on a number of Salesforce's platforms, including its Customer Success Platform, which helps companies keep in touch with their customers.
"Companies are transforming the way they connect with customers, partners and employees to thrive in today's connected world," Andrew Lawson, managing director of Salesforce in the United Kingdom and Ireland commented. "BT is accelerating this shift for its customers with the addition of Salesforce to its 'Cloud of Clouds' vision."
The move is the next step in BT's Cloud of Clouds vision that hopes to provide a wider variety of cloud services to large companies that need to connect employees based around the globe. In total, BT's Cloud Connect services are available via more than 200 data centres, including 48 owned and operated by the telecommunications firm.
"Organisations look to the cloud to help them manage and access the vast amounts of valuable data they hold, including the crucial customer data at the core of their business," Keith Langridge, vice president, network services at BT Global Services, said.
"Our vision for a 'Cloud of Clouds' makes it easier for organisations to embrace the cloud by providing direct, secure and high performance connectivity to the applications hosted in the cloud. Salesforce is an organisation born of the cloud – a true pioneer of the technology – so this is an important milestone in the delivery of our vision."
Stay up to date with the latest news and analysis from the world of cloud computing with our twice-weekly newsletter
Thank you for signing up to Cloud Pro. You will receive a verification email shortly.
There was a problem. Please refresh the page and try again.