UK datacentre to open in August as Salesforce confirms future European plans
UK datacentre will open in August and operations in France and Germany to launch in 2015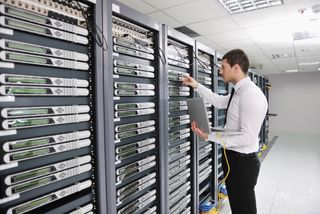 Salesforce's first European datacentre will open its doors for business in August, the SaaS company has confirmed, finally silencing talk about when it would commit to local operations for UK firms.
Against the backdrop of increased European sales, the cloud giant has also confirmed that it will open datacentres in both France and Germany next year.
Overall revenue for its latest fiscal results stood at $1.15 billion - up 37 per cent year-on-year, which the company said was largely bolstered by the acquisition of ExactTarget.
"I'm delighted to announce that we are raising our fiscal year 2015 revenue guidance by $100 million, to reach $5.3 billion, which is a full year growth rate of 30 per cent at the high end of our range," said chairman and CEO Marc Benioff.
Talk of a European datacentre first emerged back in 2010 and a UK base was tipped for 2012. Since then, the SaaS giant has repeatedly reaffirmed its commitment to Europe but hadn't backed it up with datacentre investment. Last year, it confirmed the UK datacentre would launch in 2014.
While some users may suggest the UK datacentre has been a long time coming, Salesforce would argue it has done well in the country without such a presence. Indeed, the company is now investing as a result of the momentum it has gained, rather than in response to pent-up user demand.
"[In terms of delays] I don't think the goal posts have moved as the momentum is there. Of course we'd always like to do things faster than we have done them. But we have the datacentre launching in August and two more so it's onwards and upwards," said Steve Garnett, Salesforce's president of Europe.
Salesforce's recent financial results were released last week and European success was high on the agenda.
"We're all delighted with the results. Europe is 41 per cent up and was the fastest-growing region. We've also just been recognised by Fortune magazine as the most admired software company," Garnett added.
"We've been saying for a while that the momentum in Europe has been fantastic. Off the back of that European customer success, we're opening two more datacentres next year. It's a great commitment to the European business and to the momentum we're gaining here. We currently have five datacentres."
While the SaaS firm has enjoyed success in Europe without any dedicated datacentre operations in those localities, it does hope to generate more business as a result.
Government, in particular, will represent a growing opportunity for the firm, Garnett said, adding that Salesforce is also buoyed by the recently declared 'cloud-first' policy mandated to UK authorities.
"The UK has a growing reputation as the leader in the European digital economy and we welcome this new investment," said Stephen Kelly, chief operating officer for the UK Government.
"Within the UK Government we are driving a policy of 'Cloud First' to improve the way the public sector manages crucial functions, engages with citizens and delivers value for taxpayers."
Garnett added; "We've had tremendous success in Europe without datacentres anyway though. Customers haven't said to us we need a datacentre in our locality as our security, reliability and availability speaks for itself, it's just a commitment from us. It will, though, open up new opportunities for us in very regulated markets.
"The security, reliability and availability our customers have is important as they realise what we offer is substantially better than anything they could provide for themselves. However, we are a global company with a global presence so we want that to be reflected in where our datacentres are located."
The UK Government definitely recognises the power of cloud computing, but is still tied in to legacy contracts which it must sit out before moving on, according to Garnett.
"The likes of Stephen Kelly and the Cabinet Office now recognise [the power of cloud]. They get it in spades and are pushing the government authorities to move that way. It sometimes goes a bit more slowly than we would like but we also have to remember they are committed to long-term contracts and legacy suppliers," he said.
"But they also recognise there are smarter and better ways to do this. In doing so governments will be able to get the same advantages as our commercial customers benefit from as they break free from lengthy contracts with the Oracles and SAPs."
Salesforce will be hiring new staff to reflect both European success and future growth in this geography. Furthermore, it believes customer loyalty will fuel future business in Europe.
"We have a myopic focus on two things 1) Customer success and 2) Innovation. Every CEO on the planet wants to reach out and touch new customers and when they do grab hold of them and keep them. When your customers are successful and happy, the secondary effect is growth. This is reflected in our results and our recognition," Garnett said.
"Attrition rates have dropped to an all-time low. They are continuing to fall as a result of the tremendous customer success we are experiencing. We want to continue to focus on innovation. We have a myopic focus on our customers being successful with our technology."
Stay up to date with the latest news and analysis from the world of cloud computing with our twice-weekly newsletter
Maggie has been a journalist since 1999. She started her career as an editorial assistant on then-weekly magazine Computing, before working her way up to senior reporter level. After several years on the magazine, she moved to 'the other side of the fence' to work as a copywriter for a marketing agency, writing case studies and working on ad and website copy for companies such as eBay, Dell, Microsoft and more. In 2006, just weeks before IT Pro was launched, Maggie joined Dennis Publishing as a reporter. Having worked her way up to editor of IT Pro, she was appointed group editor of Cloud Pro and IT Pro in April 2012. She became the editorial director and took responsibility for Channel Pro, in 2016. Her areas of particular interest, aside from cloud, include management and C-level issues, the business value of technology, green and environmental issues and careers to name but a few.
Thank you for signing up to Cloud Pro. You will receive a verification email shortly.
There was a problem. Please refresh the page and try again.