British Airways sues data centre supplier for 2017 outage
The filing claims US outsourcing company CBRE was to blame for the network fault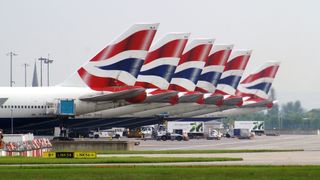 British Airways has filed a lawsuit against CBRE after blaming it for a 2017 IT failure that left 75,000 passengers stranded.
A fault in a system belonging to CBRE, an American outsourcing company that manages BA's data centres, is thought to have led to the massive outage at Heathrow Airport that forced the cancellation of dozens of flights last year. BA has started legal proceedings against the company, which will be heard at the High Court, according to reports.
The outage in May 2017 resulted in the cancellation of 672 flights and left tens of thousands of passengers stranded. Passenger check-in and operating systems were also affected, and disruption to communications meant that the airline also struggled to locate and contact staff.
In a separate incident earlier this year, BA suffered further IT issues at Heathrow's terminal five which led to the complete halt of all its flights. Passengers were advised to book overnight accommodation; the airline's online check-in service was also down.
Willie Walsh, CEO of International Airlines Group, parent company of British Airways, estimated the incident may have cost BA as much as 58 million.
At the time Walsh claimed an engineer had mistakenly switched off the power supply to one of the company data centres which was then turned back on in an uncontrolled fashion, according to the Financial Times.
A BA spokesperson told IT Pro at the time of incident: "There was a loss of power to the UK data centre which was compounded by the uncontrolled return of power which caused a power surge taking out our IT systems. So we know what happened, we just need to find out why. It was not an IT failure and had nothing to do with outsourcing of IT, it was an electrical power supply which was interrupted."
Speaking at a transport conference in Mexico, Walsh said "it's very clear to me that you can make a mistake in disconnecting the power ... It's difficult for me to understand how to make a mistake in reconnecting the power".
BA swiftly announced a thorough investigation was to be carried out into the incident to determine the true cause of the outage.
Speaking to IT Pro at the time, CBRE said "we are the manager of the facility for our client BA and fully support its investigation. No determination has been made yet regarding the causes of the incident on May 27".
BA has appointed London law firm Linklaters to bring the case against CBRE. BA and Linklaters are reportedly declining to comment at the time, CBRE also refused to comment.
A daily dose of IT news, reviews, features and insights, straight to your inbox!
Connor Jones is the News and Analysis Editor at ITPro, CloudPro, and ChannelPro. He oversees the three publications' news strategies and reports breaking news on the topics of cyber security, software, and Big Tech firms. He has a master's degree in Magazine Journalism from the University of Sheffield, and has previously written for the likes of Red Bull Esports and UNILAD tech during his career that started in 2015.
A daily dose of IT news, reviews, features and insights, straight to your inbox!
Thank you for signing up to ITPro. You will receive a verification email shortly.
There was a problem. Please refresh the page and try again.