BI and the cloud: Everything you need to know
We take a look at how BI in the cloud can add even more value to your business...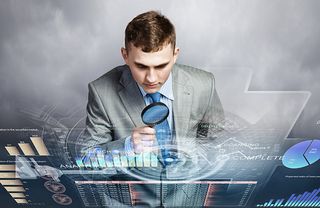 If there's a key theme for companies in the past few years, it's the growing need to make the most of business data.
Some 45 per cent of organisations are already considering deploying BI in the cloud, according to research published by analyst firm Gartner in 2014. That figure is up from 33 percent in 2013. Expectations for this year are for penetration to hit 50 per cent. It's clearly an area where cloud deployment is winning the battle. But what's the thinking behind this rise?
What are the advantages of running BI solutions in the cloud: what do they offer that conventional software doesn't?
One of the reasons organisations choose to run BI in the cloud is because they are running other systems there, according to Andrew Lampitt, senior director of TIBCO's cloud analytics business.
"Customers would say they would say they're doing BI. My data's already in the cloud – I now want BI there," he says.
Clive Longbottom, senior analyst at Quocirca, suggests that software is not the key here, adding: "It's the scale of the platform that should be able to more effectively deal with large (and small) data volumes, avoiding any need to over engineer in-house systems just to deal with the occasional massive data set"
He adds: "On the software side, you will always be at the latest build level, so you won't find the lack of new functionality, security issues or analytical glitches that may happen if you are on an old build on-premise while your competitors have upgraded to the latest version."
As in many examples of cloud utilisation, the use of BI in the cloud is prompted by a need to roll out projects more quickly. As Lampitt says: "One of the other main reasons is agility: which opens up business prospects by allowing you to start small. For example, in the past it was difficult to get a pilot under way as you had to do a bit of investment – and you've no idea whether it's going to work out. Now, you can fire up Amazon and try out two or three different approaches and if things don't go the way you want, all you've lost is 10 to 15 quid." He adds that this has completely altered the way that companies instigate projects, leading to greater efficiencies.
More traditional products have evolved over many years and have become increasingly sophisticated - can SaaS products (often more streamlined) offer the full feature range?
There's a qualified yes from Longbottom on this question - so long as you're prepared to look ahead. "It's a case of caveat emptor," he says. "Some systems will have curtailed functionality; some will be full capability. Make sure that any system under evaluation does not only what you need now, but shows the flexibility and promise to be able to keep pace with what you will want in the future."
Who's buying the cloud-based BI products? Business heads or IT? If the former, how is the integration handled. If the latter, are they meeting business needs?
One of the ways in which cloud has shaken up the market is in the way that the buying process has changed, with IT departments no longer setting the agenda.
The rise of cloud-based BI has tended to follow that pattern, as Longbottom points out. "Business people like the freedom and flexibility that SaaS gives them - they are no longer beholden to internal IT, and as costs tend to be either guaranteed or at least predictable. They can build the cost into their plans," he says.
"Forward-thinking IT departments will choose SaaS as it removes a lot of grunt work of attempting to manage the physical platform, deal with any issues and do patching and upgrades."
TIBCO's Lampitt thinks that IT departments have had a tough time in the past few years as they've come under more pressure from business units to deliver, while at the same time being deprived of any budget increases. "It's like being asked to climb Everest without specialist gear," he says.
He adds that there have been definite shifts among the business community who realise that, for the detailed analysis they need and that things like Excel just don't cut it anymore.
For Longbottom, IT departments should learn from the greater flexibility that business leaders are obtaining. "That capability for the platform to be elastic should also be high on the IT department's radar - it should help stop them being pointed at due to performance issues," he adds.
Cloud implementations can end up costing more than budgeted for: are SaaS BI solutions adding additional integration costs.
Cost should never be a dominant factor, according to Longbottom, who says: "If you go for an approach purely based on price, it will invariably be costly. If you go for it because it allows you to do something that would be difficult or overly expensive to do in house, it will generally work out cheaper."
What does the future hold for BI products?
For Longbottom, there's an issue with integrating BI cloud services with the underlying data. "BIaaS has to be regarded as a batch job for large datasets," he says. "The future will be in how BIaaS can deal with datasets to create a pseudo-real time, or 'real' real-time capability."
Lampitt agrees with this view and points that, in addition, managers will be looking for greater functionality. "Customers will ultimately be looking for is 'What else?' They'll be looking for features such complex event processing and real-time data integration – part of our existing family," he says.
Above all, there will be a change in mindset, according to Lampit, who suggests the future will be about predictability rather than analysis. "In ice hockey terms, it's about looking to where the puck is going to be," he adds, pointing out there's also going to be a need for better presentation. "Managers will want stunning data visualisation – so they can identify outliers straight away," he concludes.
Stay up to date with the latest news and analysis from the world of cloud computing with our twice-weekly newsletter
ITPro is a global business technology website providing the latest news, analysis, and business insight for IT decision-makers. Whether it's cyber security, cloud computing, IT infrastructure, or business strategy, we aim to equip leaders with the data they need to make informed IT investments.
For regular updates delivered to your inbox and social feeds, be sure to sign up to our daily newsletter and follow on us LinkedIn and Twitter.
Thank you for signing up to Cloud Pro. You will receive a verification email shortly.
There was a problem. Please refresh the page and try again.