Cambridge Analytica closes but ICO investigation rolls on
Parliamentary inquiry chair warns firm 'cannot be allowed to delete their data history'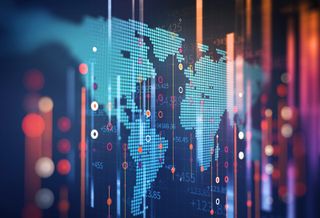 (Image credit: Shutterstock)
Cambridge Analytica, the political consultancy firm at the heart of the Facebook data sharing scandal, is shutting down after months of allegations surrounding the exploitation of data.
The Information Commissioner's Office (ICO) said it would be examining closely the details of the announcement, with a spokesperson adding it will "continue its civil and criminal investigations and will seek to pursue individuals and directors, as appropriate and necessary even where companies may no longer be operating".
"We will also monitor closely any successor companies using our powers to audit and inspect, to ensure the public is safeguarded," it added.
Cambridge Analytica, which specialised in data analysis and strategic communication, blasted "a siege of media coverage" that drove away its customers and suppliers, in a statement saying it would commence insolvency proceedings in the UK and parallel bankruptcy proceedings in the US.
"Over the past several months, Cambridge Analytica has been the subject of numerous unfounded accusations" the company said, adding despite trying to "correct the record" it has has been "vilified for activities that are not only legal, but also widely accepted as a standard component of online advertising in both the political and commercial arenas".
But there are concerns Cambridge Analytica has simply used its closure as a rebranding exercise, with a new company, Emerdata Ltd, listed as using the same offices as SLC Elections; also hiring Alexander Taylor, previously the acting CEO of Cambridge Analytica, as director on 28 March.
"Cambridge Analytica and SCL group cannot be allowed to delete their data history by closing," said Damian Collins MP, chair of Parliament's Digital Culture Media and Sport committee investigating the phenomenon of fake news, adding: "The investigations into their work are vital."
The announcement was made only hours after cybersecurity expert Chris Vickery gave evidence before the DCMS committee detailing the role Cambridge Analytica allegedly had in supporting the pro-Brexit 2018 EU referendum campaign, alongsideCanadian data firm Aggregate IQ (AIQ); Vickery also noted that "beyond a shadow of a doubt" there had been collusion between pro-Brexit campaigns during the referendum.
"With all the evidence I've seen I don't think there's any ability for a reasonable, rational person to deny there was some level of coordination or collaboration going on," Vickery told MPs. Different campaign groups are forbidden from coordinating in the UK, under electoral law, unless they declare their spending jointly.
The pro-Brexit campaign groups, AIQ and Cambridge Analytica have consistently denied any wrongdoing. And while Vickery also outlined how Cambridge Analytica used psychological insights derived from Facebook data in the Trump campaign, the company had consistently denied it had breached any data use and privacy laws.
Last month the ICO revealed the scope of its investigation into how data is used in political campaigns spanned 30 companies, including Facebook, AIQ, and Camgridge Analytica.
Information commissioner Elizabeth Denham said at the time: "The ICO is looking at how data was collected from a third party app on Facebook and shared with Cambridge Analytica. We are also conducting a broader investigation into how social media platforms were used in political campaigning."
She added: "This is an important time for privacy rights. Transparency and accountability must be considered, otherwise it will be impossible to rebuild trust in the way that personal information is obtained, used and shared online."
Meanwhile Mark Zuckerberg has been issued a formal invitation by the DCMS committee to give evidence or face being issued a summons, after Mike Schroepfer, Facebook's CTO, who Zuckerberg sent in his place, failed to answer a series of questions to the satisfaction of the committee.
The scandal engulfing Facebook and Cambridge Analytica has raised overwhelming personal data and privacy concerns, especially in light of the upcoming GDPR enforcement with Facebook determined to appease lawmakers - for instance rolling out a wave of new privacy toolsahead of the 25May deadline.
A daily dose of IT news, reviews, features and insights, straight to your inbox!
Keumars Afifi-Sabet is the Features Editor for ITPro, CloudPro and ChannelPro. He oversees the commissioning and publication of in-depth and long-form features across all three sites, including opinion articles and case studies. He also occasionally contributes his thoughts to the IT Pro Podcast, and writes content for the Business Briefing. Keumars joined IT Pro as a staff writer in April 2018. He specialises in the public sector but writes across a breadth of core topics including cyber security and cloud computing.
A daily dose of IT news, reviews, features and insights, straight to your inbox!
Thank you for signing up to ITPro. You will receive a verification email shortly.
There was a problem. Please refresh the page and try again.