Google Home vs Amazon Echo vs Apple HomePod vs Samsung Galaxy Home: Alexa skills blueprints now available to UK users
Amazon make 22 templates available for custom skills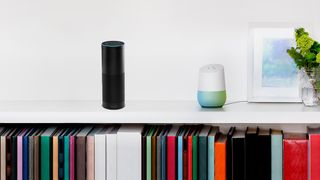 Smart speakers are rapidly becoming as common in the household as TVs and sofas, with Amazon Echo's, Google Home speakers and Apple HomePod's popping up in living rooms around the world.
Pushing buttons and remote controls are almost defunct now that we can control everything from our lighting to our TVs with voice assistants. Even browsing the web for information has taken a back seat to the effortless capability of a smart speaker. The phrase 'Google it' has serious competition from 'Alexa...'
Latest News
14/11/2018: Alexa skills blueprints now available to UK users
Amazon has unveiled a blueprint for it's Alexa voice assistant. Alexa, which is used in its Echo range of smart speakers, comes with 'skills' that enable its users to play games, learn, listen to music or interact with the device with novelty applications.
Now, thanks to the blueprints made available on Alexa's website, UK users can create their own skills. This has been available in the US for the best part of 2018 but has now been rolled out to the wider world.
Skill Blueprints let the user create a skill for their home with the help of 22 pre-set templates that can be customised, so no coding required.
10/08/2018: Samsung enters Bixby into the smart speaker market
Samsung has announced its entry into the smart speaker market with the Galaxy Home, a rival to Apple's HomePod and the Amazon Echo that has Bixby voice assistant built-in.
The speaker is said to deliver surround sound-style audio by using six built-in speakers and a subwoofer. It's also stocked with eight far-reaching microphones to detect your voice from as wide a range as possible.
The device will house Bixby and, like the Echo with "Alexa", you activate it by saying "Hi Bixby". Samsung has indicated that it will have many of the same capabilities as Bixby does on its phones.
More details of the device will be revealed at the developer conference in November, but an update to Bixby was revealed along with the Galaxy Note 9. Bixby 2.0 is said to have better natural language processing and will be quicker in response times.
If Samsung is to compete with the other smart speakers in the market, it will need to get more from its voice assistant, so far it hasn't proven to be too popular, but the second version has added capabilities like follow up questions and quicker response times, but it still seems a little off the pace of Alexa.
As for the hardware, the device is shaped like a black wine glass with three legs, or a witches cauldron and a BBQ as some have pointed out on Twitter.
05/07/2018: If you haven't heard, the England National team won on penalties in a World Cup match for the first time ever. You'll have no trouble finding someone to discuss the news with, especially if you have an Amazon Echo.
Alexa, Echo's voice assistant is very clued up on the current happenings of the nation's football team and it's got a dose of World Cup fever. By that, we mean the developers have programmed in new responses following the dramatic win over Colombia on Tuesday.
Currently, the phrase "it's coming home", from the famous song by Frank Skinner, David Baddiel and the Lightning Seeds is trending and saying it to Alexa will receive the reply: "52 years of hurt hasn't stopped me dreaming! I hope it doesn't go to penalties again in the quarter-final though. My circuits can't take the stress."
Throughout the tournament, the smart assistant is offering up a range of knowledge and football jargon to help even the most casual football fan join in the debate.
The answers are being regularly updated and if you ask Alexa: "help me bluff my way through the World Cup" it will respond: "England found themselves in a World Cup penalty shootout and for once they won. England had lost their three previous World Cup shootouts, but against Colombia, they broke their hoodoo."
For those that want football terms explained, Alexa can answer a range of questions such as "what is a false nine?" and "what is 'parking the bus' in football?".
If you did miss England's big game, Alexa can fill you in:
"Eric Dier scored the decisive penalty after Jordan Pickford saved from Carlos Bacca. England will now face Sweden, who beat Switzerland to reach their first World Cup quarter-final since 1994."
25/05/2018: Google shifted more of its Home and Home Mini devices than Amazon sold its Echo smart home speaker in the first quarter of 2018, according to Canalys.
The research firm revealed Google shipped 3.2 million Google Home and Google Home Minis, while Amazon sold 2.5 million of its Amazon Echo collection, comprising the Echo, the Echo Dot, and the Echo Plus.
Canalys' study covered the entire smart speaker market. Amazon and Google were the frontrunners in terms of market share, although 9 million total units were sold in the first three months altogether.
Google's late success isn't really surprising though. It only launched its Home speaker in 2016, a year after Amazon's speaker made its debut. This latency has continued throughout Google's smart speaker lifecycle, with Google launching its Home Mini almost 18 months after Amazon unveiled the Echo Dot pint-sized device.
"Google has several advantages over Amazon that have helped it move ahead," said Canalys Analyst Ben Stanton. "But its biggest advantage is in the channel. Operators and retailers tend to prioritize Google's speakers over those from Amazon, as Amazon is in the tricky position of being a direct competitor. But Amazon is fighting back hard, and the sheer quantity of Alexa Skills and smart home integrations will be tough for any competitor to match."
21/05/2018: A parrot has fooled an Amazon Echo by putting through an order for decorative boxes by mimicking its owner's voice.
The pesky pet overheard a conversation that owner Corienne Pretorius was having and then copied it to order the boxes. A few days later, the boxes were delivered, much to Pretorius' dismay.
"We've had the device for four months and I use it to play music or make to do' lists but I've never ordered anything online," she said. "When I came home on Sunday, I could hear Buddy talking but couldn't quite make out what he was saying. Then I heard Alexa say, Sorry I didn't quite get that.' Buddy said Alexa' and some gibberish, and the machine replied, What is it you want to order?"
"I didn't hear what happened after that and didn't think anything of it until I got a notification that my Amazon order had been placed."
Pretorius thought her husband or son had ordered them at first, but it turns out it was Buddy the African Grey Parrot.
Although it is possible to set Amazon Alexa up with a password to stop it accidentally ordering items, the owners obviously didn't do this when they hooked the assistant up to their Wi-Fi and so Buddy was given free reign to order anything he liked. Good job it was just cheap boxes rather than a car or something.
08/03/2018: It will soon be possible to make free voice calls using Google's Home smart speaker, the company announced on Wednesday, without it needing to be tethered to a smartphone.
An update scheduled to arrive this week will bring features offered by Google Home in the UK in line with the US, which already allows users to make hands-free calls across a WiFi network to any number in their Google Contacts list, as reported by the Guardian.
The feature will also let owners of the Home or Home Mini smart assistant make calls directly to millions of businesses that have registered numbers with Google.
Until now, the Google Home has acted like a hands-free speaker for a smartphone much in the same way as Amazon's Echo and Apple's HomePod, with calls connecting over the internet to an app and making use of the user's phone contract allowance. However, Google's smart assistant will be the first to support calls on its own using the company's free call service.
The commands for making a call will stay the same, and users need only to say "Hey Google, call..." and then state the name of a person or business. The Home's profiling feature, which is able to differentiate between six different voices, also means individual users can access their own contacts list.
It's a major win for Google in the battle for the smart assistant market, particularly as Amazon's Alexa smart assistant started offering its own feature this week in the form of random creepy laughter.
Thankfully, Amazon has said it's aware of the issue and is working on a fix.
05/02/2018: Apple HomePod won't support streaming via Bluetooth
Apple has confirmed that its HomePod speaker will not support music streaming via Bluetooth if you're using a tablet or phone, despite listing Bluetooth 5.0 as one of its features.
Although it will support a range of streaming services including Apple Music, iTunes, Beats 1 Live Radio and podcasts, anyone wanting to send music to the speaker via third-party services will only be able to do so through its own AirPlay technology - which is only available on Apple-branded devices such as the iPhone, iPad, iPod touch, Apple TV and Mac.
What Apple isn't particularly open about is which services can be streamed to its speaker system, although we expect many of the services already available to stream via AirPlay will be supported (including Spotify). It also didn't reveal whether you'll be able to use Siri to control third-party streaming service, but we'd assume not.
Of course, it doesn't really come as much of a surprise, as the HomePod needs an iOS-powered device to set it up and act as the controller. Nevertheless, it's a little disappointing, especially for Android users that may want to test out Apple's speaker, or if the iPhone user in the house is out with their iPhone and you fancy listening to music.
Current page: Google Home vs Amazon Echo vs Apple HomePod vs Samsung Galaxy Home: Alexa skills blueprints now available to UK users
Next Page
Get the ITPro. daily newsletter
Receive our latest news, industry updates, featured resources and more. Sign up today to receive our FREE report on AI cyber crime & security - newly updated for 2023.
Bobby Hellard is ITPro's Reviews Editor and has worked on CloudPro and ChannelPro since 2018. In his time at ITPro, Bobby has covered stories for all the major technology companies, such as Apple, Microsoft, Amazon and Facebook, and regularly attends industry-leading events such as AWS Re:Invent and Google Cloud Next.
Bobby mainly covers hardware reviews, but you will also recognise him as the face of many of our video reviews of laptops and smartphones.