Raspberry Pi 3 B+ features improves processor and networking
Updated microcomputer offers refinements based on real-world uses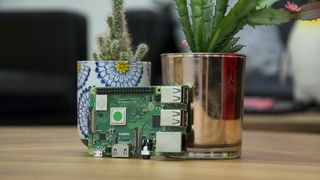 The Raspberry Pi Foundation has released an updated version of the Raspberry Pi 3, the Raspberry Pi 3 B+, featuring a faster processor and updated networking capabilities.
The new device, which was launched today, is a mid-generation upgrade to the foundation's previous board. It is intended to act as refinement of the Pi 3 B, rather than a full-blown successor, according to the foundation.
"Like the original Raspberry Pi 1 Model B+, this is an attention-to-detail spin of the preceding product, driven by looking at what people have been doing in the wild," said creator Eben Upton.
"We've improved the wired and wireless connectivity, squeezed a bit more clock frequency out (largely through better power integrity), tweaked the thermal performance, and added a Power over Ethernet option. Individually these are all nice features to have, but I've been surprised at how well they complement each other: the whole feels like more than the sum of the parts."
The launch may come as a surprise to many; the Raspberry Pi 3 first debuted just over two years ago, and Upton told IT Pro last year that the product had a three-year lifecycle, indicating that we wouldn't see a new Pi until around 2019. The new model, however, will remain in production until at least 2023, according to the foundation.
One update that may prove to be the most significant for many Raspberry Pi customers is that the device now includes an RF shield, which allows the new board to claim FCC modular conformance. "This means that people building products around Pi can go through a much-abbreviated conformance testing process," Upton said.
The new board is available now, and will retail at the same $35 price point as all previous iterations of the Raspberry Pi B.
A daily dose of IT news, reviews, features and insights, straight to your inbox!
Adam Shepherd has been a technology journalist since 2015, covering everything from cloud storage and security, to smartphones and servers. Over the course of his career, he's seen the spread of 5G, the growing ubiquity of wireless devices, and the start of the connected revolution. He's also been to more trade shows and technology conferences than he cares to count.
As reviews and community editor, he's responsible for leading IT Pro's wide-ranging product coverage, and is an avid follower of the latest hardware innovations. He's never happier than when tinkering with complex network configurations, or exploring a new Linux distro.
In addition to managing the IT Pro Panel and working with the community of IT leaders that make it up, he co-hosts the IT Pro Podcast, where you can hear him ranting about his love of strange gadgets, his disdain for Windows Mobile, and everything in between.
You can find Adam tweeting about enterprise technology (or more often bad jokes) @AdamShepherUK, or you can email him at adam.shepherd@futurenet.com.
A daily dose of IT news, reviews, features and insights, straight to your inbox!
Thank you for signing up to ITPro. You will receive a verification email shortly.
There was a problem. Please refresh the page and try again.