Eben Upton: Why it's a long road to the Raspberry Pi 4
Raspberry Pi creator wants to do more with the Zero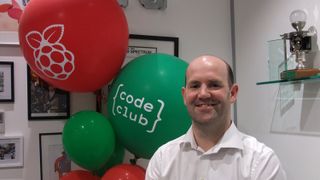 Technical limitations are the greatest challenge to developing future devices like theRaspberry Pi 4, Pi creator Eben Upton told IT Pro in an interview yesterday.
But while the foundation will not move away from hardware, the Raspberry Pi creator told IT Pro that physical limitations will make it difficult to continue the same pace of development on the next generation of devices.
"We're kind of at the end of the road for 40 nanometer," he said. "There's not much more you can do in that process, because ultimately you're limited by thermals. In the end, you can add as much silicon area as you want, because if you can't afford to toggle the transistors in the silicon because the thing will cook, then you can't get any faster."
According to Upton, the projected lifecycle of the Raspberry Pi 3 is around three years, meaning that there is likely to be at least two more years until the foundation releases a new iteration of its single-board computer. "It's a long road to get to Pi 4," Upton said, "but we'll get there eventually."
In the meantime, the Raspberry Pi Foundation will spend more time focusing on its charitable endeavours and community projects, which include supporting out-of-school computing education via its 5,000 Code Clubsand launching a teacher training magazine calledHello World. It will also focus on its Pixel operating system that was launched late last year.
The foundationcelebrated the mini computer's fifth birthday last week, having sold a staggering 12 million of the devices."It's good to have got to that number and to have got to that number so quickly, and the curve has been steepening up this past year," Upton said.
Five years on from the Pi's debut, Upton's enthusiasm for the foundation's products has continued unabated, stoked particularly by the Raspberry Pi Zero, which wasupdated for the fifth anniversary to include Wi-Fi and Bluetooth."I want to do more Zero," he enthused. "I'd love to do more tinkering."
Picture: Eben Upton, credit: Adam Shepherd/IT Pro
A daily dose of IT news, reviews, features and insights, straight to your inbox!
Adam Shepherd has been a technology journalist since 2015, covering everything from cloud storage and security, to smartphones and servers. Over the course of his career, he's seen the spread of 5G, the growing ubiquity of wireless devices, and the start of the connected revolution. He's also been to more trade shows and technology conferences than he cares to count.
As reviews and community editor, he's responsible for leading IT Pro's wide-ranging product coverage, and is an avid follower of the latest hardware innovations. He's never happier than when tinkering with complex network configurations, or exploring a new Linux distro.
In addition to managing the IT Pro Panel and working with the community of IT leaders that make it up, he co-hosts the IT Pro Podcast, where you can hear him ranting about his love of strange gadgets, his disdain for Windows Mobile, and everything in between.
You can find Adam tweeting about enterprise technology (or more often bad jokes) @AdamShepherUK, or you can email him at adam.shepherd@futurenet.com.
A daily dose of IT news, reviews, features and insights, straight to your inbox!
Thank you for signing up to ITPro. You will receive a verification email shortly.
There was a problem. Please refresh the page and try again.