Intel debuts new logo that harks back to the 1968 original
The new Intel logo moves the company forward while respecting its history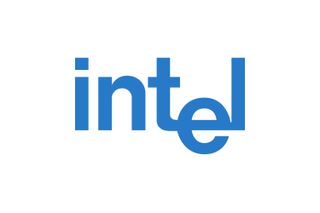 Intel is amid a brand revamp, and one of the first orders of business, other than the launch of its 11th-generation Tiger Lake CPUs, is to unveil a new logo that's modern and pays tribute to the brand's storied past.
Since releasing its first logo in 1968 (pictured above), Intel's mark had only one revision. That update was the "intel" within the open circle (shown below) seen on most computers from the mid-2000s. Several mild variations to the logo followed its 2006 launch, but the base design remained mostly the same.
Fourteen years later, the famed hardware manufacturer has launched an all-new logo (pictured below).
The "intel" font is a clear callback to the 1968 logo, but the new mark changes things up by pulling the "e" in line with the rest of the word and changing the font color scheme.
On top of the change in font, Intel has also announced new background colors. As you can see in the image, it'll retain a blue theme, but Intel chose to use various blue shades to add depth and variation to the brand.
The logo's not all that's changing wither. Intel also has big plans for its iconic "bong" jingle. According to the press release, Intel won't scrap the jingle altogether. Instead, it plans to modernize it.
Intel will reveal the new five-note jingle later in 2020. We'll bring you updates as Intel's brand refresh moves along.
A daily dose of IT news, reviews, features and insights, straight to your inbox!
A daily dose of IT news, reviews, features and insights, straight to your inbox!
Thank you for signing up to ITPro. You will receive a verification email shortly.
There was a problem. Please refresh the page and try again.