Podcast transcript: Solving the semiconductor shortage
Read the full transcript for this episode of the IT Pro Podcast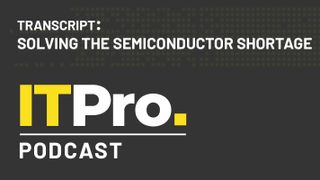 This automatically-generated transcript is taken from the IT Pro Podcast episode 'Solving the semiconductor shortage'. We apologise for any errors.
Adam Shepherd
Hi, I'm Adam Shepherd.
Rory Bathgate
And I'm Rory Bathgate,
Adam
and you're listening to the IT Pro Podcast. This week, we're heading down to the chip shop to talk about semiconductor supply chains and the recent global chip shortage. Our modern way of life has become completely dependent on technology. But this presents a bit of an Achilles heel. Semiconductors and silicon chips are the fundamental foundation on which all current systems are based. So what happens when those chips disappear?
Rory
Since late 2020, the tech industry has been struggling with acute difficulties in the semiconductor supply chain, affecting the availability of microchips, circuitry and other components. This has had a knock on effect on a huge range of products, including everything from laptops to Land Rovers, as availability plummets, and prices skyrocket.
Adam
So what's behind the supply chain challenges? And how close are we to resolving them? Here to talk us through the current situation as well as how the industry can strengthen supply chains in the future, is Ondrej Burkacky, Senior Partner at McKinsey's Semiconductor Practice. Ondrej, thanks for joining us!
Ondrej Burkacky
Thanks for having me.
Adam
So let's talk about the chip shortage. One of the most obvious contributing factors was the impact of COVID on global supply chains. But do you think that was the primary cause, or were there other contributing factors?
Ondrej
I think that indeed it was, it had a very large contribution to what we are experiencing now. But it was for sure, not the only cause that we had, we also had some geopolitical tensions, mainly between US and China, that led to some restriction in global trading. That also led to several players putting semiconductors on stock, even before the shortage happened. And that combined with some individual occurrences, for example, the famous winter storm in Texas that happened in 2021. And also the fire in in one of the Japanese factories, were not really the I would say deal makers or breakers, but a near combination contributed to the situation that we are in now.
Rory
And outside of OEMs, what impact would you say the chip shortage has had on businesses?
Ondrej
Look, I think that, on the one hand, for sure, it is a shortage on the OEM side, right. But also when you look at the bit down and upstream there, the predictability of chip delivery has significantly suffered, right? Meaning also the tier one and tier twos are in a very unpleasant situation that on the one hand, they have a clear demand coming from the OEMs. But on the other hand, they are, they don't have a clear commitment from the semi compliance on suppliers, there is not enough supply existing here. And with that the whole supply chain starts to be very shaky, and less predictable. And also this invites to order typically called bullwhip effects, right, people starting to over order because there is a shortage, we'll just order more to get when there is an allocation, a sufficient amount; with that the demand for that explodes and so on and so forth.
Adam
So what level of shortfall are we talking about here? What's the discrepancy between supply and demand? Are we talking kind of orders of magnitude?
Ondrej
Yeah, it's a very good question. I think that that the answer to it is It depends really on the semiconductor type, right? And I think the one mistake that people typically do is like they say it's all the same, which is not true right. For example, we have almost no shortage on what is called leading edge technology, right, the CPUs and server chips. We also have less shortage on memory devices, being it storage, being it around for for compute, but we have a significant -meaning 30-plus percent - shortage of generic compute MCUs, right, that are there, for example, to be do the power management, that are there to operate the motor control in a dishwasher, in the washing machine, but also they are the ones that go into many, many cars to do motor control, airbag control, and all these all these things. So these are the ones where I would say the shortage is the most, and as I said, we are talking 30 perhaps 40% shortage versus what is the demand that is out there in the market.
Adam
So you mentioned laptops and server chips. We know that Intel in particular has been struggling with this, this issue, they've faced some strong headwinds as a result of various kind of supply chain issues; if CPUs themselves aren't being as affected as other types of of processors and kind of compute elements, what are the main challenges that companies like Intel are having to grapple with?
Ondrej
Yeah, look, I think that for for the whole PC or server, as you mentioned, right, it just doesn't only take one chip, right? There is memory in there, there is power management ICs there, right? And a bit ironic way, right? What caused the biggest headache for the server and PC OEMs were not the highest value semiconductors, typically, right, there was some shortage on the GPU side, but it was really this power management ICs, some of the power conversion ICs, some of the connectivity ICs. And it is like when you don't have this piece, you just can't ship the whole unit. So at some point in time, when you are the supplier of a CPU or or sent or other components that are not short, you also get affected by the shortage because people don't want to put more of on stock right of your equipment. Because they basically say, Well, I can't build the system anyway. So why should I have so much inventory on you? And with that, it's kind of there is the line definer, which is the component that is the most short, defines how much can get delivered, how much can get shipped.
Rory
So, what role would you say just in time manufacturing models have played into the current shortage?
Ondrej
Okay, I think that they did play a significant role. And you can see when you compare between different verticals, right, for example, when you take the consumer electronics industry, they typically do not have just in time delivery, because they have a high seasonality, right, I mean, there is a singles day, there is there is Christmas, Black Friday, Chinese New Year, where you have peaks in sales, and therefore you need to take precautions, and you need to put more parts on stock. If you take that other bookend here, which is the automotive industry, which has kind of optimised for just in time delivery. That is brilliant, as long as you have enough supply because then you don't need to have, have a lot of inventory. But this is one of the reasons why the automotive industry got struck so hard by the chips shortage is because they had basically no inventory along the entire value chain that they could survive from. And you can even see it when you compare between the different automotive OEMs. So if you look, for example, the Japanese players, they did a hard running from the from the Fukushima accident to put much more inventory in general on stock, right? So they basically being a bit, one of the inventors of just in time delivery, they actually did go away from it a bit. And so they were a bit hit less hard by the chip shortage than others, at least at the beginning; at some point, also that that inventory is used up, right?
Adam
So how well is the semiconductor supply chain recovering, at present? You're on site at a semiconductor fabrication facility at the moment; what is the current state of play in the kind of wider supply chain?
Ondrej
Yeah, I think it's it is a very interesting time here because of the demand jumped. Also, the plans of many semiconductor players to extend the manufacturing sites, right, have have been pulled in or extended. On the other hand, there is the physics here in place, right. So it still takes you minimum three years to ramp up a new semiconductor facility. And that's already a pretty short timeframe. Right. In many geographies, it's more five years that it basically takes you to get all the approvals to construct it, to bring in the tools to basically ramp up to a full yeilded product and with that, the players have focused very much on so called full vol expansions, which is basically expanding the existing sites, but that is almost already now exhausted, right. So, I think that there is like, if you if you find still a whitespace in an existing semiconductor fab, you are very lucky right? So the utilisation level there is already very high, right. So you are now looking into building new sites. And this is going to take time. And also there is one more consideration to put here out and that is that when you have such timeframes, like three to five years to build out a product production facility, you need to be damn sure that then not now you have to demand in place. Right. And this is why many people are now asking for customer commitments in a more mid or longer term range because nobody wants to end up having put five or 10 million in capex right to just find out that you know, three five years from now, the demand has softened and you cannot utilise that asset. And with that you're basically starting to lose money.
Adam
Yeah, absolutely. So how acute then are the shortages still? Are there still OEMs and manufacturers who are really struggling to meet their needs? And if so, how long will it be before semiconductor fabrication kind of supply chains are able to meet those needs effectively?
Ondrej
So then if I just take a very non scientific KPI and look into my calendar, how many meetings I have on chip shortage with how many players, I would say we are still in the middle of it, right. And I think this is indeed the case, right? Also if you look at the lead times, right, for the for the things that are really short. So our prediction says that 22 is going to be the same as 21, almost, right, only in 2023, we see also the first sites that basically start going piece by piece online that were basically built on top of what has been seen as the beginning of a shortage situation, which in the end means that by then we might get more chips that can be immediately used, it doesn't mean necessarily that only in 2023, all these disruptions in the supply chain are gonna go away, because it will take some time that restocking happens, it will some time that basically also the mix effect goes into the right price. We talked about this before that you need all the components to build a system in a way. So this can take well into 24 or even 25 until this gets fully sorted out. But there is ways for players right to optimise their sourcing, there is ways for them to commit to more longer term supply agreements. So where I would classify it to... So up till now, this being a very general problem for many players, right. And I think going forward, while there still might be a certain shortage, there will be ways for players to excel here and be able to source the semiconductors they need versus others might still struggle.
Rory
We're seeing governments become involved in the semiconductor shortage, America has just passed the landmark CHIPS for America Act that's providing around $54 billion in subsidies and the EU have their own Chips Act making headway. What kind of role do you see these these kinds of subsidies playing in the recovery of the semiconductor production? And do you think that governments have a real essential role in recovering for this industry?
Ondrej
Okay, I think that, generally speaking, the subsidies help in for companies to take the decision on making a CapEx investment, right, because very simply speaking, the return on investment, with a typical subsidy level, you get these days, reduces itself perhaps from nine years to even six, five years, right, depending on the on the level of subsidies you get. And with that, basically, your your, let's say, barrier to kind of overcome this investment decision and take the risk of perhaps not being utilised or you know, hitting a different market. And with that, it's reduced. So for that it is indeed, very helpful. Just one word of caution there for sure is, just because you have a Chips Act in place doesn't mean that the day after there is no more shortage, right? As I said before, there is still the physics of three to five years to build a semiconductor plant. Now also, with I think the very good intention that is out there, for some of the regulations it still only needs to become a bit more concrete, right, for individual players to be now sure that they will get a certain subsidies level. So they can bake it into their business case, and they can actually start executing.
Adam
So are there any ways in which the industry itself can look to increase the resiliency of the global semiconductor supply chain to try and prevent incidents like this from occurring in the future?
Ondrej
I think that this is really on the one hand, and important topic, on the on the other hand, a very tough one, right? Because the industry itself has always been optimised to be a global industry. Right? This is mainly due to the very high R&D investments that are required, right, the very high CapeX investment that you need, for example, on the manufacturing side, and the large scale effects you have right when you build things at scale, right. And with that, like when you look at the different, there are many segments right within the semiconductor industry. It's typically only a few players that act within these segments and they are always global, right? So they always produce for a global market. Now, one way is you can say okay, well, we can start to have more suppliers, right, we can start to become more resilient on that side, that will, by the way mean that the market shares of the players some way will be reduced here and there which might allow them to invest less in R&D, and so on and so forth. Right. So there is this challenge on that end. If you want to become more diversified and also more resilient, when it comes to certain regionalization, one really needs to be aware that this is a very long journey to go. Right. And there are also the subsidies that we talk about these days will not be by far enough, right, because we are talking typically about front end manufacturing, but this is just one piece, right? It does not include the wafers, does not include the speciality chemicals and everything, right. That's not including the back end manufacturing, so all these various steps in the value chain. So therefore, I think that something like full regional resilience is not anything that you can actually achieve and anyway, perhaps don't want to achieve, because it will just cause enormous amount of time and money. But really being more, having more transparency, where actually your main critical points are and being able to address some of them, I think is the strategy to go forward. And many companies are really exploring in the value chain, where these neurotic points actually are and whether they can do something about it.
Adam
Yeah. Cause the fact that, you know, a fire at one kind of Japanese manufacturing plant can have a notable impact on the entire global supply chain - that does seem like a pretty significant sort of single point of failure, in effect. And it does seem like greater diversification of the kind of manufacturing base within the semiconductor industry could potentially help to kind of mitigate the risk of that.
Ondrej
Yeah, I think Adam if I, if I may disagree with you on one thing, I think the headlines and the media presence of that fire were much larger than the impact it had.
Adam
Okay, interesting.
Ondrej
So, I think that again, right, it was one small contributor, if at all, due to shortage situation we have experienced, right. And and the simple proof for that is like that, the impact of that particular fire was kind of mitigated three, four months after it happened. And we still are in a shortage situation. Right. So I think this is this is indeed something which is not completely new to the industry. But indeed, what is newer to the industry is the overall high utilisation we are facing, right. So this is kind of the the fundamental problem. And then, as always, right, then any drop, right, that happens here, and there just has has a much larger contribution because we are just operating on the edge.
Adam
Yeah.
Rory
So Ondrej, you've brought up this minimum of three years to set up a new sort of chain of, a new factory, a new facility. But what does the outlook for the supply chain look like over the next, say, 12 months or so?
Ondrej
Okay, I think that, that, in the end, there is some more capacity now coming online, right? I said, over proportionally to the to the previous years. But still, I would expect that the shortage is going to be a big topic for the upcoming 12 months. As now, there is a lot of discussion on long term commitments, long term supply agreement, but this is nothing that basically helps you now for the next, let's say 12 months, right? This is more securing your volumes in 2024, 2025, right? Because you have to see as well, what are the production cycles here, right? So a typical wafer that travels through the frontend fabs takes perhaps 100 days, right, to get produced, then you have the back end operations take another two three weeks; add it to the mix, right? So in a way, the chips that we will receive in six months, perhaps five months from now are the ones that are produced now. Right. So with that you only have this very gradual change, and therefore we don't expect the shortage to end shortly.
Rory
So we had news last month, that SMIC have claimed that they've broken through with the seven nanometer chip. What kind of differences does competition on this level make to the overall supply chain? And how has it changed the outlook for their competitors?
Ondrej
I think that it's it's always good to have additional capacity right? And and I think also competition is healthy in a way that it basically drives companies to do more innovation, to become more productive. Particularly on the on the leading edge note, as I said, this was not necessarily the the biggest area of shortage, right? It's more about providing OEMs or fabless companies alternatives from where they basically can source their leading edge chipsets, right, rather than being super significant contribution to today's shortage. However, going forward, for sure, with a certain node migration, meaning shrinking of the chip structures always to the more leading edge nodes or certain types of, of chips, for sure, it's good to have capacity, more capacity on the leading edge node size. But just to be very clear here, right? And we are not talking about all chips becoming seven, five or three nanometer, right? If you take the example of a car, 80% of the chips that are in a car are actually 50 nanometer plus.
Rory
That's quite a stark difference.
Adam
Yeah, that seems large.
Ondrej
Indeed, it is. And I think therefore, we also do forget sometimes that when we look also on these chips programmes that are out there, right, we should not forget about mature technology and feature nodes. Because in the end there again to coming back to my my initial example, right, you might have too high sophisticated chip in your phone, in your smart device. But if it can't power up because the perceivably less sophisticated power management chip is not there, then you are out of power.
Adam
Yeah, I think there's a tendency to kind of, particularly in the tech and IT industries, to focus on the really kind of cutting edge stuff, on the smallest process technologies and the, as you said, the kind of bleeding edge manufacturing challenges, but a lot of the industry is not that.
Ondrej
Yeah, very right Adam, and a lot of the industry's, by the way, never gonna be it as well, right. If you look at for example, all the discrete semiconductors, so the ones that do power management, right, so AC/DC conversion, DC/DC conversion, right. All the nice things that we need for example, for electric cars right? There the differentiation comes less from a shrink of the node size, it comes more from the processing technology, switching from from silicon for example, to gallium nitride, silicon carbide is there the innovation driver right. So, one should not forget that there is not only one vector, right, you need to follow through for innovation in semiconductors and with the world becoming more broadly using a broader set of semiconductor technologies, right, with industry 4.0, all the IoT devices, etc. All of a sudden, all of these technologies get a boost in growth of demand and with that, they will also need a certain growth in supply to match that.
Adam
Unfortunately, that's all we've got time for in this week's episode, so we'll have to close out there but our thanks to McKinsey's Ondrej Burkacky for joining us today.
Ondrej
Thank you.
Rory
You can find links to all of the topics we've spoken about today in the show notes and even more on our website at itpro.co.uk
Adam
You can also follow us on social media as well as subscribe to our daily newsletter.
Rory
Don't forget to subscribe to the IT Pro Podcast wherever you find podcasts. And if you're enjoying the show, leave us a rating and a review.
Adam
We'll be back next week with more insight from the world of IT but until then, goodbye.
Get the ITPro. daily newsletter
Receive our latest news, industry updates, featured resources and more. Sign up today to receive our FREE report on AI cyber crime & security - newly updated for 2023.
ITPro is a global business technology website providing the latest news, analysis, and business insight for IT decision-makers. Whether it's cyber security, cloud computing, IT infrastructure, or business strategy, we aim to equip leaders with the data they need to make informed IT investments.
For regular updates delivered to your inbox and social feeds, be sure to sign up to our daily newsletter and follow on us LinkedIn and Twitter.