Apple's 5G iPhone 12 could be delayed by the coronavirus pandemic
The Cupertino company might fall 'months' further behind its rivals in the 5G smartphone race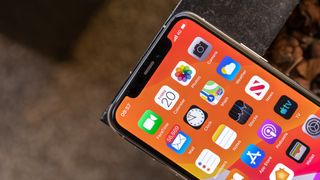 Apple could delay the release of the iPhone 12 lineup by "months" due to manufacturing issues caused by the coronavirus pandemic.
Nikkei Asian Review, citing sources familiar with the matter, reported that "Apple is preparing the ground to possibly delay the launch of its first 5G iPhones" due to the fact that the COVID-19 crisis is threatening global demand and has disrupted the firm's product development schedule.
According to the report, Apple isn't sending its American executives over to China to approve the handsets' final design due to travel bans, which means that the company could already be two months behind its usual schedule.
"We have been notified to start shipping in big volumes to meet Apple's new product launch by the end of August, instead of like in previous years, when it would be sometime in June," said a supplier of components related to printed circuit boards.
"The change was made very recently, and that could imply that the mass production of the phone could also be delayed for months."
Apple is also said to be concerned that the current situation will significantly lower consumers' appetite to upgrade their phones, which could lead to disappointing sales for its first 5G device. A source with direct knowledge of these internal discussions said Apple really wants the first 5G iPhone to be a hit.
The report noted that Apple is closely monitoring coronavirus outbreaks in the US and Europe, the company's two largest markets that together account for more than half of its sales, and assessing whether a delay is necessary, the sources told Nikkei.
However, it's unlikely a final decision will be made until the California government's "shelter in place" order, which requires all workers at non-essential businesses to stay home, is lifted.
"Apple will make a final decision around May at the latest, given the fluid situation globally," a source told Nikkei.
Though there's no official confirmation of a delay, with Apple refusing to comment on the rumour, the report says that, in the worst-case scenario, the iPhone 12 might not make its official debut until sometime in 2021.
Such a hold-up would see Apple falling even further behind its competitors in the 5G smartphone race; the likes of OnePlus, Samsung and Sony already have 5G-enabled handsets on shelves.
A daily dose of IT news, reviews, features and insights, straight to your inbox!
Carly Page is a freelance technology journalist, editor and copywriter specialising in cyber security, B2B, and consumer technology. She has more than a decade of experience in the industry and has written for a range of publications including Forbes, IT Pro, the Metro, TechRadar, TechCrunch, TES, and WIRED, as well as offering copywriting and consultancy services.
Prior to entering the weird and wonderful world of freelance journalism, Carly served as editor of tech tabloid The INQUIRER from 2012 and 2019. She is also a graduate of the University of Lincoln, where she earned a degree in journalism.
You can check out Carly's ramblings (and her dog) on Twitter, or email her at hello@carlypagewrites.co.uk.
A daily dose of IT news, reviews, features and insights, straight to your inbox!
Thank you for signing up to ITPro. You will receive a verification email shortly.
There was a problem. Please refresh the page and try again.