Supported
Getting value from your data center
With data center energy costs on the rise, re-examining the components that power your servers is crucial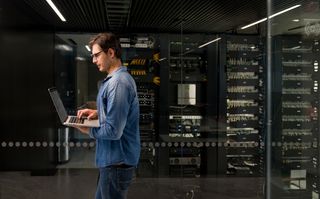 (Image credit: Getty)
Running data centers is undeniably expensive, with costs including the hardware, software, energy consumption, and skilled labor to configure and maintain the infrastructure. While the value of running and maintaining on-premise IT infrastructure is clear, initial up-front and recurring costs are forcing many businesses to re-think their approach to infrastructure.
This includes snubbing surging cloud costs entirely, in favor of running applications and hosting data on-site. For example, the likes of US software firm 37 Signals, which embarked on a cloud repatriation journey in February.
To make matters worse, the costs of running data centers have fluctuated markedly over the past decade – falling, then rising sharply again – with concerns over energy prices and the need for greater sustainability dominating the conversation. In fact, data centers are among the most energy-intensive buildings on the planet, and consume up to 50 times the energy per floor space of the average commercial building, according to the US Office of Energy Efficiency and Renewable Energy.
Significant changes in the landscape, driven by rising energy costs, mean running data centers is becoming increasingly unsustainable for many organizations, particularly those that are unable to realistically pass all costs on to their customers. To ensure data centers still provide value, businesses must review their configurations so they are as efficient as possible, which includes the components that power them.
The impact of rising costs
Inflation is a difficult pill to swallow for data center operators, especially because it's a reversal of a trend we've seen since the 2010s. Uptime research estimates an average Tier III enterprise data center would have cost $12 million per MW in 2010, with these costs as much as halving immediately prior to the COVID-19 pandemic.
Now, costs are once again sky-rocketing. The combination of rising construction costs and lead times, alongside a surge in staffing costs, is significantly affecting the viability of running data centers. In fact, two-thirds of enterprises and colocation operators are now anxious over higher spending on data centers in 2023, according to Uptime's findings, which were published last year.
The sector not only faces price escalation but the uncertainty of supply, too, according to the 2022 Data Center Cost Index by Turner & Townsend. The demand for metals and energy has hiked the costs of construction materials and components, with longer lead times resulting from demand outpacing supply. The overwhelming majority (95%) questioned by Turner & Townsend reported delays to projects caused by shortages, with lead times for many major pieces of equipment extending by at least 12 weeks.
Energy prices in Europe have been particularly painful, with costs in the UK, for example, surging 635% between January 2021 and March 2022, according to FTI Consulting. The same has been seen in France (400%), the Netherlands (364%), and Germany (276%). Prices in Singapore, meanwhile, rose by 247%.
The majority of respondents (78%) to the 2022 Data Center Cost Index reported that securing reliable power supplies has become a significant blocker to data center development. Indeed, as is the case in Frankfurt, concerns over data center sprawl have led to government action to curb growth and ensure a more even distribution of resources.
"Governments, investors and large data centre operators alike expect sustained action to drive greater operational efficiency – reducing pressures on stretched power grids and limiting environmental impact," the report adds. "The future may see green finance being the only finance option coming forward, requiring demonstrable, clear sustainability plans to attract new investment."
Powering a sustainable future
While the regulatory picture may gradually result in the enforcement of pro-environment policies, data center operators must also take charge of the issues blighting the industry in a bid for energy efficiency.
While public sector policies and the rise of renewable energies might inject some hope into the macro picture, data center operators can also take a number of steps to tackle the issue. Reviewing the components that power one's infrastructure, and assessing the market for more energy-efficient processors, such as the AMD EPYC series of data center chips, are both an ideal place to start.
AMD EPYC CPUs offer excellent performance, and power the most energy-efficient x86 servers, with EPYC-fitted infrastructure minimizing the environmental impact of data centers while contributing to the organization's sustainability goals. Testing of 4th Gen AMD EPYC processors – the latest series in this family of CPUs – shows that including these chips in your data centers leads to 67% fewer servers required and a 52% power reduction, versus competitive CPUs.
The result is a reduction in capital expenditure of up to 40% in the first year, alongside an operational expenditure reduction of 61%.
With data centers continuing to expand globally, and rising energy prices fuelling greater expenditure, organizations should do everything they can to shrink costs. By investing in technology like energy-efficient AMD EPYC processors, businesses will be able to reduce their power consumption and pivot towards net zero, without sacrificing performance or their compute capabilities.
To find out more information about the potential of 4th Gen AMD EPYC processors, visit AMD's official website.
Get the ITPro. daily newsletter
Receive our latest news, industry updates, featured resources and more. Sign up today to receive our FREE report on AI cyber crime & security - newly updated for 2023.
ITPro is a global business technology website providing the latest news, analysis, and business insight for IT decision-makers. Whether it's cyber security, cloud computing, IT infrastructure, or business strategy, we aim to equip leaders with the data they need to make informed IT investments.
For regular updates delivered to your inbox and social feeds, be sure to sign up to our daily newsletter and follow on us LinkedIn and Twitter.