Why Frankfurt is clamping down on data center sprawl
Frankfurt's package of data center regulations could be a model for FLAP-D cities and other territories across the world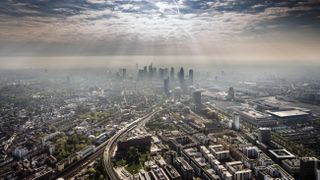 (Image credit: Getty Images)
In Germany's western region of Hesse lies the city of Frankfurt, situated on the river Main. This area has seen rapid growth in data centers over the past few years, with conditions making it a highly-sought territory to install new IT infrastructure.
Despite being roughly 16 times smaller than London, Frankfurt has the highest market share of the FLAP-D market – Frankfurt, London, Amsterdam, Paris and Dublin. The German city occupied 50MW of a 200MW market share (25%) in 2018, according to Kickstart Europe, which surged to 150MW of 390MW (39%) in 2021. Trailing behind were London and Paris – each with 80MW.
Such rapid growth might be good for Frankfurt's data center industry, but can impact other businesses when it comes to energy usage, maintaining a water supply, and even physical space that could be used for, say, housing. To control the sudden rise in data center occupancy, the city passed legislation designating where data center can be established.
The package of measures ensures data centers can only be built in specific districts, among other stipulations. Not everybody approves, though, not least the industry. Other cities around the world – including the rest of the FLAP-D market – are nonetheless keenly monitoring these developments, casting an eye to whether the rules will pave the way for a more sustainable approach to data center expansion.
Why Frankfurt has become a data center hub
Frankfurt has become a data center hub thanks to Germany's strong economy, says Sebastien Bonneau, partner at Eversheds Sutherland. Its GDP in 2024 is expected to grow by 1.7%, compared to France's 1.3% and the UK's 0.9%, OECD figures show. It also had the fourth highest GDP in the world as of September 2022, according to Investopedia analysis.
Frankfurt has also excelled as a hub – with the highest density of data centers of any German city – due to the needs of the local economy. It houses the European Central Bank (ECB), various national and international banks, and the German Stock Exchange. Plenty of European companies have established themselves there, with businesses also taking advantage of the Frankfurt-based Deutsche Commercial Internet Exchange (DE-CIX).
DE-CIX nodes in Frankfurt account for the most data transfers worldwide, according to Mordor Intelligence, while Frankfurt also has a high network density – meaning it has a vast number of high-speed connections. This makes it very efficient to move data across Europe from a centrally located city like Frankfurt, says Eric Boonstra, Iron Mountain VP and GM for Europe. "It's also a strategic location for other markets such as Romania, with smaller needs for lower latency," Bonneau adds.
Another reason why data center operators are expanding in the city is because of GDPR. "The latest set of European Union (EU) data regulations is driving the dissemination of data into a larger number of facilities in different countries, by stipulating data is stored in the country in which it's generated," Boonstra explains.
Not everyone is as enthused about the growing data center industry, given that branching out into new areas can put fresh strain on energy, water, and land supplies. Projections show the industry would need an additional 75 hectares of space to meet demands by 2030, with an investment of €500 million (£437 million) per year, explains Anna-Lena Kempf, an IP/TMT lawyer at Pinsent Masons.
Frankfurt's municipal council, therefore, devised an urban development concept – the Frankfurt Data Centre Masterplan – in June 2022 to counteract large data center operators from establishing new "data-center clusters" in the city, Kempf adds. This regulation changed data center urban planning rules so existing clusters could be strengthened, but further expansion must be curbed. Frankfurt has been carved up into 'suitable', 'restricted' and 'exclusion' areas for data centers, setting it apart from the rest of the FLAP-D market.
Controlling data center expansion
Growing disgruntlement
The German Data Centre Association (GDA) has argued against the new regulations. When the rules were first unveiled, GDA CEO Anna Klaft said operators should have been involved earlier and more intensively in forming the rules.
"As the voice of data center operators in Germany," Klaft said at the time, "we continue to emphatically support political decision-makers for framework conditions that enable sustainable, long-term growth and do not further jeopardize the competitiveness of Germany's digital location."
GDA said the areas might be inappropriate or won't be able to meet demand, and pointed out data centers use 5% of commercial space but provide 70% of digital services.
The rules identify the best locations for data center growth so businesses don't have to compete as hard for space or resources, says Kempf. The commercial districts green-lit for data centers are Sossenheim, Rödelheim, Griesheim, Gallus, Ostend, Fechenheim and Seckbach. The industrial parks in Höchst, Griesheim and Fechenheim are also fine. The rest of the city, and other industrial areas, are off-limits.
"Updating the commercial area development program is only one part of a larger package of measures to integrate data centers in a way that is compatible with the city and the climate in the future," Kempf says. Other measures include a city-wide heating system to use waste heat from data centers, as well as greening the facades and roofs of buildings. Additionally, new data centers will need to run on green electricity.
This is only the beginning, with the German data center industry set to be more heavily regulated in future, especially in terms of power consumption, since grid capacity is often limited, says Valerian von Richthofen, an energy partner at Pinsent Masons. The German Energy Efficiency Act (Energieeffienzgesetz) is in the works, which contains a separate section for data centers. Then, at an EU level, the Energy Efficiency Directive (EED) aims to reduce the bloc's energy consumption by 2030, with data centers particularly under fire.
The regulations don't end here. Future guidelines will also address urban planning quality, climate compatibility, and resource consumption, Kempf adds. This will affect data centers' planning, construction, and operations, and make sure they contribute to sustainability goals.
Building a blueprint for sustainable data centres
"We expect that many other cities will impose similar requirements on the construction of data centers, especially in order not to miss their climate targets," says von Richthofen. "This trend is already emerging. Not only cities, but also federal states, are developing concepts and guidelines for sustainable data centers, such as the state of Baden-Württemberg."
Similar regulations have also been implemented in Amsterdam, another FLAP-D member, as well as Singapore, says Boonstra. Amsterdam for example, placed a ban on building new hyperscale data centers in 2022, although it made an exception for Microsoft. The Dutch city also adopted policies to save energy and encouraged the construction of underground electricity networks.
"Each city will have its own specific reasons for introducing legislation to manage the development of data centers – in Frankfurt the key driver was new urban development objectives in what is a relatively small city," he says. Boonstra expects similar rules to be introduced across Europe but sees them as a positive for the industry. Companies have already made great strides to become more sustainable and minimize the environmental impact by developing ways to generate energy, reuse heat, and recycle, with such rules complementing these efforts.
Frankfurt had to do something to control this sprawling industry, so it could oversee any future growth sustainably and ensure other businesses aren't compromised. A resistant sector may be looking on with bated breath, but more time is needed to examine whether Frankfurt's regulations will be successful. Considering the industry is widely publicizing its sustainability ambitions, however, the regulations may be a blessing in disguise if it helps them along the way. If Frankfurt's plan succeeds, it's only a matter of time before other members of FLAP-D attempt to replicate these measures.
Stay up to date with the latest news and analysis from the world of cloud computing with our twice-weekly newsletter
Zach Marzouk is a staff writer for IT Pro, Cloud Pro, and Channel Pro where he writes news articles and in-depth feature pieces primarily focused on Asia Pacific and the US. Aside from covering topics like security, privacy, worker rights, and startups, he also contributes to the IT Pro podcast and IT Pro 20/20.
After studying an undergraduate degree in Arabic and Spanish at the University of Leeds, Zach completed a journalism internship at The Argentina Independent in Buenos Aires where he wrote about the country's history, politics, and technology.
He then joined IT Pro in 2017 where he was introduced to the world of B2B technology as a junior staff writer, before he returned to Argentina in 2018, working in communications and as a copywriter. In 2021, he made his way back to IT Pro as a staff writer during the pandemic.
Contact him at zach.marzouk@futurenet.com or find Zach's thoughts (and more) on Twitter @ZachMarzouk
Thank you for signing up to Cloud Pro. You will receive a verification email shortly.
There was a problem. Please refresh the page and try again.