Why Singapore stopped building data centres
With the city-state partially lifting its three-year moratorium on new constructions, Singapore has become a microcosm for the global shift to green data centres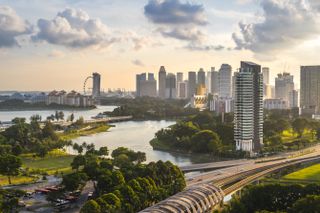 (Image credit: Getty Images)
Data centres around the world are facing pressure to become more sustainable and eco-friendly, as technology companies strive to cut their carbon emissions. A microcosm of this challenge can be found in one country: Singapore.
In 2019, Singapore imposed a moratorium on data centres construction in light of the challenges it now faces, meaning no new sites could be built. The initial ban was for two reasons, says Charlie Dai, a principal analyst at Forrester.
Firstly, as one of the most critical data hubs in Asia Pacific, Singapore's contribution to global carbon emissions is over 200 times greater than the percentage of its land area among global territories, with data centres accounting for around 7% of its electricity consumption in 2020. This means moderating data centre development is crucial for the government to fulfil its commitment to environmental sustainability. Secondly, Dai continues, in a tropical climate environment, floodwaters and rising sea levels will be an ongoing challenge for Singapore, making it even harder to address its sustainability needs.
Now, three years on, the government has hinted the moratorium will soon be lifted once it publishes new rules that place strict energy efficiency requirements on all new data centre sites. With other nations such as Japan also pursuing green data centres, alongside others around the world, what happens in Singapore over the coming months might pave the way for a wider shift in global data centre construction.
Pursuing data centre quality, not quantity
Data centres require both land and a huge amount of energy, and Singapore has very limited supplies of both, according to Tanya Notley, associate professor at Western Sydney University. She believes the government used the moratorium to send a strong signal to companies, saying it was about addressing the need for data centre quality, not quantity.
Notley explains that, for over a decade, Singapore has been the main data centre hub for South Asia. The government has also been very proactive in offering technology companies incentives to base operations in Singapore because this aligns with its economic strategies.
Data centres don't only benefit technology companies, serving as critical infrastructure, but benefit the Singaporean government too, she adds. Its investment arm, Temasek, partly owns most of the undersea cables that come into the country, and they're critical to data centre operations. Temasek also happens to be a major investor in technology companies. Given this intricate link, Singapore needs data centres to thrive economically.
Land, meanwhile, is the most precious asset in Singapore, and for this reason, the state remains the largest landlord in the country, says Chan-Hoong Leong, head of policy development, evaluation and data analytics at Kantar Public. Through land use policies and regulations, the state determines what type of commercial, industrial, or residential use of land be permitted for its strategic national development plan, he explains.
The most precious asset in Singapore is land
Singapore is also a global city-state, digitally well connected domestically and internationally. Digital transformation has sped up with COVID-19, and data protection and integrity became an integral component of defence and resource management. To ensure this can be achieved, it is paramount Singapore has its own data centres located domestically, he says.
"Managing land allocation is certainly one challenge," says Leong. "The other is the energy needed to keep the centre going, data centres consume a lot of power. Singapore is an importer of energy and how to ensure it is sustainable is a major challenge."
Singapore imports the vast majority of its electricity, in the form of gas, from Malaysia and Indonesia, says Notley, and produces very little renewable energy. "Back in 2015 the government made public that data centres accounted for 9% of Singapore's overall energy use with a projection that this would reach 12% by 2020," she says, adding it's likely energy use may have even surpassed their target – though it's difficult to acquire up-to-date data.
Until recently, the government used the carrot instead of the stick, when it came to data centres and electricity use, says Notley. They encouraged companies to apply for green building certification, offered lots of tax incentives, and made funding available for data centre innovations that would address energy use.
They also encouraged data centre companies to consider building in specific locations, outside of the city where natural environmental factors and building design could be used to reduce energy use. Notley suspects this approach wasn't working well enough, as it didn't lead to the reductions in energy use.
Blueprinting green data centres for the future
The moratorium, says Notley, seems to have been designed to send a much stronger signal to companies that the government is very serious about this issue. It has also provided the government with the opportunity to put new policies in place.
Now the moratorium has been partially lifted, the government is open to pilot projects, so data centre companies will really need to up their game with innovations for reduced energy to take part.The programme then provides the government with an opportunity to explore which initiatives will be most effective.
"Data centre companies are rarely transparent about how their innovations result in energy efficiencies – perhaps the pilot program will provide the government with vital intelligence on this so they can roll out further policies or changes," explains Notley.
RELATED RESOURCE
The business value of the transformative mainframe
Modernising on the mainframe
Part of the reason why the country is beginning to introduce these green policies is the consequences of climate change for Singapore could be severe. Its effects include extreme rainfall, flooding, increased extreme heat events, sea-level rise, and decreased labour productivity from heat stress, says Anna Chapman, climate and energy policy analyst at Climate Analytics.
As part of an effort to combat this, the country has recently announced a plan for a higher carbon tax. Chapman underlines this will encourage companies to reduce emissions through innovation and energy efficiency to reduce tax paid. It will also spur companies to assess less carbon-intensive options where possible.
"The bottom line, however, is that Singapore needs to accelerate its rate of action and seriously consider setting a more ambitious 1.5°C compatible target for emissions reductions and simultaneously establish associated policies to achieve it," she explains. Data centres are important enablers that support the growth of the digital economy, says Goh Pei Sheng, acting vice president of the Singapore Economic Development Board's (EDB) Digital Industry Singapore. Despite this, he recognises they're intensive users of resources.
The consequences of climate change can be catastrophic for Singapore
He says earlier this year, the Infocomm Media Development Authority (IMDA) and the EDB invited data centre industry players for a discussion about a Call for Application exercise. This was to facilitate new data centre capacity to be built in Singapore. This is part of Singapore's plan to manage the growth of data centres in a sustainable manner consistent with its climate change commitments.
"We intend to be more selective of the data centres we can accommodate," says Pei Sheng. "In particular, we seek to anchor data centres that are best in class in terms of resource efficiency, which can contribute towards Singapore's economic and strategic objectives. We will also put in place measures to raise the efficiency of existing data centres over time."
Pei Sheng added the EDB is currently seeking feedback from the industry and more details will be announced in the coming months.
Centres of environmental destruction
Notley underlines that one Singapore data centre provider, Keppel, has been working on plans for data centres that float on the sea. Building design and machine learning capabilities are also vital to energy efficiencies. She thinks the Singaporean government has been very proactive in supporting research and development to promote data centre energy efficiencies, and this pilot program is part of those efforts. Data centres, however, contribute to several forms of environmental destruction.
The materials used for servers and cooling, the discarding of e-waste – these are major issues that the government didn't mention with this moratorium, Notley highlights. E-waste, in particular, is a significant issue because Singapore is one of the top producers in the world per capita. Vast amounts of e-waste are moved around the globe illegally as part of black markets, resulting in poor communities risking their lives putting their lives at risk to deal with toxic materials without proper safety equipment.
Last year, she says, the government introduced a new policy to make companies more responsible for e-waste, which is a step in the right direction. Materials used in data centres can also be unethically sourced and involve child and slave labour, or result in toxic waste that can cause enormous damage. Notley thinks there needs to be supply chain transparency for all the materials used in computers if we're to truly judge the full environmental impact of data centres.
Singapore isn't the only country facing this challenge, however. Notley points to Ireland, and its own moratorium on new data centre projects in the greater Dublin area. She believes it's easier for a country like Singapore to really push for rapid change, though, as they have much more control over land and the economy than most other countries do.
She says it would be better if countries collectively agree on regional or global regulations and standards to ensure everyone is moving as one to address the environmental impact of data centres. "Perhaps Singapore will prove to be an exemplar of what is possible – I hope so, but we will need to wait and see what they achieve. After all, the need for data centres will only continue to grow," says Notley.
Stay up to date with the latest news and analysis from the world of cloud computing with our twice-weekly newsletter
Zach Marzouk is a former ITPro, CloudPro, and ChannelPro staff writer, covering topics like security, privacy, worker rights, and startups, primarily in the Asia Pacific and the US regions. Zach joined ITPro in 2017 where he was introduced to the world of B2B technology as a junior staff writer, before he returned to Argentina in 2018, working in communications and as a copywriter. In 2021, he made his way back to ITPro as a staff writer during the pandemic, before joining the world of freelance in 2022.