LG hails 6G breakthrough with successful outdoor test
Tech firm claims it has overcome a major hurdle to viable long-range 6G connections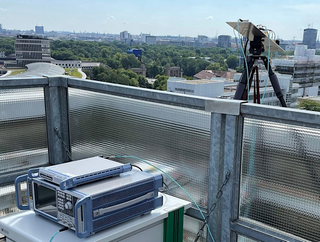 (Image credit: LG Electronics)
LG has said it has become the first company to successfully transmit data across 6G outdoors for the first time, which it describes as a key milestone on the way towards rollout in the future.
Partnering with the Fraunhofer Heinrich Hertz Institute in Germany, the South Korean firm demonstrated that it could overcome early challenges holding back 6G development to broadcast successfully outdoors.
This experiment involved transmitting 6G data across a range of 100 metres between the rooftops of the Fraunhofer Heinrich Hertz Institute and the Berlin Institute of Technology.
"The success of this test demonstrates that we are ever closer to the successful application of terahertz radio communication spectrum in the upcoming 6G era," said president and CTO of LG, Dr I P Park.
"Our successful partnerships with local and global research institutions and organizations to advance the development of 6G capabilities have been very rewarding," he said.
Trials for 6G have been underway since last year, but these have largely been in controlled settings in order to test the viability of the technology.
The first recognisable 6G trial came in November 2020 when China launched "the world's first 6G satellite" into space to conduct communications tests.
In contrast to 6G trials having so far been conducted in controlled environments, LG's test represents successful transmission in an entirely outdoor setting at a much longer range than before.
Samsung, for example, previously demonstrated successful 6G data transmission on terahertz (THz) frequencies in June, but at a range of just 15 metres, according to Wonderful Engineering.
Because 6G transmission on THz frequencies has a short range and experiences power loss during transmission, one of the key challenges has been achieving enough power amplification to generate a stable signal across ultra-wideband frequencies.
LG points to its own power amplifier, developed in partnership with the Fraunhofer Heinrich Hertz Institute and the Fraunhofer Institute for Applied Solid State Physics, as being crucial to this latest test.
Specifically, this power amplifier generates stable signal output up to 15 decibel milliwatts (dBm) in the frequency range between 155 to 175 GHz.
LG also demonstrated something it calls 'adaptive beamforming technology', which alters signal direction depending on the channel and the receiver position. This comes alongside 'high gain antenna switching', which combines output signals of multiple amplifiers and transmits them to specific antennae.
With 5G only still being rolled out across the world, it'll be many years until 6G is even close to being commercially available. LG, however, expects the industry to develop a set of standards by 2025, with the networking technology expected to arrive from roughly 2030.
A daily dose of IT news, reviews, features and insights, straight to your inbox!
Keumars Afifi-Sabet is the Features Editor for ITPro, CloudPro and ChannelPro. He oversees the commissioning and publication of in-depth and long-form features across all three sites, including opinion articles and case studies. He also occasionally contributes his thoughts to the IT Pro Podcast, and writes content for the Business Briefing. Keumars joined IT Pro as a staff writer in April 2018. He specialises in the public sector but writes across a breadth of core topics including cyber security and cloud computing.
A daily dose of IT news, reviews, features and insights, straight to your inbox!
Thank you for signing up to ITPro. You will receive a verification email shortly.
There was a problem. Please refresh the page and try again.