Salesforce CRM vs Microsoft Dynamics
Salesforce or Microsoft Dynamics? We compare the two to see which is the best cloud-based CRM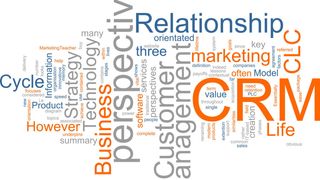 Two of the most popular CRM applications available on the market are Salesforce and Microsoft Dynamics.
Both have many resemblances but also have well-defined differences as both have developed independently of each other. For example, Salesforce is cloud-based and "born in the cloud", so most of the time you will be using the service through a browser. Dynamics, on the other hand, relies a lot on integration with Office (particularly Outlook) while cloud hosting comes a very close second.
We take a look at how they measure up against each other.
Salesforce
Pros: Great design and product quality. Highly customisable. Lots of third-party apps.
Cons: Interface has only just had a refresh and customers need to opt-in to use it. Some lower tiers lack features.
Supported Platforms: Mac OS, Web browser (OS agnostic), iOS, Android
Salesforce is top dog when it comes to CRM in the cloud. There is a broad suite of CRM tools for organisations of all sizes that target sales and support.
There is a range of solutions for verticals, such as financial services and wealth management. Along with these, AppExchange (its partner network) presents a number of third-party solutions for specific industries. These apps are built on Salesforce's Force.com platform.
The desktop app also sports a couple of new features; the Pipeline Board and Sales Path. The former enables users to see their pipeline and drag and drop opportunities between various Sales Stages to instantly see the effect on forecasts. The latter guides users to keep an opportunity moving onwards with customised information for their organisation's sales process.
There is also a new analytics engine offering better-looking charts, reports and dashboards. The reporting engine has had an overhaul thanks to components drafted in from its Wave analytics system.
The desktop version supports Chrome and Mozilla browsers, but for Internet Explorer, only version 11 is supported. Safari has to be version 8 or greater to access the service. This could be a pain point for IT departments with strict policies on desktop software.
Salesforce solutions are only available as a SaaS deployment via the cloud, meaning applications are created, tested and deployed without the expense of buying hardware, software and support. Force.com is a platform that covers database and security as well as workflow and user interface. This allows customer application development to created customised apps for individual organisations.
Web and desktop apps
Salesforce recently updated its user interface and dubbed this its "Lightning Experience". It called this its most significant update to the desktop interface in 16 years. It has been working on this since 2013 and if you have used any of its mobile apps, you would have had a taster of this already.
The old interface was rather tired looking compared with mobile. The new interface has a more flexible layout and great emphasis on displaying information in a more visual way rather than boring numbers and text.
The new interface is dynamic, compared with the old static HTML look prior to this.
Chatter is Salesforce's social media application. This enables social networking and collaboration across the organisation.
Mobile Apps
Salesforce has apps for iPhone, iPad and Android devices. There is also a mobile website to cover any other mobile operating systems not explicitly supported.
The Salesforce mobile app includes features such as sales management, marketing automation, partner relationship management and customer services. All of which should enable organisations to better manage customers, monitor sales leads and track marketing campaigns. There is also the means to provide service and support for post sales. The mobile app also integrated the Chatter mobile communications tool.
Price: Starts at $25 per user per month
Microsoft Dynamics
Pros: Tightly integrated with other Microsoft products, offers marketing and automation tools built into the product
Cons: The service is undergoing rapid change so require a lot to learn in order to keep up
Supported Platforms: Windows 7, Windows Vista, Windows XP, Mac OS, Linux, HP-UX, AIX, Solaris, Unix, IBM OS/400, Web browser (OS agnostic), Windows 2000, Windows 8, Windows 10, iOS, Android, Windows Phone
Microsoft Dynamics was first launched in 2003 with the latest version being Microsoft Dynamics 2016. It offers verticals, such as financial services, manufacturing, healthcare, retail, professional services, government and education.
It offers such features as sales force automation, marketing planning and automation, social listening and engagement, customer service and analytics It offers role-based design and user customisation.
Whereas Salesforce is cloud only, Dynamics is available both in the cloud, on-premise or hosted by a Microsoft partners. Developers can use the underlying .Net framework to integrate other applications using Web services.
As you would expect from Microsoft, the solution integrates with Office365, SharePoint, Yammer, Skype, Windows and Azure. To get the most from the software, your organisation need a Microsoft infrastructure in place, as it is fully integrated with Office.
Web and desktop apps
Dynamic comes with three different user interfaces: the CRM web, the Outlook Client and the CRM mobile app.
The CRM tool can be integrated into an Outlook client, meaning the client can be used as a primary CRM interface. Office applications can be embedded into the CRM for a single screen view at contact, customer, etc.
The tool can track Outlook emails in the Dynamics making it part of the permanent history for a lead. Should an email come from a new contact, the CRM and track and record that information. Contact information can be added to marketing lists, categorized and better engaged via CRM capabilities.
The web client is compatible with Internet Explorer, Edge, Firefox, Safari or Chrome. Through the web interface, you can view, add, or edit information that you've stored in the CRM database. The latest version (Dynamics 2016) can track emails through the browser rather than relying on using Outlook on a PC.
Mobile Apps
Dynamics can be accessed via iPhone, Android and Windows mobile devices. The apps enable salespeople to manage sales data, based on contextual information while on the go. Users can update notes, tasks, contacts, accounts, cases, and leads. Agents and supervisors can also manage cases with the tool.
Price: Microsoft Dynamics CRM Online starts at $65 per user per month.
Overall verdict
Neither Salesforce nor Microsoft is better than the other. Both have great features and a platform that can scale with any business. Both allow customisation with add-ons, modules and third-party applications. Both can be overwhelming to the neophyte.
What you go for in your own business very much depends on what you have already. If you have invested a lot in other Microsoft products, then Dynamics will work better for you as it is very tightly integrated with those products.
Otherwise, Salesforce is a much better prospect if you are more comfortable with having data in the cloud. The new interface should retain existing users and help in drawing new customers away from the competition.
Stay up to date with the latest news and analysis from the world of cloud computing with our twice-weekly newsletter
Rene Millman is a freelance writer and broadcaster who covers cybersecurity, AI, IoT, and the cloud. He also works as a contributing analyst at GigaOm and has previously worked as an analyst for Gartner covering the infrastructure market. He has made numerous television appearances to give his views and expertise on technology trends and companies that affect and shape our lives. You can follow Rene Millman on Twitter.
Thank you for signing up to Cloud Pro. You will receive a verification email shortly.
There was a problem. Please refresh the page and try again.