Facebook Messenger now features its own lock
Now you can lend your phone without worry about someone snooping through your Messenger app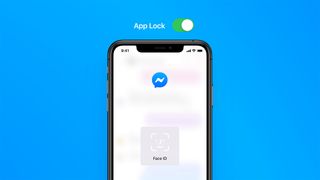 Facebook Messenger has become a communication tool for the masses. From personal chats to business communications, seemingly everyone uses it daily. This results in a lot of sensitive and personal information getting shared on it, and with Messenger now on our phones, this makes letting someone borrow your phone a risky proposition, until today.
Today, Facebook has added an extra layer of protection by adding a lock specifically for the Messenger app. Dubbed App Lock, this new feature locks your Messenger and allows noone to access it until you use either your touch or face ID to unlock it separately from your phone. What's more, this system uses the IDs already stored in your phone and doesn't transmit them to Facebook.
App Lock is currently available on iPhone and iPad devices only, but Facebook expects to roll it out to Android devices in a few months.
Before App Lock, once you unlocked your phone to let someone else use it, they had full access to your private messages. If that person took to snooping through your messages, it could expose you or your business to a number of risks. With App Lock, this is no longer an issue.
Sure, it's an extra step each time you unlock your phone to check your messages, but it's well worth the security.
You can activate App Lock by opening your Messenger app, clicking on your avatar on the top-left corner, clicking "Privacy" under the "Preferences" section and toggling App Lock to the "On" position.
With App Lock activated, you can feel confident your messages are secure when letting a friend, family member, coworker or stranger borrow your phone.
A daily dose of IT news, reviews, features and insights, straight to your inbox!
A daily dose of IT news, reviews, features and insights, straight to your inbox!
Thank you for signing up to ITPro. You will receive a verification email shortly.
There was a problem. Please refresh the page and try again.