TikTok threatens legal action over ban
TikTok says it'll pursue all remedies to ensure it's treated fairly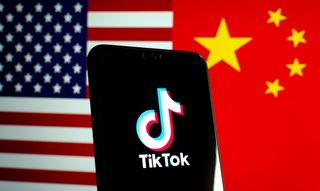 TikTok threatened legal action in response to an executive order issued by President Donald Trump on Thursday. The order would ultimately ban the Chinese social media app from doing business with US firms in 45 days.
In a blog post, TikTok said it was "shocked" by the executive order, claiming it was issued "without any due process" and "risks undermining global businesses' trust in the United States' commitment to the rule of law."
"For nearly a year, we have sought to engage with the US government in good faith to provide a constructive solution to the concerns that have been expressed," the blog post added.
"What we encountered instead was that the Administration paid no attention to facts, dictated terms of an agreement without going through standard legal processes, and tried to insert itself into negotiations between private businesses."
TikTok says it will pursue all remedies available to ensure the Trump administration and US courts treat it and its users fairly.
The popular social media app has become the center of a tech war between the US and China. The Trump administration previously threatened to ban TikTok in the US amid national security concerns surrounding how TikTok and its China-based owner ByteDance treats its users' data.
In the order, President Trump says: "This data collection threatens to allow the Chinese Communist Party access to Americans' personal and proprietary information — potentially allowing China to track the locations of Federal employees and contractors, build dossiers of personal information for blackmail, and conduct corporate espionage."
TikTok wasn't the only Chinese company targeted by the Trump administration Thursday. Another executive order targeted WeChat, the popular Tencent-owned messaging app. In the order, President Trump claims the app's data collection practices could supply China with access to Americans' personal information.
The executive order's 45-day delay may provide enough time for TikTok to sell its US brand. ByteDance, TikTok's parent company, is in acquisition talks with Microsoft, but President Trump has muddied the waters by demanding a "very substantial portion" of the TikTok sale go into the US coffers.
A daily dose of IT news, reviews, features and insights, straight to your inbox!
A daily dose of IT news, reviews, features and insights, straight to your inbox!
Thank you for signing up to ITPro. You will receive a verification email shortly.
There was a problem. Please refresh the page and try again.