Trump wants to dismiss lawsuit targeting social media order
Administration calls CDT lawsuit a "profound misunderstanding"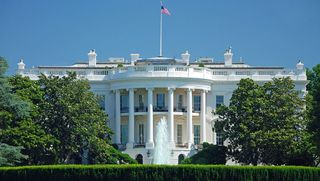 (Image credit: Shutterstock)
The Trump administration has filed a motion asking a court to dismiss a lawsuit against an executive order targeting social media companies. According to a copy of the motion, which Reuters saw, the Trump administration has called it a "profound misunderstanding".
In May, President Trump issued an executive order targeting social media companies and Section 230 of the Communications Decency Act. The order was issued just days after Twitter fact-checked one of the President's tweets regarding mail-in voting.
In response to the executive order, the Washington-based tech group Center for Democracy and Technology (CDT), which is funded by Facebook, Google and Twitter, filed a lawsuit arguing the executive order violates the First Amendment rights of social media companies and will ultimately hinder free online speech.
The Trump administration, however, says that the executive order isn't directing private companies to moderate their content.
"The EO challenged here imposes no obligations on any private party," said the motion filed by the Department of Justice in the US District Court for the District of Columbia, which was seen by Reuters.
"It directs executive officials to take steps that could lead various agencies to examine ... allegations that large social media online platforms have displayed political bias in moderating content," the motion claims.
Avery Gardiner, CDT's general counsel, said of the motion: "Instead of actually trying to address the merits of the issues, and to engage in litigation that will show the severe constitutional deformities of the executive order, it is resorting to legal maneuvering."
Gardiner added that CDT has negotiated a briefing schedule with the Department of Justice and will be filing its response by the end of August. The government will likely respond by September 21, she said.
White House spokesman Judd Deere claims, though, that the Trump administration moved to dismiss the case because "it is not a valid legal argument."
"The left-wing lobbying organization's brief seems to suggest it doesn't understand how administrative action works or possibly that it doesn't understand the nature of the judicial system," he told Reuters.
Last month, the US Commerce Department also petitioned the Federal Communications Commission (FCC) to clarify "when online platforms can claim section 230 protections if they restrict access to content in a manner not specifically outlined under the Act." In response, FCC Chairman Ajit Pai agreed to open the petition to public comment for 45 days.
A daily dose of IT news, reviews, features and insights, straight to your inbox!
A daily dose of IT news, reviews, features and insights, straight to your inbox!
Thank you for signing up to ITPro. You will receive a verification email shortly.
There was a problem. Please refresh the page and try again.