Google chairman talks Android, Facebook and Motorola
Eric Schmidt also claims there is no friction between Google and Samsung.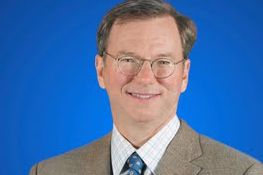 Google CEO Eric Schmidt spoke on a variety of topics including Android, Motorola and even North Korea at AllThingsD's Dive into Mobile Conference in New York on Tuesday.
The Google chairman talked numbers about the Android platform, and shared his thoughts on products, partners and competitors. Here are some of the most interesting things he had to say.
Android
Schmidt threw out numbers to back up the success of the Android platform. He noted that there are 1.5 million activations every day and a total of 750 million devices using the OS worldwide.
Google's chairman claimed the firm's goal was to "reach everybody", and is confident Android will cross the 1 billion user mark by the end of 2013.
Apple
Google benefited hugely from the Apple Maps fiasco. Apple was forced to apologise to customers for the sub-par system it had replaced Google Maps with and ended up stocking it in its App Store. According to Schmidt, Google still wants its maps service to be the primary tool on iOS devices, but the likelihood of this happening is slim to none.
"We would still really like them to use our maps," Schmidt said."It would be easy for them to take the app in the store and put it as their basic one."
Motorola
Since being bought by Google, Motorola has released a handful of devices and struck up a partnership to use Intel chips. But the firm has failed to release a device to challenge the Galaxy S and iPhone ranges.
However, there is still hope for the once prominent firm judging by the products they have in the works. Schmidt described Motorola's forthcoming product line as "phenomenal". This may be unsurprising as the firm is owned by Google, but suggests there may be something to look forward to in the next launch.
"What I'd advise to do with Motorola is wait and see with the next generation of technology. It's very, very impressive," he said.
Samsung
Schmidt moved to dismiss reports there is tension between Google and Samsung. There were suggestions the success of Samsung's Galaxy handsets may have led to the firm trying to re-negotiate its partnership with Google, but this is not the case.
"We spend lots of time with Samsung, and I can confirm for you that the press coverage of tension is not correct," he said.
"[The] Samsung relationship has turned out to be a defining one [for Android]."
Facebook
When quizzed about Facebook's Home skin for Android handsets, Schmidt claimed that he "loved it".
"I think it's fantastic I love it. This is what open source is about," he said.
"It's experimentation, it's creativity... I think it's one of the main reasons that Android is doing so well right now. And it took some guts to do it," Schmidt said.
Schmidt categorically dismissed any suggestions Google would remove Facebook Home from the Google Play Store.
"It would be counter to our public statements, our religion. The answer is no. We would not remove Facebook Home."
North Korea
The Google chairman even talked about his recent trip to North Korea and spoke of the censorship citizens face in the country. Schmidt claimed he has never seen a system in place where people are "thought controlled" to such an extent.
"It's the last place where there is essentially no connectivity," he added.
A daily dose of IT news, reviews, features and insights, straight to your inbox!
Khidr Suleman is the Technical Editor at IT Pro, a role he has fulfilled since March 2012. He is responsible for the reviews section on the site - so get in touch if you have a product you think might be of interest to the business world. He also covers the hardware and operating systems beats. Prior to joining IT Pro, Khidr worked as a reporter at Incisive Media. He studied law at the University of Reading and completed a Postgraduate Diploma in Magazine Journalism and Online Writing at PMA Training.
A daily dose of IT news, reviews, features and insights, straight to your inbox!
Thank you for signing up to ITPro. You will receive a verification email shortly.
There was a problem. Please refresh the page and try again.