Google Fit health platform to monitor Android users
The search giant has announced a new health platform for Android named Google Fit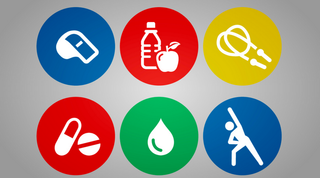 Google is to launch a new health service for Android called Google Fit, bringing to an end months of speculation about the search giant's plans to move into the health monitoring market.
The announcement comes at a time when hype for devices that track health and fitness is reaching fever pitch. Despite no concrete mention of the rumoured iWatch from competitor Apple, it seems the big tech companies are looking to grab a slice of the monitoring pie.
Google Fit will use sensors on mobile devices and wearables like its newly released smartwatch collection to track various fitness-based data from its users. Apps like weightloss program Noom will combine workout data and weight in real-time, as well as your eating habits.
From any data it gathers, the program will then make suggestions on how to improve your diet, exercise or routines. Other partners with Google Fit already announced include Nike, Adidas, HTC and Motorola. Nike's FuelBand range of wearables were specifically mentioned during the Google I/O event in San Francisco earlier this week.
Google Fit will come into competition with Apple's newly announced HealthKit, as it strives to become a hub in your phone which draws data from other apps to store them in one place.
Apple's health app has ran into trouble in recent weeks when it discovered the name has already been taken by an Australian startup.
The SDK for Google Fit will be available "in a couple of weeks" according to the company, whereupon it will hope for more partners to jump onto the bandwagon.
A daily dose of IT news, reviews, features and insights, straight to your inbox!
A daily dose of IT news, reviews, features and insights, straight to your inbox!
Thank you for signing up to ITPro. You will receive a verification email shortly.
There was a problem. Please refresh the page and try again.