Baidu Eye is Google Glass without the screen
Eye, a Google Glass competitor without a screen, has been announced by Chinese tech company Baidu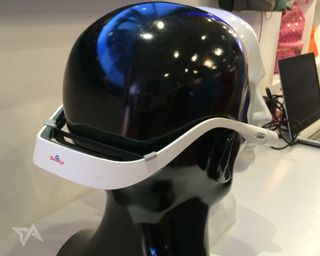 The Eye, a competitor to Google Glass hailing from Chinese tech company Baidu, is today being displayed at a showcase event in Beijing, reports The Next Web.
The wearable device was announced in April 2013, but is only now being demonstrated at the company's Baidu World event.
Despite being touted as a competitor to Google Glass and other smart headsets, unlike the others, the Eye does not include a screen.
The image, posted by Tech in Asia, shows how similar in appearance the Eye headset is to Google Glass and other rivals in spite of the lack of screen.
Kaiser Kuo, director of international communications at Baidu, told the site they had found that "screens impair vision and tires your eyes easily".
"Instead, we tether it to a smartphone app, so you can receive information on your phone screen (or your tablet, or another device) which is larger and easier to browse on than a small, head-mounted screen," Kuo continues.
"It also uses much less energy, and the battery lasts much longer. Its design is very light in the front, and of course people who wear eyeglasses can use it easily."
The device performs many of the same tasks as other emerging wearable devices, but relies on a smartphone or tablet to substitute as an in-built screen. It still supports voice and gesture commands.
Plans for the device that have not yet been put in place include integration with social networks, taking photos and answering calls. Baidu also reportedly wants developers to start creating apps for the Eye.
The product description for the prototype reads: "Basically Baidu Eye allows the user to analyze images and provide information or services related to your current field or a specific item. You can use voice commands, or gesture commands (like expanding to zoom, or circling an object in your field of view with your finger). You can identify plants, or find products (so far, handbags and articles of clothing) on e-commerce sites. The use case scenarios for now are limited, but we've got an enormous data set of clothes, bags, and flora right now."
A daily dose of IT news, reviews, features and insights, straight to your inbox!
Caroline has been writing about technology for more than a decade, switching between consumer smart home news and reviews and in-depth B2B industry coverage. In addition to her work for IT Pro and Cloud Pro, she has contributed to a number of titles including Expert Reviews, TechRadar, The Week and many more. She is currently the smart home editor across Future Publishing's homes titles.
You can get in touch with Caroline via email at caroline.preece@futurenet.com.
A daily dose of IT news, reviews, features and insights, straight to your inbox!
Thank you for signing up to ITPro. You will receive a verification email shortly.
There was a problem. Please refresh the page and try again.