Buying an iPhone 6 or 6 Plus? 10 things you need to know
Which iPhone is best for you?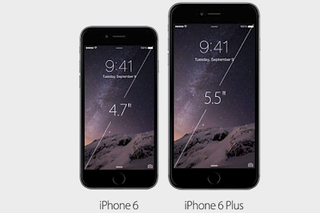 If you're thinking about getting an iPhone 6 or 6 Plus, we have some tips when it comes to choosing the handset, what you can expect and even ways to save money on the purchase.
1. Get a 64GB or 128GB model
The 16GB models may be the cheapest but the limited amount of physical storage isn't going to last long when you're dealing with HD files and ever increasing numbers of apps.
Users with older 16GB iPhones have already found upgrading to iOS 8 is difficult as it requires 5.8GB of storage space before the installation process begins. With no room to expand storage via a micro SD card, investing in a larger capacity iPhone will cause you less frustration in the long run.
2. You'll need a case
Apple has used anodised aluminum and rounded corners for the iPhone 6 and 6 Plus. Whilst the devices are comfortable to hold, they can easily slip out of your hand.
Recode reviewer Walt Mossberg admitted that he dropped his review sample in the driveway, smashing the screen and that he had to be sent a replacement.
Social media is also chocked full of people complaining about dropping their handsets. As Apple has yet to introduce the tougher sapphire glass display, dropping the device is likely to result in a cracked screen.
To minimise the chances of critical damage, you should buy a cover at the time of purchase.
Battery life in an important consideration when picking an iPhone because you can't swap out the battery on the move. The iPhone 6 Plus has the best battery life of any iOS smartphone to date largely because it's got the biggest battery (2915mAh). While the iPhone 6 is reportedly making it through a full day out-of-the-box, it looks like the bigger 5.5in device is for power users.
Apple has also made it easier to keep on top of battery life. There is now an option in iOS 8 to see exactly which apps are draining the power and - when you're really low on juice - it's possible to turn on greyscale mode to save power.
4. Save money by using a trade-in program
If you've got an iPhone 5s (or earlier) and you're itching to get the latest model, it's possible to save some cash by trading in.
For an unlocked 16GB iPhone 5s with no display damage or scratches on the rear, you could receive a maximum of 270 via Apple's official trade-in program. The larger the storage capacity, the more you'll get in return.
A quick comparison with third party trade-in programs shows that Apple's is quite generous:
FoneBank - 270 (unlocked)Mazuma - 250 (unlocked)O2 - 241Vodafone - 240Asda - 240Three - 220Carphone Warehouse - 198EE - 170
5. Purchase protection?
AppleCare+ insurance for the iPhone is available starting at 79 and includes two years of coverage. Under the terms, Apple will cover you for two incidents of accidental damage - subject to a 55 excess. Battery depletion is also part of the agreement, so if battery life falls off a cliff after the first year, you'll be entitled to a replacement.
However, if you're not willing to stump up for insurance, it's worth noting that credit card companies include protection against accidental damage as part of their terms of service too.
Most American Express cards offer accidental damage coverage up to 90 days after purchase (50 excess) as does the Post Office credit card. The Ulster Bank credit card offers up to 100 days of protection. It's worth checking to see if your credit card terms and conditions offer such an option.
6. What are the waiting times?
There is already a 3-4 week waiting time for all versions of the iPhone 6 Plus on the Apple UK website. It appears the 5.5in screen is proving the most popular handset, as it has a slightly better camera, longer battery life and more screen space.
A 16GB edition of the iPhone 6 will be dispatched in 7-10 working days, but the 64 and 128GB models will take a month to arrive.
7. How good is the camera?
The iPhones ship with an 8-megapixel rear camera, which may not seem as much as the 20.7-megapixels in the Xperia Z3 or the 41-megapixels found on Microsoft's Lumias. However, Apple has included Focus Pixels, which are typically found in DSLRs.
Travel photographer Austin Mann took the iPhone 6 Plus to Iceland in a comprehensive field test. He concluded that the 6 Plus had excellent low-light performance and also praised the re-focusing capabilities. Many other reviewers have also commented that this is one of the best all-round cameras on a smartphone.
Apple has opened up the Touch ID API allowing companies to use their apps in conjunction with the fingerprint scanner. Some notable apps already using Touch ID include:
Amazon
Evernote
1Password
LastPass
Simple
9. iOS 8 offers plenty of new features but there are bugs
The latest versions of iOS typically contain bugs and problems have been reported with Dropbox and accessibility features like VoiceOver. However, these are expected to be ironed out quickly and the software does introduce a raft of upgrades.
- Third party keyboards - It's now possible to install and use popular third party keyboards like the Skype and Swiftkey.
- Scan credit cards - With iOS 8 you can scan credit cards and the information will automatically be pulled in.
- Use Siri hands-free -When the iPhone is plugged into a power source, it's possible to interact with Siri without having to press the home button. Simply say Hey Siri'. This is useful when you're using your device in-car.
- Find your phone even when battery is dead - Go to Settings > iCloud > Find my iPhone and make sure Send Last Location' is toggled on. This way you can check the last location of the handset even when the battery has run out.
- Handoff works with OS X - Apple continues to integrate iOS and OS X together. When OS X Yosemite arrives you'll be able to make/answer calls from your iPhone on your Mac or iPad, send/receive messages from any device and also continue where you left off browsing.
- More control over location settings - iOS 8 now allows you to see exactly which apps are using your location and offers you more control over if they can access this information.
There are now three location settings for apps: Never', While Using the App' and 'Always'. 10. Apple Pay to coming to UK in 2015
The iPhone 6 and 6 Plus are the first iOS devices to ship with NFC chips. Apple has also debuted its own Apple Pay system in conjunction with American Express, Mastercard and Visa.
Users can make purchases via their iPhones in over 220,000 stores in the US. These transactions are authorised via the Touch ID fingerprint scanner.
The system is expected to come to the UK in 2015 - but there are no concrete dates available. It should also be noted that at this moment in time the NFC chip only works with Apple Pay.
A daily dose of IT news, reviews, features and insights, straight to your inbox!
Khidr Suleman is the Technical Editor at IT Pro, a role he has fulfilled since March 2012. He is responsible for the reviews section on the site - so get in touch if you have a product you think might be of interest to the business world. He also covers the hardware and operating systems beats. Prior to joining IT Pro, Khidr worked as a reporter at Incisive Media. He studied law at the University of Reading and completed a Postgraduate Diploma in Magazine Journalism and Online Writing at PMA Training.
A daily dose of IT news, reviews, features and insights, straight to your inbox!
Thank you for signing up to ITPro. You will receive a verification email shortly.
There was a problem. Please refresh the page and try again.