Rebuilt Google Wallet app launches for iOS
Google Wallet for iOS has been completely overhauled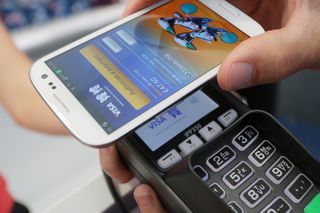 Google Wallet version 10.16.10 for iOS has landed in the app store, and now allows users to send or receive money from anyone. Recipients no longer need to have the Google Wallet app to receive payments, as senders may instead use their email addresses to transfer funds.
Using a Google Wallet debit card, users may access their account balance to withdraw from ATMs or spend at retail stores without directly using the app. Money can be transferred from the Wallet account to and from that debit card or bank account.
Android Pay was revealed as a successor to the app in May, but for the time being, Google Wallet still exists, now with a greater focus on peer-to-peer payment. Rather than paying for items at retailers, as is the focus of Android Pay, Google Wallet's main functionality is allowing the transfer of funds between individuals.
The latest version of the app allows bills and other expenses to be split, and a transaction log can also help track spending, monitor your balance, and show when it's time to transfer more money to Wallet.
According to Google, the app comes with constant fraud-monitoring and will cover all verified unauthorized transactions. Balances may be transferred at any time to a debit card or bank account.
Google re-engineered its payment service, Google Wallet, by partnering with Softcard in a bid to take on Apple Pay, PayPal and other rival offerings.
Google Wallet has used the technology behind Softcard, originally a joint venture from Verizon Wireless, AT&T and T-Mobile, as well as the search giant's branding to try and thwart the popular Apple Pay. The former Softcard mobile payments system ended on 31 March, with Google Wallet officially taking over from then onwards. All user accounts under Softcard were closed, as revealed in an email to customers.
A statement regarding the closure, posted onSoftcard's website, read: "Important News! We are pleased to let you know that Google has acquired technology from Softcard to power the next generation of mobile wallets. What does this mean for you? As of 3/31 your Softcard app will no longer work. You can continue to use the Softcard app until 3/31. After that your Account will be closed."
Thenew Google Wallet app has been preloaded onto AT&T, T-Mobile and Verizon Android smartphonesrunning Android KitKat or higher, taking advantage of the rising popularity and awareness ofNFC technologyamong consumers.
In ablog postunveiling the news, Ariel Bardin, Google's vice president of payments, wrote: "Over the years, we've received great feedback from people who use this feature and we've continued investing to make it easy and secure for more people to pay with their phones."
Samsung revealed its hand in February with the acquisition of mobile paymentsstartup LoopPay which had long been rumoured.
David Eun, EVP of Samsung's Global Innovation Centre, said of the move: "We are excited to take our relationship with LoopPay to the next level, by bringing consumers a mobile wallet solution that is not just safe and reliable, but also widely accepted at more locations than any competing service."
IT Pro previouslyreported onthe possibility of Google and Softcard's deal, with Softcard's former chief commerce officer Ed Busby saying: "It's unfortunate that [Softcard's] chosen now as a time to scale back. Externally, for the first time since I've been in this industry, the signs are pointing positively for mobile payments.
"I just think everyone realised that this would be a longer haul than people thought going into it, and as a result they aren't willing to make the types of investment that would be required to sustain this."
Samsung is also working on its own mobile payments system withSamsung Pay, which sees the company partner with MasterCard for the service.
A daily dose of IT news, reviews, features and insights, straight to your inbox!
Caroline has been writing about technology for more than a decade, switching between consumer smart home news and reviews and in-depth B2B industry coverage. In addition to her work for IT Pro and Cloud Pro, she has contributed to a number of titles including Expert Reviews, TechRadar, The Week and many more. She is currently the smart home editor across Future Publishing's homes titles.
You can get in touch with Caroline via email at caroline.preece@futurenet.com.
A daily dose of IT news, reviews, features and insights, straight to your inbox!
Thank you for signing up to ITPro. You will receive a verification email shortly.
There was a problem. Please refresh the page and try again.