Mobiles to shape future of contactless payments
Trade bodies and banks say they are ready to accept contactless payments over £30, but add that it remains at retailers' discretion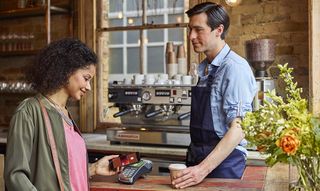 The "surge" in contactless payments has been boosted by mobile payment services, which are set to influence the how payments are made in future, members of the UK consumer finance sector told IT Pro.
"The use of contactless payments has surged over the past year, with monthly spending now at 1.5 billion more than three times what it was last year," a spokesman for The UK Cards Association told IT Pro. "On the high street, one in six card transactions is now contactless as consumers increasingly use cards instead of cash for lower value payments."
Digital wallets, such as Apple Pay and the newly launched Android Pay, are expected to have a significant impact on how consumers pay for goods at retail, Adrian Buckle, chief economist for Payments UK told IT Pro.
"Payments via mobile phones, whether through an app, browser, or as part of a contactless payment will undoubtedly help to shape the way we pay in coming years," said Buckle.
"These new mobile payment technologies are expected to be embraced in particular by younger people and with the exception of banking app payments the majority, such as Android Pay and Apple Pay, are methods used to initiate card payments.
"By using near field communication (NFC) technology similar to contactless cards at the point-of-sale, these types of mobile payments may further increase the volume of contactless card payments."
Spending above the current contactless payment limit is one factor that may become more common as a result of demand for retailers to support mobile payment services.
The national limit for transactions on contactless cards is 30 increased from 20 on September 1, 2015.
However, both Android Pay and Apple Pay, support contactless payments over 30. Banks contacted by IT Pro, including the Lloyds Banking Group, Nationwide, HSBC and credit card provider MBNA, all said they already have the infrastructure in place to support larger contactless payments, which require further user verification.
For contactless payments over 30 on Android Pay and Apple Pay, additional verification such as entering a pin code or fingerprint sensor approval is needed from the user.
All of banks we spoke to said it was up to the merchant's appetite to accept payments over 30. IT Pro has contacted some UK retailers for a response.
Google launched Android Pay in the UK last Wednesday. It is planning on adding further mobile web support to the service in coming months.
A daily dose of IT news, reviews, features and insights, straight to your inbox!
A daily dose of IT news, reviews, features and insights, straight to your inbox!
Thank you for signing up to ITPro. You will receive a verification email shortly.
There was a problem. Please refresh the page and try again.