River Island ditches enterprise hardware for 'prosumer' handhelds
The retail chain swapped Zebra MC14s for Samsung Galaxy XCover Pros across its more than 300 UK stores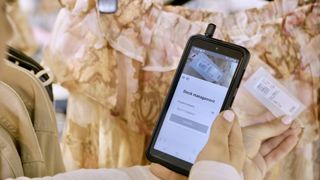 (Image credit: Scandit)
A high-quality customer experience is paramount for a retailer to maintain its reputation and loyalty among shoppers. Staff must swiftly address customer inquiries, too, both in person and online, with minimum disruption. For many years, UK high-street fashion retailer River Island had been using the Zebra MC14 scanning device to check stock and answer customer queries across its 300-plus nationwide stores.
But this device was nearing obsolescence, given it was powered by an older version of Android that was slow and unreliable, River Island's director for technology, Paul Cooper, tells ITPro. Devices were often shared between staff members, and different tasks required several pieces of equipment – not just one – such as walkie-talkies to communicate between colleagues across the shop floor.
Beleaguered with legacy hardware, River Island sought to unify its shop floor technologies across its hundreds of stores into a single handheld device – meaning upgrading thousands of employee devices at once.
Shifting from legacy to modern technology
The digital transformation journey started during the COVID-19 pandemic. River Island's workforce needed a way to communicate while working remotely during the lockdowns, so the business settled on Microsoft Teams. The reliance on Teams continued after restrictions were lifted as it proved to be an effective communication platform.
Next came modernizing its legacy hardware. River Island trialed a variety of handheld devices in certain stores, before reviewing how each device performed. Area managers worked with the central business to choose which outlets had the bandwidth capacity for the investigation.
Cooper has been with River Island for nine years, starting out as a technical services and infrastructure manager in 2014, and moving into several roles before being appointed director of technology operations in 2022. Cooper oversees River Island's IT infrastructure, systems architecture, data management, and security.
The Samsung Galaxy XCover Pro soon emerged as ideal for River Island's needs. "The XCover Pro was a massive shift for us; going from an expensive enterprise device to basically a 'prosumer' device," explains Cooper.
"It's a ruggedized phone, but there were multiple benefits. It's very intuitive, as it's the same as any Android device. It's also lightweight and worked extremely well with all of the mobile device management technologies that we use."
Unlike the Zebra MC14, however, the XCover Pro didn't have a barcode reader, which is essential in retail. Cooper overcame this challenge by collaborating with a smart data capture software provider, Scandit, to install a barcode reader on the XCover using the device's camera. This could then interface with River Island's product database. The software, however, did have walkie-talkie functionality, meaning retail assistants were able to use one fewer piece of hardware while on shift.
RELATED RESOURCE
Let's rethink retail operations
What would you automate to improve the transaction experience?
Using the XCover Pro also meant each member of approximately 5,000 River Island staff could have their own device for a shift, enabling smoother communication in-store, as well as with those in head office.
"As part of our move to Samsung devices, we were able to give every single person who's on shift a device," says Cooper. "They could all have a device and be in contact. This was a key driver for us – to make sure that we had identity correct on the devices."
One of Cooper's main goals was for the devices to be as easy to use as possible. Given Android's ubiquitous nature, most members of staff were already familiar with the operating system. The apps have been designed to be intuitive and transparent, too, so new starters only need a brief induction.
Triggering a back-end network upgrade
Having a much greater number of handheld devices operating across the River Island ecosystem demanded a major network upgrade as part of the wider project. The business upgraded from MPLS-WAN to SD-WAN, in a major modernization of the UK clothing retailer's network infrastructure.
The devices were first deployed at just a few stores to confirm they would integrate with River Island's network, before they were rolled out to the remaining sites across the UK, in a repeat of the onboarding process.
Although Cooper says the deployment was ultimately successful, he believes with hindsight they shouldn't have been as aggressive with the rollout, given the scale of the challenge.
"Our approach has always been to get the most value as quick as you can, and then do the iterative changes," he explains. "With more than 250 stores and across multiple regions of the UK, that's quite an ask.
"We should have pulled it back a tiny bit to allow the rollout to be smoother."
Over the course of the project, River Island unified functionality into one device for each employee while simplifying processes and streamlining communications. It's reduced frustration among staff and boosted morale while improving the customer experience – since staff can quickly and accurately resolve queries.
The retailer plans to build on this momentum by deploying a self-checkout system across stores in its next major project. The system is already being tested at one location, with more sites preparing to trial the technology soon.
Get the ITPro. daily newsletter
Receive our latest news, industry updates, featured resources and more. Sign up today to receive our FREE report on AI cyber crime & security - newly updated for 2023.
Get the ITPro. daily newsletter
Receive our latest news, industry updates, featured resources and more. Sign up today to receive our FREE report on AI cyber crime & security - newly updated for 2023.
Thank you for signing up to ITPro.. You will receive a verification email shortly.
There was a problem. Please refresh the page and try again.