Drone deliveries approved for Swiss skies
Swiss Post tests Matternet drones for hospital deliveries in Lugano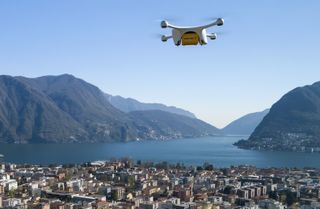 Drones have been approved to make flying deliveries of lab samples in Switzerland, Swiss Post announced today.
The Swiss postal carrier is one of many trialling the idea of flying delivery robots, with Amazon, Google and DHL all developing their own versions of the technology.
Swiss Post is using drone delivery tech from US startup Matternet, which has had 70 test flights over the past two weeks in the skies above Lugano, in order to gain approval from local civil aviation authorities. With the project now formally approved, further test flights will run until 4 April, with more trials this summer looking at safety as well as practicality and reliability, Swiss Post said.
The aim is to ferry lab samples between two hospitals in the city starting in 2018, in the hopes drone delivery will be faster and more efficient than road transport.
"From then on, trained hospital staff will be able to load the drone independently with a safety box (in which the lab samples are packaged) and launch the drone with a smartphone application," Swiss Post explained. "The drone will then fly autonomously along the predefined route to its destination, where the box will be received by another member of staff."
Matternet's drones are 80cm quadcopters with a range of 20km that can carry 2kg at a top speed of 36km/hour. Because the flights are between set locations, the drones have dedicated landing pads that are targeted via infrared signal. In case the drone fails over the densely populated city, it comes with a parachute.
Swiss Post said it didn't see drones completely replacing existing parcel delivery, instead complementing it - particularly for the last mile. It's also trialling delivery robots and smart shuttles.
Picture courtesy of Swiss Post
A daily dose of IT news, reviews, features and insights, straight to your inbox!
A daily dose of IT news, reviews, features and insights, straight to your inbox!
Thank you for signing up to ITPro. You will receive a verification email shortly.
There was a problem. Please refresh the page and try again.