Amazon drones: Amazon makes first US delivery, but regulators still limit flights
Retailer shows off Prime Air in the US, but delivery drones remain grounded by regulation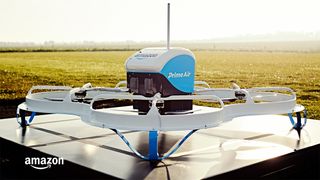 Amazon has shown off its Prime Air drone delivery service in the US, dropping off bottles of sunscreen to attendees of its own robotics conference in Florida.
The company has previously demonstrated the airborne drone delivery system here in the UK, where it's being trialled in Cambridge much to the irritation of some locals.
The demo was captured on video by The Verge, showing the quadcopter lowering over 20 seconds or so to a marked point in the grass, landing and releasing an Amazon parcel, before taking off to the sky as onlookers record the proceedings on smartphones.
The report noted that Amazon said it was the first time one of its drones had dropped off a package in public, rather than on private property, thanks to assistance from the Federal Aviation Authority.
So far, US regulators haven't given Amazon or its drone delivery rivals permission to fly parcels through the air, with most deliveries to date limited to carefully controlled trials.
15/12/2016: Amazon's first drone-delivered parcel
Amazon's Prime Air delivery drone has made its first drop-off in Cambridge, to a test customer who lives close to the company's facility.
The items in that first shipment? The company's TV streaming dongle and a bag of popcorn.
The company's CEO Jeff Bezos said it took the drone 13 minutes to make the delivery, which surpassed its target of making air deliveries in 30 minutes.
"Prime Air has great potential to enhance the services we already provide to millions of customers by providing rapid parcel delivery that will also increase the overall safety and efficiency of the transportation system," Amazon said.
The company explained it will continue to test its air deliveries and will use the data to improve the service, including the reliability and safety of its systems and operations, while ensuring customers get the experience they expect.
"Safety will remain to be the company's top priority, Amazon explained. "Our vehicles will be built with multiple redundancies, as well as sophisticated "sense and avoid" technology. Additionally, through our private trial in the UK, we will gather data to continue improving the safety and reliability of our systems and operations."
Although the company hasn't revealed when Amazon Prime Air delivery will become a mainstream method of delivering packages, it said it will start giving customers the option when it has received regulatory approval.
"We are working with regulators and policymakers in various countries in order to make Prime Air a reality for our customers around the world, and expect to continue to do so," the company added.
A daily dose of IT news, reviews, features and insights, straight to your inbox!
A daily dose of IT news, reviews, features and insights, straight to your inbox!
Thank you for signing up to ITPro. You will receive a verification email shortly.
There was a problem. Please refresh the page and try again.