Samsung wins $6.6bn Verizon deal for 5G amid Huawei concerns
The order signals that Samsung might be deemed a suitable alternative to Huawei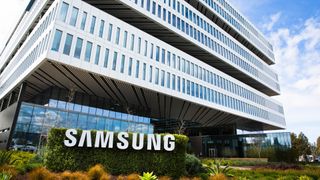 (Image credit: Shutterstock)
Samsung has announced that it had won a $6.6 billion (£5.05bn) order to provide wireless communication network equipment to Verizon in the US until the end of 2025.
The deal includes supplying 5G-capable equipment, signalling that Samsung might be deemed a suitable alternative to Huawei, which had dominated the 5G market until its equipment was banned from the US and the UK.
A Samsung spokesman confirmed to Reuters that the Verizon order is for network equipment, but declined to provide more details on the terms of the contract, such as the portion of 5G-capable equipment included.
Commenting on the announcement, Samsung said that the "latest long-term strategic contract" is to allow the company to "continue to push the boundaries of 5G innovation to enhance mobile experiences for Verizon's customers".
The contract, which is worth $6.6 billion (£5.05bn), is valid for the next five years, until 31 December 2025.
Although it only involves the company's US unit, the deal might signal that Samsung could be deemed a valid contender to Huawei which, according to last year's data from market research provider Dell'Oro Group, leads the total telecom equipment market at 28%. Samsung holds only 3% market share, behind Nokia at 16%, Ericsson at14%, ZTE at 10%, and Cisco at 7%.
Despite its market dominance, Huawei had been plagued with significant setbacks in the last few months.
The US first announced restrictions targeting Huawei in May, while the UK banned the company's equipment from the country's 5G infrastructure in July. Only two days later, UK officials reportedly met with their Japanese counterparts to discuss Fujitsu and NEC as potential alternative suppliers for the network. However, it hasn't been ruled out that the government might consider South Korean Samsung.
Despite the setbacks, Huawei managed to beat Samsung to the spot of as the world's number one smartphone brand, having shipped more devices worldwide than any other vendor in the second quarter of 2020, at 55.8 million. It marked the first time in nine years that a company other than Apple or Samsung managed to lead the market. Huawei's success was largely credited to how the coronavirus has impacted different regions.
A daily dose of IT news, reviews, features and insights, straight to your inbox!
A daily dose of IT news, reviews, features and insights, straight to your inbox!
Thank you for signing up to ITPro. You will receive a verification email shortly.
There was a problem. Please refresh the page and try again.