UK raises more than £1.3 billion in 5G spectrum auction
EE and O2 were the biggest spenders with each network buying up £450m of 5G spectrum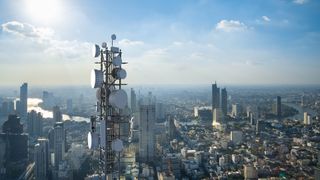 (Image credit: Shutterstock)
Ofcom has announced the outcome of the principal stage of its long-delayed 5G spectrum auction, with mobile operators spending more than £1.3 billion in the first stage of bidding.
BT-owned EE, O2, Three and Vodafone were the four companies to bid for spectrum in the lower 700Mhz band as well as higher 3.6-3.8Ghz frequencies.
While the former airwaves are responsible for providing wide-area coverage, particularly in rural areas, the 3.6-3.8Ghz frequencies are part of the primary band for 5G. The combination of these frequencies is expected to increase the amount of airwaves used by mobile services in the UK by 18%, resulting in better coverage and faster data speeds.
The principal stage of the auction, which was originally due to kick off in 2017, finally began late last week. Although Ofcom had previously warned that the process could "take some weeks to complete", the regulator has published the results just days after bidding commenced.
EE and O2 were the biggest spenders, with both telecoms giants spending around £450 million each. Both operators won 2x10Mhz of paired frequency spectrum in the 700Mhz band and 40Mhz in the 3.6-3.8GHz band. The former also succoured 20Mhz of supplementary downlink spectrum in the 700Mhz band.
Three, which is already the owner of the largest spectrum holding for 5G services, spent £280 million on spectrum in the 700MHz band, while Vodafone paid £176m for 3.6-3.8Ghz frequencies.
Vodafone chief executive Ahmed Essam said that the company purposefully "avoided expenditure on low-band spectrum", adding that it's planning to repurpose its 900MHz holdings in order "to carry 5G traffic".
"This auction will boost our 5G network capacity. It means we will have the spectrum we need to further the roll-out of 5G to our customers, bringing high-speed connectivity and opening up new opportunities for products and services," said Essam.
Ofcom's Spectrum group director Philip Marnick said that the next step of the auction process will see operators "have an opportunity to negotiate the position of their spectrum holdings in the wider band".
"This is an important step forward in bringing better mobile services to people – wherever they live, work and travel. These airwaves will help improve coverage for the mobile services people use today, as well as supporting the UK's position as a world leader in 5G," he added.
The spectrum acquired by the companies has a 20-year licence term with an expiry date of 2041.
A daily dose of IT news, reviews, features and insights, straight to your inbox!
A daily dose of IT news, reviews, features and insights, straight to your inbox!
Thank you for signing up to ITPro. You will receive a verification email shortly.
There was a problem. Please refresh the page and try again.