Developing the Internet of Senses
The Internet of Senses aims to deliver multisensory experiences, but is it truly achievable by 2030?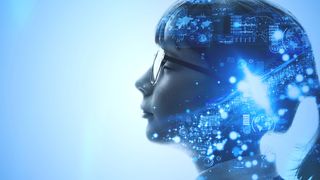 (Image credit: Shutterstock)
Although 5G is still very new to the majority of us, many technologists and researchers have already moved their focus onto the next generation of wireless technology; 6G.
Each generation gave us something new – 3G focused on voice and text while 4G centred around the growing consumption of data. The Internet of Things (IoT) was at the heart of 5G's focus, while the goal of 6G is to deliver multisensory experiences that will be almost inseparable from reality. This has been coined the Internet of Senses.
A form of teleportation
Professor Rahim Tafazolli, regius professor at the University of Surrey and director of the 6th Generation Innovation Centre, talks about the Internet of Senses as a form of teleportation.
"Mobile systems transmit. First it was voice, then images, 2D video and now 3D video in the form of VR. We're transmitting and receiving two of our senses currently, seeing and hearing. So now we need to find a way to transmit the other three senses. If you put this together with 3D video, we're effectively creating a kind of teleportation."
The Internet of Senses will rely on technologies including artificial intelligence (AI), virtual reality (VR), augmented reality (AR) and automation to interact with our senses of sight, sound, taste, smell and touch, and experts believe this will enable a myriad of new applications.
For example, doctors could monitor patients and provide care remotely, we could hug friends and family hundreds of miles away – for example, by wearing the wetsuit-like outfits used in the TV show Upload – and businesses could hold truly lag-free virtual meetings.
"We could enable scenarios like that seen in the movie Kingsman: The Secret Service, where physical participants in different locations all meet together in a virtual space," enthuses Tafazolli.
The journey's already underway
The concept of the Internet of Senses was championed by Ericsson, which predicts it could be a reality by 2030. Last year we saw the launch of the UK's first dedicated hub to 6G research at the University of Surrey, and many businesses are already researching opportunities in this area.
"A look at recent patent filings gives a good indication we're on the journey right now," says Julie Richardson, a partner at specialist intellectual property (IP) law firm Reddie & Grose. "We've already seen several successful filings for innovations that combine VR and haptics to simultaneously trigger our sense of touch and sight."
She points to the Teslasuit as an example. "[This is] a very exciting innovation in this space which could have consumer and business-focused applications.
"Most people will be familiar with this from the recent Vodafone advert in which a boy uses a VR headset to experience tobogganing with his sister while laid up in bed with a broken leg. Tesla Studios has already secured two US patents for its technology and is actively seeking further IP rights in other countries. Elsewhere, Apple has applied for more than 500 patents related to haptic feedback, showing it too is actively positioning itself to be a significant player in this space."
The challenges ahead
There's still a long way to go for the Internet of Senses to become reality, and many challenges to overcome. Transmitting and receiving all our senses will require extensive bandwidth and high accuracy synchronisation between the different data flows. Low latency levels of approximately 10ms will also be needed in order for natural interactions, such as shaking hands, to be able to happen in real time.
"Even a three second lag could be dangerous," points out futurist Shivvy Jervis. Founder of FutureScape 248, Jervis has been following research into 'the tactile web' for the last three years. "Think about an engineer in the middle of fixing a vital piece of machinery or a surgeon conducting remote surgery. The connectivity is the most vital part of developing the Internet of Senses."
"We need much better bandwidth and capacity than 5G can currently provide, we need 3D audio and we also need to develop a way to transmit the three other senses," continues Tafazolli. "As a research institute, we believe that knowing what the problem is is half the solution, and so we're working with our industrial partners to develop technologies that will enable all of this.
"We're focusing on touch first. We need sensors, perhaps a type of electronic skin that can translate the transmission into a sensation we can receive. Then we'll move onto the other two senses of taste and smell."
Potential 6G business use cases
A lot of the buzz around the Internet of Senses has been consumer-focused, with talk around things like more immersive entertainment or online shopping experiences.
However, there are many potential use cases that will appear to businesses, particularly in sectors like health and manufacturing. These, according to Tafazolli, "will take things to a completely new level and make this fusion of the virtual and physical worlds as natural as possible".
One of the clearest business cases for the Internet of Senses is the development of more realistic training simulators. Today's simulators can recreate the sights and sounds of a real-world environment, but could be made even more authentic with the addition of further sensory feedback.
There have also been some more 'out there' ideas floated, such as using implants to turn the brain into an interface in its own right, enabling people to control devices using only their thoughts. These are very much blue-sky concepts right now, with technology firms focusing on advanced AR and VR supplemented with additional sensory inputs. However, Richardson points out that brain implants, in conjunction with AI mind mapping, monitoring and ultimately inference with the brain/bodily function interface, are definitely on the agenda of many forward-looking companies and research institutes.
But implants are a tall ask for consumers, notes Jervis, and there's a lot of ethical issues to consider. "The ability to connect one's brain is a little worrying – I study the ethical oversight of new technology very closely and this is a minefield. However, more attainable applications are not as far fetched and often have a tech for good element underpinning them," she concludes.
Get the ITPro. daily newsletter
Receive our latest news, industry updates, featured resources and more. Sign up today to receive our FREE report on AI cyber crime & security - newly updated for 2023.
Keri Allan is a freelancer with 20 years of experience writing about technology and has written for publications including the Guardian, the Sunday Times, CIO, E&T and Arabian Computer News. She specialises in areas including the cloud, IoT, AI, machine learning and digital transformation.