Curious Noses: Fighting climate change one garden at a time
The IoT-powered Curious Noses project in Belgium aims to show the value of green spaces and how they are affected by climate change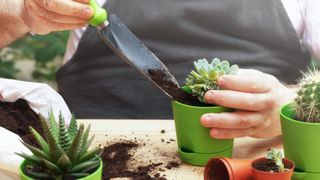 (Image credit: Shutterstock)
This article originally appeared in issue 21 of IT Pro 20/20, available here. To sign up to receive each new issue in your inbox, click here
In August this year, a report from the UN Intergovernmental Panel on Climate Change (IPCC) dominated headlines around the world with a stark warning that urgent action was required to prevent a climate breakdown.
Even more concerning was that the study, the largest ever conducted, found some of the impacts of global warming were already irreversible.
In the discourse that followed, a range of behavioural changes and policies were touted as ways to minimise our impact on the environment. Technology can play a critical role both in facilitating these changes and by enhancing our understanding of how the planet is being affected.
Curious Noses
The University of Antwerp's 'Curious Noses in the Garden' project is using the Internet of Things (IoT) to better understand how green spaces such as forests, farms, and gardens, are being affected by climate change and how they can help us cope with its effects. It's also one of the largest user-driven research projects ever conceived, powered by 5,000 participants in the Belgian region of Flanders.
The recruitment of citizen scientists was necessary, says researcher Stijn Van de Vondel, because of the logistical and privacy challenges of acquiring data from private gardens using traditional methods.
Aside from practicalities, the participant-driven model also helps reinforce the idea among the general public that climate change isn't just something that happens far away but affects temperate countries like Belgium too. It's one of the reasons that the project has received support from the Flanders government.
"People aren't necessarily welcoming to having scientists in their back garden!" Van de Vondel tells IT Pro. "A compromise is for citizen scientists to collect the data themselves, so they can see the information and interact with it and with each other. It brings the concepts of climate and climate change literally to your doorstep.
"We wanted to see if gardens contribute to cooling or if they provide heat. The city can become a greenhouse because they capture a lot of heat and radiate it."
Citizen scientists
Each participant has installed a 'Garden Dagger' equipped with sensors based on an existing TMS-4 technology from TOMST, a Czech firm famous within the scientific microclimate community for highly reliable and robust sensors.
However, TMS-4 sensors typically require data to be collected manually – limiting the scope and capability of the project. The use of IoT technology simplifies the process, allows many more sensors to be used, and provides researchers with more up-to-date data.
"In the beginning, the idea was do the project manually with 200 sensors or so," explains Van de Vondel. "However, the process of taking the measurements, collecting and combining the data was quite a struggle. Then we figured out we could [use IoT] and use thousands of sensors."
The team approached Orange to see if something could be done and the mobile operator was very keen to get involved. After all, the project showcased the virtues of cellular IoT and the environmental capabilities of the technology – it almost sells itself. The TMS-4 sensors were upgraded with the necessary chipsets and SIM card functionality and Curious Noses had the foundation for mass IoT deployment.
Getting the data
Once a sensor is in place, it takes a series of readings – air temperature, surface temperature, and moisture levels – every 15 minutes. This information is relayed to the researchers overnight using Orange's Narrowband-IoT (NB-IoT) network.
Before the information is sent to the database, it sits in a 'basket' so it can be checked for any potential discrepancies or system errors. For example, a massive variation from the previous reading would indicate a potential failure, while very little change would indicate an extended period of disconnection.
Although cellular networks provide wide coverage, there can occasionally be some hiccups. Fortunately, the researchers receive some information such as throughput and network quality, aiding any investigation if they think there is a problem.
"During a recent heavy rain event, we saw something strange was happening as temperature readings were just flatlining," says Van de Vondel. "Basically, the sensors were actually drowning in floods – they were submerged."
Once the data has been checked, it's sent to a SQL database that serves two different user groups.
RELATED RESOURCE
Best practices for running Microsoft SQL Server on AWS
Optimise performance for your SQL Server
The first is the participants. Some of the data collected, such as soil warmth and moisture, is processed so participants can interact with the information using a dashboard based on the cumul.io platform.
Because this data is presented visually, it makes it easy for people to understand their garden and compare it to others involved in the project. This 'quasi-real time' data coupled with a focus on local environment helps drive interest and engagement.
This 'quasi-real time' data coupled with a focus on local environment helps drive interest and engagement.
Meanwhile, the researchers get the raw data, which they can analyse for patterns and create models. The researchers use 'R', a statistical programming language based on Python, which can be used to submit queries or create visualisations. It can even be used for 3D modelling if required.
This visual element is particularly important for the media element of the Curious Noses project, which has partnered with De Standaard newspaper to raise awareness. The hope is not to create a story of anguish, but rather spread the idea that society can work together to improve the situation.
"Although science is good for society, it often falls behind a paywall or jargon," says Van de Vondel. "This project shows science is cool and relatable. You are all cooperating with us and we're all learning things from each other."
It's not just traditional media, either. He adds that Cumul.io even allows participants to share their data on social media, fuelling discussion.
Exportable framework
Already, the project has been able to challenge the assumption that inner-city gardens would be worst affected by changing conditions due to the aforementioned heat islands. The data instead shows that because urban gardens are often smaller and shadier, they are naturally cooler on sunny days and less impacted by hot weather.
Meanwhile, the researchers have empirical evidence to show that the value of green spaces in the community goes beyond leisure.
"We had a rain event in July, and we can show that without those gardens things would be much more drastic," Van de Vondel suggests. "We all say green space is important, but we can actually show it [empirically]. Gardens act as a very big sponge that can slow down the water we have in our streets [caused by severe weather events]."
Ultimately, the goal is to create an IoT-based citizen science model for others to follow – allowing for even larger experiments, collecting more types of data, in more parts of the world.
"If your sensors only measure once a day then you will miss extreme weather events. We want to export this framework so we can create a large microclimate network across multiple ecosystems and countries because we believe we can gather hugely valuable data that would be otherwise impossible to collect."
Get the ITPro. daily newsletter
Receive our latest news, industry updates, featured resources and more. Sign up today to receive our FREE report on AI cyber crime & security - newly updated for 2023.