Is the IoT the saviour of the environment?
We are on the cusp of a connection revolution as IoT rapidly develops. Could this technology solve the climate change crisis?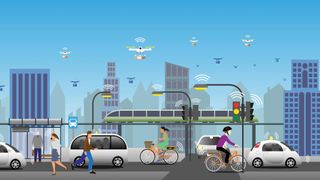 According to assessments by the World Economic Forum (WEF) as part of their Exponential Climate Action Roadmap, expanding the use of digital technologies could reduce carbon emission by at least 15% – almost a third of the 50% reduction needed to curb climate change by 2030.
The onward march of the fourth industrial revolution, which leverages the burgeoning 5G cellular network, internet of things (IoT) and artificial intelligence AI to create intelligent spaces and environments that better manage their resources, is a key element of the digital push to reduce the impact of climate change.
As masses of data are collected from the vast arrays of connected devices within the IoT ecosystem, can these insights lead to tangible positive impacts on climate change? With this data available, businesses can better manage their processes, supply chains and waste management.
Here, the industrial internet of things (IIoT) plays a critical part in mitigating the effects of climate change. By monitoring every facet of processes from farming (for example, methane emissions from livestock) to intelligent control of street lights, it helps build a digital ecosystem that delivers the data needed to make fully informed decisions.
"The deployment of smart technologies and the use of smartphones has shown real environmental benefits as they have resulted in efficiencies that reduce carbon emissions," says Steven Moore, head of climate action at GSMA. "There is a big opportunity for data to play a greater role in protecting the environment and to support enhancing biodiversity. That doesn't mean we need sensors everywhere, and we should be conscious of data privacy considerations too."
The IoT is not a panacea for preventing or reducing the impact of climate change and must also be placed into context. "Crudely put, if I apply IoT technology to a coal-fired power station, I will end up with a more efficient, less polluting power station, but it will still be burning coal," says Tim Stone, co-founder of specialist IoT investor Breed Reply. "Using IoT and AI to reduce congestion in a city will reduce carbon emissions, but not as much as using more electric cars, or making everyone cycle! On its own, it is not the solution, but will play a significant role."
Connected environments
The Ericsson Mobility Report estimates the number of cellular connections will reach four billion by 2024. The rapid expansion of sensor technologies in factories will be joined by smart cities that will generate intelligent environments. The use of the IoT in mass transit is a good example of how technology can be used to reduce harmful emissions. Shenzhen in China now runs a fleet of 16,000 fully electric buses, which have the potential to reduce CO2 emissions by 48%.
Moving goods around the world is also a significant contributor to climate change emissions. When applied to logistics, the IoT has massive promise: According to the WEF, transport alone accounts for 21% of global emissions. IoT technology, when applied to individual packages, could revolutionise global logistics by establishing shorter journeys to each destination and driving up efficiency. It's when the whole transport sector is using IoT as an integrated data source that real change becomes possible.
IoT and IIoT are essential technologies for changing the course of climate change, but they won't be enough by themselves. Stephen Mellor, chief technical officer, IIC (Industrial Internet Consortium), says: "AI, including machine learning and deep learning, is an essential enabler for IIoT so it can deliver improvements in our climate. Other technologies are needed too, such as network slicing to create isolated private networks, distributed computing to bring computing closer to the edge, trustworthiness, which expands security into safety, resilience, reliability and privacy are all needed."
Saving the world one sensor at a time
If the effects of climate change are to be mitigated, an aggressive program of technological development will be needed. The United Nations Intergovernmental Panel on Climate Change (IPCC) calls for reductions of carbon emissions of up to 70% and practical solutions will require more use of IoT on a global level.
For businesses and consumers alike, focusing on what they can achieve today with existing technologies is a good place to start – the continuing rollout of smart meters is a useful example of this. The University of Salford and The Energy Saving Trust concluded this initiative alone could deliver 11% of the UK's target for carbon reduction.
The information landscape that IoT can deliver can't be overestimated. At the moment, insights which could provide real-world benefits are out of focus or even hidden from view. As Brendan Mislin, managing director and global IoT lead of Accenture's Industry X.0 unit explains, more information is key to fighting climate change.
RELATED RESOURCE
2020 report: The threat posed by shadow IoT devices
Unsanctioned IoT devices open a portal for chaos across the network
"The saying 'If you can't measure it, you can't manage it' applies perfectly to the situation of IoT and climate change," he tells IT Pro. "IoT solutions allow climate change programmes to gather a vast array of data – levels of pollution, traffic, temperature – almost anything that can be measured, even in real-time if needed."
Mislin concludes: "Having access to these data streams, programme owners can establish baselines and measure the effects of the different initiatives they undertake. This is relevant whether they try to optimise the energy consumption of buildings, or reduce pollution on busy roads, or change shipping and deliver routes to reduce fuel consumption."
Even on a micro-level, IoT when applied to everyday life such as using an app to quickly locate a parking space when amplified across a city or country can have a profound impact on emissions and, therefore, climate change. Businesses across every sector will be able to innovate to reduce their impact on the environment.
And consumers armed with a range of tools and services to interrogate their data will enable them to take practical long-term actions to reduce their impact on the environment. While it can't operate in isolation, coupled with high-speed networks such as 5G, the IoT could usher in a connected and intelligent landscape that also protects our environment
Get the ITPro. daily newsletter
Receive our latest news, industry updates, featured resources and more. Sign up today to receive our FREE report on AI cyber crime & security - newly updated for 2023.
David Howell is a freelance writer, journalist, broadcaster and content creator helping enterprises communicate.
Focussing on business and technology, he has a particular interest in how enterprises are using technology to connect with their customers using AI, VR and mobile innovation.
His work over the past 30 years has appeared in the national press and a diverse range of business and technology publications. You can follow David on LinkedIn.