The four S's of managed WordPress hosting
We discuss the four S's of managed WordPress hosting, and why handing over management can be helpful for most website owners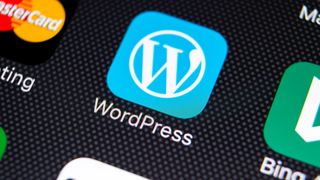 (Image credit: Shutterstock)
While websites used to be a luxury, the modern online world means that they're now necessities for all sizes of business, in basically every market. Some utilise the best website builder platforms, others the best web hosting, but whether it's an ecommerce store, a blog, or everything in-between, it's critical to have a strong web presence for both outreach and sales, with WordPress offering both hosting and site building.
For those with the requisite technological knowledge, it's entirely possible to host your own site, but this strategy can often drain both time and resources, and result in minimal gain. Should your site be compromised, for example, regaining your position in search engine results could be difficult and pose you no end of trouble.
Additionally, other issues such as poor performance, compatibility, and more are more likely to affect you if you're self-hosting your website.
Managed WordPress hosting
With that in mind, it's no surprise that so many businesses have moved to WordPress. In fact, WordPress is estimated to power 42.1 percent of the world's sites, or 708 million sites, making it far more prevalent than any other CMS. The best WordPress hosting providers take care of the technical side, and let you focus on other areas of your company.
Switching to WordPress hosting has several advantages, including more robust protection, faster loading speeds, and a more responsive customer experience. In other words, you'll be able to rely on consistent web performance without sinking any additional time into your site.
In this article, we'll cover the four S's of managed WordPress hosting—security, scalability, speed, and service—to help you find the right provider for your business. Hosting providers have all the benefits of hosted servers, along with expert advisors who can help you get more from your site.
1. Security
Online security has been a crucial consideration since the beginning of the internet, but it's now more relevant than ever. Modern websites face increasingly sophisticated threats from a wide range of sources, and no business is too small to be at risk. It's important to take the security of your website seriously, regardless of the size of your organisation, and learn how your web hosting impacts security.
You won't have to spend time worrying about security or protecting your site if you use a managed WordPress service. The provider will constantly monitor your website, in order to identify potential threats and shut them down quickly. If the site is attacked, your provider will also help you minimise downtime and other costs related to the outage. It's worth mentioning that managed WordPress sites tend to achieve better performance because they aren't slowed down by fake traffic.
All things considered, security is arguably the top reason to consider managed WordPress hosting rather than hosting your own site. The amount of work that it would take to develop equally strong security measures in-house simply isn't realistic for most small businesses.
2. Scalability
Every website owner wants their page to go viral, but many self-hosted sites aren't actually prepared for a large bump in traffic. These events are often unpredictable, and can cause significant issues for self-hosted sites.
For example, if a celebrity tweets about your site, traffic could immediately increase tenfold (or more). Without the infrastructure necessary to handle such large volumes of traffic, you won't be able to give new visitors the right experience. In other words, you could easily lose the opportunity to grow your audience.
Managed WordPress hosting providers can help you scale your site to match traffic at any given time. WordPress experts know exactly how to optimise your site without incurring unnecessary expenses. Pricing is typically flexible depending on traffic, so you can easily upgrade or downgrade your plan as needed.
3. Speed
You might think of speed as a luxury, but the reality is that many visitors will leave your site if it doesn't load quickly. In fact, roughly 40% of all internet users leave websites after waiting for just three seconds. Furthermore, just a single second in loading is associated with a 7% drop in conversions.
The data is clear: inconvenient delays make it substantially more difficult to generate sustainable traffic, increase the average visit length, and make more sales. Cutting your loading times by even a small percentage will improve your site's performance on a variety of metrics.
Managed WordPress hosting providers offer convenient site optimisation at affordable rates. They can keep your site working as quickly as possible while you focus on the audience-facing side of your web presence. While you could try to do this yourself, most users will have trouble matching the expertise and efficiency of an experienced WordPress hosting provider.
4. Service
Increased uptime is one of the main advantages of managed WordPress hosting, but the reality is that 100% uptime is an unattainable goal. Downtime can be caused by a variety of factors, and even the most proactive providers occasionally have to respond to technical issues.
With the right provider, you'll receive alerts for any unexpected problems, along with a quick response to get your site back up and running. You won't have to worry about troubleshooting; just let your audience know what's happening and explain that your team is working to resolve the problem. The provider will keep in touch as they make progress on the issue, and take the steps necessary to prevent it from happening again.
What separates managed WordPress hosting providers from in-house site management is the complete focus on WordPress sites. Your provider's deep knowledge of WordPress will enable them to minimise downtime far more effectively than the average user.
Conclusion
The four S's of managed WordPress hosting illustrate exactly why hosting providers are so helpful for most website owners. Managed hosts are specialists in a wide range of tasks that many users aren't as familiar with, and optimising WordPress sites is their full-time job.
Running your WordPress website in collaboration with a hosting provider will give you the security of knowing that your site is in good hands. Over time, the improved optimisation will help you make more sales, attract more visitors, and generate more interest in your site.
Further reading on WordPress, web hosting, and website builders
Learn more about managed vs unmanaged hosting in our feature comparing the two. With WordPress hosting, learn the differences between web hosting vs WordPress hosting.
Understanding how your web hosting impacts security, how to avoid common hosting mistakes, domain privacy, and how hosting can affect SEO can all boost your site's performance.
Find out how to build a website with WordPress; discover the biggest WordPress website mistakes, and how to fix them; and read our comparison pitting WordPress vs Wix vs Squarespace.
A daily dose of IT news, reviews, features and insights, straight to your inbox!
Alex is a writer focused on providing insightful, actionable content that can truly change the way readers approach their finances. Alex has been writing as a freelancer for several years on a variety of topics including marketing, parenting, and customer relationships along with personal finance. He's particularly interested in the way seemingly small adjustments can transform a person's financial outlook.
A daily dose of IT news, reviews, features and insights, straight to your inbox!
Thank you for signing up to ITPro. You will receive a verification email shortly.
There was a problem. Please refresh the page and try again.