How to choose the right cloud supplier for your business
Whether you've already moved your servers to the cloud or are in the market for something new, here's what to look out for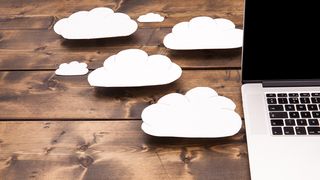 (Image credit: Shutterstock)
Traditionally, organisations seeking to centralise their data storage were forced to plough money into running and maintaining an on-site file server. However, times have changed: today, it is possible to simplify your data management by investing in a cloud storage solution, which not only ends up being much more cost-effective, but also makes day-to-day operations easier.
RELATED RESOURCE
Join the 90% of enterprises accelerating to the cloud
Business transformation through digital modernisation
For instance, if you ever tried sending your customer or team member an email filled with several clunky attachments, you know that it can be a real headache. Especially from the client's perspective, it can create the impression that your business is technologically dated. This is because, these days, it's much easier – and safer – to use download links which, with the help of the internet, bring in the data from the cloud straight to the addressee's device, making data transfers fast and simple.
However, this is just one example of what the cloud has to offer. In actuality, cloud storage offers way more than what the term suggests – nowadays, cloud providers tend to go the extra mile and are no longer just a handy data depot. From cyber security services to hardware offerings, cloud providers are capable of supplying a range of useful features which will transform the way you do business, allowing you to fully focus on your customers' needs.
The only potential downside is the variety of available options, which can be quite overwhelming, especially if you're on the search for specific sharing and collaboration features. This is why, in order to make sense of it all, we've put together a quick guide on what to look out for in order to make the right buying decision.
Choosing a cloud supplier: What storage plan do I need?
You will be pleased to know that the vast majority of cloud providers offer customers a wide variety of different storage plans, making it easier to select a plan that best meets your needs and budget demands. Cloud providers tend to offer a fairly basic free tier, which are usually constrained by limitations when it comes to capacity or restrictions on how big the files you upload can be. Choosing one of these options will help save you money, but you could find yourself regretting it once you discover that essential files aren't able to be synced right when you're working on a key piece of work.
1&1 HiDrive provides a public cloud folder for team members to share
Selecting an option you have to pay for will give your data more flexibility, and give you more oversight through an administration console. It's through these consoles that you can choose how to implement file-level access controls and decide which users are able to access your cloud storage. Additionally, keep an eye out for tiered administration features that let you give employees some administrative powers. This means they'll be able to manage features like adding new users, making password changes, or carrying out access requests.
As you can probably guess by now, the paid service tends to offer a great number of features, so we strongly recommend you to choose this option, with prices beginning at a few pounds per month. However, you might think about choosing an advanced plan that comes with unlimited cloud storage for all your users, especially if your organisation requires working with huge amounts of data. These services tend to be fairly affordable, which may sound surprising.
Choosing a cloud supplier: How do I control the costs?
Although we've underlined how important it is to look for low cost cloud storage, it's still a good idea to take into consideration your needs and make sure you don't spend money on unnecessary gigabytes.
RELATED RESOURCE
Join the 90% of enterprises accelerating to the cloud
Business transformation through digital modernisation
It's also worth considering which users will have access to the service too. The cost of cloud storage is calculated on how many people need to access it, and not all members of your business need to be able to do this. The good news is that through a dynamic upgrade, many plans can be altered in the future if you need to add more users. However, downgrading isn't necessarily as simple, so it's always worth reading over the terms for the service intricately prior to committing fully to it.
Some good advice is if you opt to go with a plan that restricts how many users can access your cloud storage, it's probably wise to create a policy that informs workers what they are allowed to save there so your cloud storage doesn't become cluttered with unnecessary information. However, if this is deemed to be tricky to accomplish, then maybe select a cloud storage provider who can implement account usage controls, including storage quotas.
It's worth being aware of, however, that we've witnessed starter business plans use slightly misleading advertising. They've suggested that they offer a specific amount of storage for each user when the figure they are quoting is actually the full amount of storage you can expect to get for the whole organisation. Be aware, then, that if the plan doesn't mention there's a storage allowance per user, it probably means there's a specific amount of storage for the whole company.
You may also be able to save money by making a longer commitment. All providers will accept payment on a monthly basis, but there are substantial discounts on offer if you sign up for a yearly contract.
Choosing a cloud supplier: File syncing
Sync agents keep your files up to date, and some can apply bandwidth limits
Real-time file syncing makes cloud storage fantastically convenient and getting set up is easy. In most cases, the administration console can be used to send an email invitation to users, containing a link they can click to download a synchronisation agent and join the collaboration party.
The Box Drive agent provides easy access to all your files in the cloud
Note, though, that the sign-up process requires the user to provide a password for their cloud account. All the usual caveats apply here: the password should be secure and not easily guessed. Good providers offer admin controls that allow you to set policies that ensure passwords adhere to a specific format and strength.
Once the agent is installed, and the user is logged in, the latest files will start automatically downloading to each user's computer. If you're working with lots of large documents, look for an agent that lets users decide what should sync automatically and what should live in the cloud. Be warned, though, this can leave staff stymied if they lose internet access for any reason. In the past, we were one of many UK businesses that were hit by a Virgin Media service outage and were unable to access our cloud files for over four hours.
The Box admin portal gives an overview of all file-sharing activities
Assuming all is working well, cloud services also provide personal web portals, so each user can view their data, upload or download files, and share folders with team members. File versioning is a very worthwhile feature, allowing deleted files to be recovered or reverted to an earlier version.
Tresorit provides a rich desktop app with easy access to documents
One last valuable feature is the ability to send large files to other users or external clients simply by creating a web link in the portal and emailing it to them. For increased security, look for a service that allows you to password protect links, and apply download limits and expiry dates.
Some providers also enable external clients to send files to your cloud repository by invitation, without needing their own credentials.
Choosing a cloud supplier: What are the benefits?
Business cloud storage services bring a wealth of benefits. They can save you money and increase productivity, and many offer integration with other apps and cloud services such as Office 365.
It's worth noting that mobile support, although generally good with apps for Android and iOS, can vary considerably in terms of capabilities, so it's worth checking each provider to see which have the features you need.
This article was first published on 18/06/21, and has since been updated a number of times
Get the ITPro. daily newsletter
Receive our latest news, industry updates, featured resources and more. Sign up today to receive our FREE report on AI cyber crime & security - newly updated for 2023.
Dave is an IT consultant and freelance journalist specialising in hands-on reviews of computer networking products covering all market sectors from small businesses to enterprises. Founder of Binary Testing Ltd – the UK's premier independent network testing laboratory - Dave has over 45 years of experience in the IT industry.
Dave has produced many thousands of in-depth business networking product reviews from his lab which have been reproduced globally. Writing for ITPro and its sister title, PC Pro, he covers all areas of business IT infrastructure, including servers, storage, network security, data protection, cloud, infrastructure and services.
Get the ITPro. daily newsletter
Receive our latest news, industry updates, featured resources and more. Sign up today to receive our FREE report on AI cyber crime & security - newly updated for 2023.
Thank you for signing up to ITPro.. You will receive a verification email shortly.
There was a problem. Please refresh the page and try again.