HPE Discover 2023: All the announcements from the Day Two keynote
Keep up-to-date with all the day two announcements live from HPE Discover 2023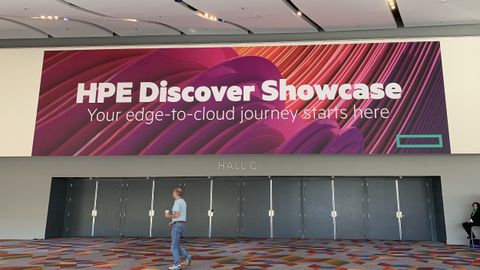 (Image: © Jane McCallion/Future)
Good morning from sunny Las Vegas. Following on from CEO Antonio Neri's keynote yesterday, today we're going to be hearing from CTO Fidelma Russo with a bit more of a deep dive into Tuesday's big announcements.
Refresh
Delegates will soon be making their way to the keynote theatre to hear what CEO Antonio Neri has up his sleeve. As noted in our preview, we can expect to hear a lot about HPE GreenLake – described by Neri yesterday as the company's North Star.
It's already getting busy on the show floor, with some of the most prominent stands giving an inkling of the priority messages of the conference. There's also a lunar rover for reasons I'm hoping will become clear later.
With just 10 minutes to go before the keynote kicks off the auditorium is getting pretty full.
Lights down, roll VT, the Day One HPE Discover 2023 keynote is underway!
Neri has taken to the stage and is thanking all attendees both on site and those watching remotely.
"Today, believe it or not, is my sixth keynote on this stage" says Neri. He reminisces on how much things have changed in that time for better and worse.
Since the acquisition of Aruba, the company has tripled the size of its networking business, Neri says.
Customer retention rate for GreenLake – the core of HPE's business and Neri's flagship project, is 98%
Neri is now talking about the company's Cray acquisition and the power of HPC, as well as AI. There's a "transformational" announcement coming up on this topic during the keynote – but first, a video break.
Time for some Intelligent Edge discussion. More than 50% of data is analysed and acted upon at the edge, says Neri. But 70% of data remains on premises and 'untransformed'.
Later this year you will see why this is the Year of AI at HPE says Neri. But still not yet... first he's talking about the importance of sustainability, particularly when it comes to data centers with initiatives like water cooling and renewable power sources. HPE is now one of only a handful of large companies with a certified net zero strategy for 2024.
We've got a hint of what's coming up. HPE has long called itself the "edge to cloud" company. This has rested on two pillars – edge and hybrid cloud. But a third element had appeared, ghosted, next to these and that is AI. So a crucial part of the businesses forward strategy, or going to be, so it would seem.
Neri says that HPE was ahead of its time with its dedication to edge computing. It's been bolstered by the acquisition of Aruba Networks and Silverpeak. He's also talking up AIOps, which is deliverred through HPE Aruba Networks.
"We continue to expand our portfolio" says Neri, with Axis being a recent acquisition that adds security to networking and the edge. Another acquisition has brought in private 5G offerings.
All of this is, naturally, available to customers through GreenLake platform.
Kerrell Hurt, global head of strategy, engagement and platforms at IHG has joined Neri. The company has been using edge services delivered through GreenLake for managing some of its services.
Hurt says the company wants guests to "fall in love" with IHG experiences and the IHG brand. They've been focusing on MLB – not major league baseball but Mobile, Loyalty and Booking.
Now they're going for NFL, which is about networking rather than the National Football Lague.
WiFi is now an essential in hotels. "Some people would rather have WiFi than running water" says Hurt, which raises a ripple of laughter from the audience. I think we all know it's truer than we would like to admit.
"Obviously we've been working with you around the edge with the Aruba portfolio" says Neri. Hurt says the two companies have a long term relationship and they "started dating" several years ago. They have HPE servers, "which are working great, by the way" and have been transitioning to GreenLake from traditional ownership.
All the networking is provided by Aruba. the partnership is "Inspired by IHG, but powered by HPE", says Hurt. It seems it's been a crucial part of IHG's succeess in generating revenue and returning business. And with that, Hurt is off the stage.
We're now onto the hybrid cloud segment. By Q2 2023, GreenLake platform had captured more than $10bn in total contract value since its launch.
Some stats to go with that.
Neri is now thanking partners. You can read more about yesterday's Partner Growth Summit here.
Neri is now talking about its most recent acquisition, OpsRamp. This acquisition only closed in May, but already it's being integrated into GreenLake, but will still remain available as a separate SaaS offering.
"Ultimately, no hybrid cloud is complete without integration with the public cloud." Earlier this morning, HPE annoucned further partnering with Amazon Web Services (AWS).