Can the Windows 8.1 update win over the enterprise?
Business users have been slow to adopt Windows 8. Could the forthcoming release of Windows 8.1 change that?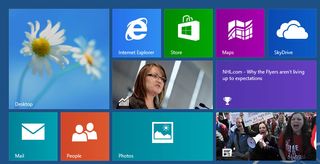 The release of Windows 8.1 could jump-start enterprise adoption of Microsoft's latest operating system, especially if the update sees the software giant reinstate the much-missed Start button.
The company announced earlier this month that more than 100 million licenses of Windows 8 had been sold since its launch in October 2012.
Copies sold through volume licensing agreements, which are used by companies to procure multiple Microsoft software licenses, were not included in this tally, but OEM and upgrade sales were.
As a result, exact details of how many businesses are running the operating system are difficult to pin down.
In a statement to IT Pro, Microsoft said it was unable to provide details of the number of Windows 8 copies sold through volume licensing agreements at this time.
"We recently surpassed the 100 million licenses sold mark for Windows 8 [and] this number includes Windows licenses that ship on a new tablet or PC, as well as upgrades to Windows 8," the statement said.
"We feel good about the progress since launch, including what we've been able to accomplish with the ecosystem and customer reaction to the new PCs and tablets that are available now and will soon come to market."
Microsoft did, however, recently confirm that two thirds of enterprises are now running Windows 7, and given the continued hold XP still has on many business desktops we think it's fair to suggest that not many have made the move to Windows 8 just yet.
There are many reasons for this. Firstly, Windows 8 has only been on sale a little over six months, and secondly as market watcher IDC and Gartner have both suggested the revamped Windows user interface may have caused some IT decision makers to hold fire on buying it.
After all, much has been made of Microsoft's radical overhaul of the operating system's look and feel. The firm has been criticised for replacing the Start Menu with a new tile-centric Start Screen and for introducing a new gesture-based navigation style.
Jeremy Davies, chief executive and co-founder of analyst firm Context, said the concerns raised by IDC and Gartner were justified, as the adoption of Windows 8 within the business community has been "very slow" to date.
"The Start button is something that was absolutely fundamental to the way people are used to experiencing and handling [Microsoft operating systems]," he told IT Pro.
"The way you transition people over to something like this is by taking it a step at a time. You don't take gargantuan leaps that will involve them having to learn how to do something from scratch again," Davies added.
Meanwhile, Richard Gibbons, software manager at Microsoft reseller Bechtle Direct suggested that few CIOs rush to deploy new operating systems as soon as they launch.
"A lot of IT managers have this idea that you shouldn't upgrade to a new Microsoft operating system until the first service pack is released, so you can let everyone else find the issues and bugs," he told IT Pro.
"So the fact [businesses are] not jumping right onto the new OS right now isn't that surprising."
A lot of companies delayed their Windows 7 deployments until the first service pack dropped. "Unless they were on Windows Vista, that is," he added.
Windows 8 downgradesAnd the ones that have bought Windows 8 may have chosen to exercise their downgrade rights if they are running an OEM version of the software or have acquired it through a volume licensing agreement and reverted back to Windows 7.
Davies said these versions of Windows 8 have been selling very well through B2B go-to-market channels.
"That's been going gangbusters and accounts for around 17 per cent of sales, which is up from virtually nothing a few months ago," he explained.
So, while Microsoft might be trumpeting the fact 100 million copies of Windows 8 have been sold, Davies' observation suggests the number of people actually using the operating system could be lower than that.
Although, Clive Longbottom, service director at market watcher Quocirca, said few consumers would know how to go about downgrading an OEM copy of the software to Windows 7.
"Consumers will take Windows 8 and keep it. Even if they do not like the new way of working, few would know how to downgrade a machine and fewer still actually do it," he told IT Pro.
"Those in the know will just download an app to bypass the modern UI of Windows 8 and put the Start globe back where it should be, enabling run a faster, more secure version of Windows 7."
From a business user point of view, Longbottom said there are probably practical deployment reasons why sales of downgradable licenses are on the rise.
"Business customers are unlikely to jump onto a new operating system as soon as it comes out, so they downgrade to what they already have,"he said.
"This is no reflection on the new version of Windows, it's just the company is not ready to move because users are unfamiliar with it, the help desk hasn't been trained and retro-testing of existing applications needs to be carried out," he added.
The upcoming release of Windows 8.1, an upgrade that is expected to reinstate the Start button, could arrest the growth of these types of licenses, Davies claimed.
"The arrival of Windows Blue [as it was previously known] will absolutely kill that," he said.
"Its release is a savvy move on Microsoft's part, and it was good to see them listen to what people said about the software and move so quickly to put things rights," he added.
This is a view shared by Bechtle's Gibbons, who said the release could go some way to kick-starting adoption of Windows 8 in the enterprise.
"The Windows 8.1 update should make quite a difference because it counts as a service pack, which will deal with the problem of users holding off on upgrades until that's released," said Gibbons.
"It will also alleviate the two biggest issues we hear about from customers about Windows 8 by allowing them to boot to the desktop and use the Start button again."
However, if the Start button doesn't make a reappearance, Longbottom said Microsoft will find it much harder to convince business users to deploy Windows 8.
"If it insists Modern UI is the way forward, it will have to set off various large explosives under the arses of the monitor manufacturers as there are few touch-based monitors available and the ones that are available are far too expensive," he said.
"Even with touch sensitive monitors in place, PCs aren't the place for it to be used all the time, as users need a means of dealing with the machine in a way they are used to. For example, through the reappearance of the Start Globe and alt/tabbing between apps on a desktop."
Get the ITPro. daily newsletter
Receive our latest news, industry updates, featured resources and more. Sign up today to receive our FREE report on AI cyber crime & security - newly updated for 2023.
Caroline Donnelly is the news and analysis editor of IT Pro and its sister site Cloud Pro, and covers general news, as well as the storage, security, public sector, cloud and Microsoft beats. Caroline has been a member of the IT Pro/Cloud Pro team since March 2012, and has previously worked as a reporter at several B2B publications, including UK channel magazine CRN, and as features writer for local weekly newspaper, The Slough and Windsor Observer. She studied Medical Biochemistry at the University of Leicester and completed a Postgraduate Diploma in Magazine Journalism at PMA Training in 2006.
Get the ITPro. daily newsletter
Receive our latest news, industry updates, featured resources and more. Sign up today to receive our FREE report on AI cyber crime & security - newly updated for 2023.
Thank you for signing up to ITPro.. You will receive a verification email shortly.
There was a problem. Please refresh the page and try again.