Google makes plans to build smart city
Google's Sidewalk Labs could hold competition to motivate and promote collaboration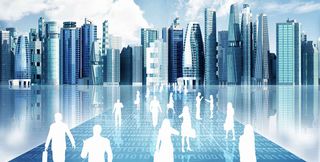 Google confirmed that it is planning its own urban district, and said it might be running a contest for it in future.
In a Medium post, Dan Doctoroff, CEO of Google's urban innovation organisation Sidewalk Labs, said the company is thinking of innovative solutions for urban areas, that could make cities more advanced and efficient.
Doctoroff said: "Technology has failed to solve many real-world urban challenges, and policy has failed to capitalise on the full potential of digital innovation. Cross-cutting problems require integrated solutions, ideally at the scale of actual communities. And yet there isn't a single city today that can stand as a model for our urban future."
The company's aim appears to be that of integrating new technologies within existing cities, other than building new entirely separate districts.
In a study, Sidewalk Labs found that applying a combination of urban innovations could reduce cost of living by 14%, save an average inhabitant an hour per day, and cut greenhouse gas emissions by up to two-thirds.
Sidewalk Labs was founded in 2014, with the goal of integrating new digital technologies such as connectivity, social network and AI into urban life.
The company received the attention of authorities in several cities around the world. In future, Sidewalk Labs might hold a competition to encourage greater participation of local leaders and mayors. He pointed to the success of the US DOT Smart City Challenge as a possible template of such a competition.
"We might even hold a competition or challenge to motivate broader participation among mayors and local leaders," he said.
"Whatever we do, we know the world doesn't need another plan that falls into the same trap as previous ones: treating the city as a high-tech island rather than a place that reflects the personality of its local population," said Doctoroff.
"Anything we try will require lots of discussion, refinement, and adaptation. Responsible innovation at the city scale requires self-reflection and a willingness to make adjustments based on local feedback."
A daily dose of IT news, reviews, features and insights, straight to your inbox!
A daily dose of IT news, reviews, features and insights, straight to your inbox!
Thank you for signing up to ITPro. You will receive a verification email shortly.
There was a problem. Please refresh the page and try again.