Government digital services 'fail to address public needs'
The public sector is failing to meet increasing digital demands, study finds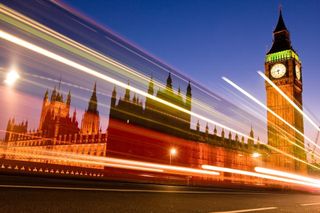 Over 70% of the UK population want greater digital access to government public sector bodies, while almost half believe digital services are failing to meet expectations, according to recent research.
In a study published today by Riverbed, it was found that although the British public is eager for a streamlined digital access to government departments, attitudes show that the public sector is significantly behind when it comes to easy to use digital infrastructure.
Almost two-thirds of citizens find the amount of information they need to provide to public sector websites 'off-putting', while over 70% would like greater data sharing between departments through a single digital portal.
"The UK public is open to new digital services, with some going beyond the realms of what is available today to reveal the types of services that they deem possible for the future," said John Street, regional director for government and defence at Riverbed Technology.
"Perception of digital public services is already pervasive in peoples' lives and as such, expectations for great experience is high," added Street.
Riverbed, a US-based technology firm that specialises in wide area networks, found that people regularly use the internet to check in for GP appointments, access council tax records, or use social media to contact local MPs, but increasing demands for high-speed internet and fully optimised digital applications are not being met.
Over 25% of the public is now open to the idea of futuristic services, such as driverless transport and the use of drones to deliver packages.
Convenience seems to be the most pervasive factor, as the study found that 57% of the public would favour greater data sharing among government bodies to avoid repeated form filling, despite the potential security risks that would bring.
The study, titled Government 2.0: A Riverbed Survey on the Public Sector Digital Experience, found that the banking sector was considered the leader in providing meaningful digital systems, where users have the freedom to securely access personal information on a variety of devices, particularly mobile and tablet.
It was also found that almost 63% of citizens feel public sector bodies do not support a wide enough range of technology for accessing information and that most do not sufficiently optimise websites for mobile devices that are available.
"This is why we created the Government Digital Service exactly five years ago," said a Cabinet Office spokesperson in an email to IT Pro. "The UK is now regarded by the UN as the top e-government in the world."
The Digital Service Standard sets out an 18-point framework for ensuring digital services provided by public bodies meet set criteria. These include ensuring services conduct extensive user research, have an understanding of security and privacy issues, and create a system that is intuitive enough for users to access the right information on their first visit.
However, the UK government faces a challenge in balancing the needs of an increasingly digitally savvy audience while improving efficiency in public bodies, according to Street.
"Moving to a digital-first model requires the introduction of new systems and technologies to build an infrastructure that not only improves frontline services but will see the back office become more efficient," said Street.
Riverbed recommends that the UK government work more closely with organisations to ensure services are keeping pace with the needs of the public.
This story was originally published on the 8 December at 10:35, and has since been updated with comment from the Cabinet Office.
A daily dose of IT news, reviews, features and insights, straight to your inbox!
A daily dose of IT news, reviews, features and insights, straight to your inbox!
Thank you for signing up to ITPro. You will receive a verification email shortly.
There was a problem. Please refresh the page and try again.