Blind NHS patients to get bionic eyes
Second Sight's Argus II tested by the NHS to give blind patients limited vision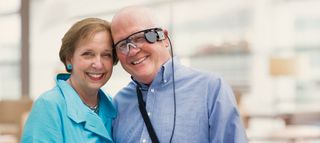 Ten blind NHS patients will receive bionic eyes to restore some of their sight.
The technology, called Argus II and made by Second Sight, has been trialled before by a small number of people, but the next ten implants mark a shift into mainstream medicine with their availability for NHS patients.
"This is the first time in history that any treatment for this type of blindness has existed and now it is to be offered free of charge to blind patients," Gregoire Cosendai, VP of Europe at Second Sight. "This is a major victory for blind people in the UK who have supported us in our six-year mission to fund Argus II in England."
The technology requires the patients to wear glasses that receive light, converting it into electrical pulses. That data is transmitted to electrodes attached to the retina, which sends the information to the brain. The system doesn't return perfect vision, but "restores a degree of visual function", with the brain seeing flashes of light.
"The Argus II works by converting images captured by a miniature video camera mounted on the patient's glasses into a series of small electrical pulses, which are transmitted wirelessly to an array of electrodes implanted on the surface of the retina," Second Sight explained in a statement.
"These pulses are intended to stimulate the retina's remaining cells, resulting in the perception of patterns of light in the brain. The patient then learns to interpret these visual patterns, thereby regaining some visual function"
To use the Argus II, patients will first have to have surgery to embed the electrodes to their retinas. The surgeries will be performed at Manchester Eye Hospital (MREH) and Moorfields Eye Hospital next year.
The NHS will track how well the bionic eye helps the patients, with a view to see whether the treatment should be offered more widely. Professor Paulo Stanga from Manchester Royal Eye Hospital, University of Manchester, performed one of the early trial surgeries. "It surpassed all of our expectations when we realised that one of the RP patients in Manchester using the bionic eye could identify large letters for the first time in his adult life."
"NHS England will fund this through its Commissioning through Evaluation (CtE) scheme, designed to gather vital evidence for treatments that show significant promise for the future," the NHS said in a statement. "NHS England will assess how the Bionic Eye helps patients function with everyday tasks."
The trials are specifically targeting Retinitis Pigmentosa, which is an inherited disease that leads to blindness. Keith Hayman was one of the early trialists of the Argus II, diagnosed with the disease more than forty years ago. The 68-year-old has been blind for 25 years.
"Having spent half my life in darkness, I can now tell when my grandchildren run towards me and make out lights twinkling on Christmas trees," he said in a statement provided by the NHS.
"I would be talking to a friend, who might have walked off and I couldn't tell and kept talking to myself. This doesn't happen anymore, because I can tell when they have gone. These little things make all the difference to me."
A daily dose of IT news, reviews, features and insights, straight to your inbox!
A daily dose of IT news, reviews, features and insights, straight to your inbox!
Thank you for signing up to ITPro. You will receive a verification email shortly.
There was a problem. Please refresh the page and try again.