Facebook to get Privacy Checkup tool
Social networking giant seeks to address privacy concerns over settings and services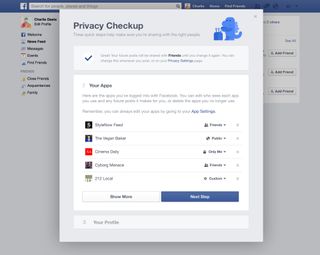 A new tool will start to appear on Facebook users' pages over the next few days to help people review what they are sharing with whom.
The pop-up will appear on News Feeds shortly. Alternatively, users can click on the "Privacy Shortcuts" tab near the notifications icon on the top of the page.
The tool will walk users through a series of steps that will help them figure out who can see what a user has posted on Facebook.
It also features a cartoon dinosaur that guides users through the procedure, possibly signifying that privacy is somewhat of an extinct concept in the realm of social media.
The privacy checker is similar to another feature Facebook debuted back in May when the firm updated its privacy settings. The three-step process looks at a user's posts, their app and profile.
The first step asks users if they want to share with friends only, everyone, or other custom options.
A second step looks at apps that have been used to log onto Facebook with. Users can scroll through these apps to see which ones post on a user's behalf. This stage allows users to delete apps they no longer use or fear could be encroaching on their privacy.
The last step helps users to review and edit the privacy options of key parts of a user's profile. The tool will remain available to users to access at anytime via the Privacy Shortcut icon at the top of the page.
The tool is currently only available via the desktop version of the site. Mobile users will have to wait a little while longer for the feature to come to smartphone and tablet apps.
A daily dose of IT news, reviews, features and insights, straight to your inbox!
Rene Millman is a freelance writer and broadcaster who covers cybersecurity, AI, IoT, and the cloud. He also works as a contributing analyst at GigaOm and has previously worked as an analyst for Gartner covering the infrastructure market. He has made numerous television appearances to give his views and expertise on technology trends and companies that affect and shape our lives. You can follow Rene Millman on Twitter.
A daily dose of IT news, reviews, features and insights, straight to your inbox!
Thank you for signing up to ITPro. You will receive a verification email shortly.
There was a problem. Please refresh the page and try again.