90% of businesses hacked via old, unpatched exploits
Companies are paying the price for failing to follow basic security guidelines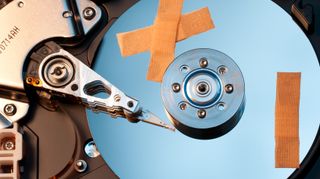 Hackers have successfully attacked nine out of 10 businesses with exploits that are more than three years old, new research has revealed.
Two-thirds of attacks over the course of Q2 2017 were ranked as either high or critical severity, Fortinet's latest Global Threat Landscape report found, while 60% of businesses were hit by an exploit relating to a flaw dating back more than a decade.
"Something we don't talk about often enough is the opportunity everyone has to limit bad consequences by employing consistent and effective cybersecurity hygiene," said Fortinet CISO Phil Quade. "Cyber criminals aren't breaking into systems using new zero-day attacks, they are primarily exploiting already-discovered vulnerabilities."
"This means they can spend more of their resources on technical innovations making their exploits difficult to detect. Newer worm-like capabilities spread infections at a rapid pace and can scale more easily across platforms or vectors."
The data reaffirms an oft-repeated mantra within the security community, that if companies do not follow basic security hygiene guidelines, their business and their users will pay the price.
The report , which collects data from three million of Fortinet's network devices and sensors deployed in customers' live production environments, also confirmed that hackers are actively exploiting businesses' working hours, with the average daily volume of attacks doubling at weekends when IT and security staff are likely to be out of the office. This led to a total of almost 45% of all exploit attempts occurring on Saturday and Sunday.
Unsurprisingly, file-sharing applications were a common vector for security threats to enter organisations. Businesses that allowed employees to use a large number of peer-to-peer file-sharing applications reported seven times as many botnets and malware instances as those who did not, while proxy applications reported a nine-fold increase.
The number of exploits is also growing, increasing 30% compared to the first three months of 2017 to 1.8 billion daily attacks.
A daily dose of IT news, reviews, features and insights, straight to your inbox!
Adam Shepherd has been a technology journalist since 2015, covering everything from cloud storage and security, to smartphones and servers. Over the course of his career, he's seen the spread of 5G, the growing ubiquity of wireless devices, and the start of the connected revolution. He's also been to more trade shows and technology conferences than he cares to count.
As reviews and community editor, he's responsible for leading IT Pro's wide-ranging product coverage, and is an avid follower of the latest hardware innovations. He's never happier than when tinkering with complex network configurations, or exploring a new Linux distro.
In addition to managing the IT Pro Panel and working with the community of IT leaders that make it up, he co-hosts the IT Pro Podcast, where you can hear him ranting about his love of strange gadgets, his disdain for Windows Mobile, and everything in between.
You can find Adam tweeting about enterprise technology (or more often bad jokes) @AdamShepherUK, or you can email him at adam.shepherd@futurenet.com.
A daily dose of IT news, reviews, features and insights, straight to your inbox!
Thank you for signing up to ITPro. You will receive a verification email shortly.
There was a problem. Please refresh the page and try again.