NCSC launches free in-browser security threat checks for SMBs
The new cyber toolkits will help SMBs assess their cyber readiness in a matter of minutes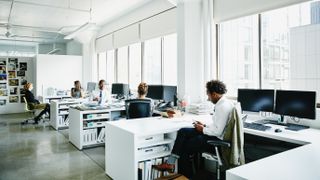 (Image credit: Getty Images)
SMBs across the UK can now access new tools aimed at reviewing their cyber security processes following the launch of two new services from the National Cyber Security Centre (NCSC).
The cyber security centre has unveiled two new toolkits that it said are designed to "help millions of small businesses stay secure online and protect their livelihoods".
The 'Cyber Action Plan' and 'Check your Cyber Security' tools are both free-to-use online, and form part of the centre's long-running Cyber Aware campaign. The scheme aims to raise cyber security awareness for small businesses, microbusinesses, and sole traders.
According to the NCSC, the Cyber Action Plan allows users to "answer a few simple questions to get a free personalised action plan" which outlines how organisations can protect against cyber attacks and emerging threats.
Meanwhile, the Check Your Cyber Security service is a more comprehensive tool which allows users to perform free online tests to identify common vulnerabilities in public-facing IT systems.
"All checks are remote, without the need to install software and use the same kind of publicly available information as cyber criminals use to find easy targets," the NCSC said.
This includes an IP address and website assessment tool which allows SMBs to check if their infrastructure is resilient to common attack methods that could lead to data theft.
In addition, a web browser checker assesses whether web browsers are out of date and therefore vulnerable to exploitation by threat actors.
According to the NCSC website, an email security tool will be made publicly available in due course. This will allow small businesses to check if email domains have "good practice protections in place" to mitigate growing email and phishing-based attacks.
UK SMBs facing increased threats
Commenting on the launch of the services, Lindy Cameron, CEO at the NCSC, said both tools will enable businesses to fine-tune their cyber practices amid a period of escalating threats.
Figures from the government's last Cyber Breaches Survey revealed that 38% of the UK's 5.5 million SMBs suffered a cyber incident last year.
"Small businesses are the backbone of the UK, but we know that cyber criminals continue to view them as targets," she said.
RELATED RESOURCE
Datto SMB cyber security for MSPs report
A world of opportunity for MSPs
"That's why the NCSC has created the Cyber Action Plan and Check Your Cyber Security to help them boost their online defences in a matter of minutes. I strongly encourage all small businesses to use these tools today to keep the cyber criminals out and their operations on track."
Martin McTague, National Chair of the Federation of Small Businesses (FSB) welcomed the move as a positive step to support SMB security across the UK and equip them with the "right tools and tailor-made guidance" to tackle growing threats.
"A fifth of small businesses see cyber crime as the most impactful crime in terms of both cost and disruption to their operations," he said.
"We're glad to see our recommendations to raise small firms' awareness on cyber security has been taken forward in NCSC's Cyber Aware campaign."
A daily dose of IT news, reviews, features and insights, straight to your inbox!
Ross Kelly is a staff writer at IT Pro, Channel Pro, and Cloud Pro, with a keen interest in cyber security, business leadership and emerging technologies.
He graduated from Edinburgh Napier University in 2016 with a BA (Hons) in Journalism, and joined IT Pro in 2022 after four years working in technology conference research.
In his spare time, Ross enjoys cycling, walking and is an avid reader of history and non-fiction.
You can contact Ross at ross.kelly@futurenet.com or on Twitter and LinkedIn.
A daily dose of IT news, reviews, features and insights, straight to your inbox!
Thank you for signing up to ITPro. You will receive a verification email shortly.
There was a problem. Please refresh the page and try again.