US State Department to establish cyber bureau
This comes as the country has experienced a number of high profile cyber attacks on its critical infrastructure in the last year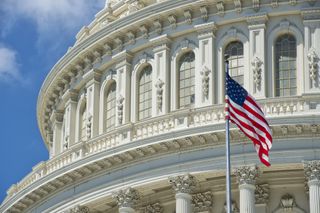 (Image credit: Shutterstock)
The US State Department is set to establish a cyber bureau after the country experienced a surge of cyber attacks on its critical infrastructure.
The Bureau of Cyberspace and Digital Policy will be led by a Senate-confirmed ambassador and will focus on three key areas: cyberspace security, international digital policy, and digital freedom.
The department hopes this will integrate the core security, economic, and values components of its cyber agenda. It also revealed its plans to establish a new special envoy for critical and emerging technology to lead the immediate technology diplomacy agenda with its allies and partners.
"The Bureau of Cyberspace and Digital Policy, that will include three sub-units focused on international cyberspace security – that's cyber policy and negotiations, cyber deterrence, cyber operations, and capacity building – international digital policy – and so that includes, for example, engagement with the ITU, standard-setting bodies, promotion of trusted telecom systems, digital technology tracks and multilateral agenda – and digital freedom," said Ned Price, State Department spokesperson.
The move comes as the US recovers from a number of high-profile cyber attacks, like the Colonial Pipeline attack in May which led to the shutdown of the US fuel pipeline. The company manages around 45% of the US east coast's fuel supplies and was forced to suspend 5,500 miles of pipeline between Texas and New York after falling victim to ransomware from the DarkSide group.
RELATED RESOURCE
HP Wolf Security: Threat insights report
Equipping security teams with the knowledge to combat emerging threats
The following month, JBS Foods paid an $11 million ransom to hackers who compromised its IT systems. The company, the largest processor of meat in the world and produces close to a quarter of the US's beef, fell victim to an attack at the end of May. The company confirmed it made the $11 million ransom payment in Bitcoin.
As part of its response to the growing threat, the US Treasury has also imposed sanctions on virtual currency exchange Suex for its alleged role in facilitating transactions for ransomware actors. The Treasury said in September that Suex facilitated transactions involving illicit proceeds from at least eight ransomware variants, underlining that over 40% of its transaction history is associated with illicit actors.
A daily dose of IT news, reviews, features and insights, straight to your inbox!
Zach Marzouk is a staff writer for IT Pro, Cloud Pro, and Channel Pro where he writes news articles and in-depth feature pieces primarily focused on Asia Pacific and the US. Aside from covering topics like security, privacy, worker rights, and startups, he also contributes to the IT Pro podcast and IT Pro 20/20.
After studying an undergraduate degree in Arabic and Spanish at the University of Leeds, Zach completed a journalism internship at The Argentina Independent in Buenos Aires where he wrote about the country's history, politics, and technology.
He then joined IT Pro in 2017 where he was introduced to the world of B2B technology as a junior staff writer, before he returned to Argentina in 2018, working in communications and as a copywriter. In 2021, he made his way back to IT Pro as a staff writer during the pandemic.
Contact him at zach.marzouk@futurenet.com or find Zach's thoughts (and more) on Twitter @ZachMarzouk
A daily dose of IT news, reviews, features and insights, straight to your inbox!
Thank you for signing up to ITPro. You will receive a verification email shortly.
There was a problem. Please refresh the page and try again.