HouseParty counters hacking claims with $1 million bounty
The app has been plagued by hacking accusations that could threaten its surging success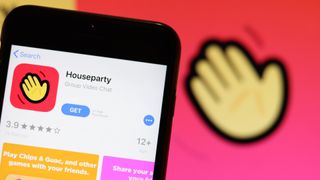 The owner of Houseparty has set a $1 million (£810,750) bounty to anyone who provides evidence that the video chat and game app fell victim to a commercial smear campaign.
Over the past few days, Houseparty has been plagued by hacking accusations which could potentially threaten its success and credibility; it's seen a surge in use after more people across the globe are forced into social distancing or isolation to curtail the spread of the coronavirus.
Numerous users have taken to Twitter to share screenshots claiming that downloading the app led to them being locked out of their Netflix, Spotify, and even bank account apps, some claiming that they had received a message saying that their Spotify account was being accessed by someone from a different country.
Epic Games denied the allegations: "We've found no evidence to suggest a link between Houseparty and the compromises of other unrelated accounts,"
"As a general rule, we suggest all users choose strong passwords when creating online accounts on any platform," a spokesperson for the company said.
Although Houseparty can request access to a user's contacts and Facebook and Snapchat connections, it is not supposed to access Netflix or Spotify.
Houseparty, which describes itself as "the face to face social network", allows users to hold group video chats as well as play virtual games with friends. Launched in 2016, it was purchased by Epic Games in 2019 and has enjoyed a significant rise in popularity in the face of the coronavirus pandemic.
According to data from App Annie, Houseparty downloads in the US have increased from 130,000 a week in February 2020 to around 2 million downloads in mid-March, while in the UK, it has topped the App Store's Social Networking charts.
The owners of the app are now offering $1 million to "the first individual to provide proof" that Houseparty had been subjected to a commercial smear campaign, encouraging anyone with information to send the evidence to bounty@houseparty.com.
A daily dose of IT news, reviews, features and insights, straight to your inbox!
A daily dose of IT news, reviews, features and insights, straight to your inbox!
Thank you for signing up to ITPro. You will receive a verification email shortly.
There was a problem. Please refresh the page and try again.