CES 2022: Sustainability is the new frontier for innovation
As businesses put green credentials at the heart of their buying decisions, hardware manufacturers are beginning to pay attention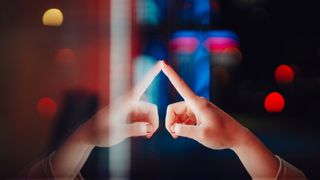 (Image credit: Getty Images)
This article originally appeared in issue 25 of IT Pro 20/20, available here. To sign up to receive each new issue in your inbox, click here
The Consumer Electronics Show (CES) sets trends in the PC market for the year ahead, and often for years to come. This year's event was different to most; halls sat largely empty after a host of major exhibitors pulled out at the last minute, while the Las Vegas strip remained free of glitzy post-conference parties. Nevertheless, there were still a host of announcements that looked to redefine the burgeoning market for the months to come.
While, naturally, we saw the usual smattering of innovative tech – from foldable OLED laptops to the breakneck CPUs – sustainability stood out as a major trend, with companies eager to showcase eco-friendly technology as the future of innovation. It's welcome, given the sector is responsible for up to 3% of all global emissions, with companies keen to promote their own sustainability goals and make environmental pledges.
The city, itself, even used CES 2022 to showcase its own green credentials, unveiling a digital twin of a seven square-kilometre section of Downtown Las Vegas, the city's historic centre and business district. This venture would model current and future scenarios to help officials set priorities and take action to address energy use, emissions, traffic, parking, and noise pollution.
This newfound eco-focus at CES is hardly surprising, with the Union of Concerned Scientists recently warning the climate crisis is escalating. It's also increasingly clear that consumers and businesses alike see green credentials as a key factor in buying decisions, meaning sustainability is becoming a fundamental aspect of marketing any technology.
It wasn't just startups looking to showcase their green credentials at CES – from Grov and its robotic vertical farming technology to Netherlands-based Tapp and its 100% recyclable smart paper – but major industry players too.
CES 2022: Dell
Although Dell didn't technically attend CES, hosting its own digital event instead, it showcased arguably one of the most impressive sustainability-focused reveals. The manufacturer revealed its Concept Luna prototype, its attempt to pair sustainable design with the thin-and-light appeal of the iconic XPS machines.
Luna – which is unfortunately little more than a concept for now – allows users to swap components like the display or keyboard to extend its lifespan rather than swapping the entire thing for a new model.
By focusing on repairability, Dell is tackling a major contributor to the growing climate crisis: e-waste. Not only do PCs contain materials such as lead, zinc, nickel, flame retardants, barium, and chromium, but these materials release toxic chemicals into the atmosphere. Replacing laptops every few years, therefore, can only be a net harm.
CES 2022: Lenovo
While Lenovo's showing perhaps wasn't as strong as Dell's, highlighting its eco-friendly credentials was also on its agenda as it revealed the new Yoga 13. This machine is shipped with a fabric-wrapped cover made from "up to 50% recycled plastics", as well as power adapter and packaging crafted from recycled materials. Similarly, Lenovo's business-focused ThinkPad Z13 and Z16 laptops have been given a green makeover, with the chassis crafted from either recycled aluminum or black vegan leather.
"Sustainability extends to the packaging which is made from 100% recyclable and compostable bamboo and sugarcane, and the AC power adapter uses 90% Post-Consumer Content (PCC)," Lenovo announced, adding it's also expanding the CO
offset service it debuted for business customers last year.
CES 2022: Acer
Perhaps best known for its cheap and cheerful laptops, Acer launched its Vero National Geographics Edition laptop, which uses post-consumer plastics in a number of large components, from the chassis covers to the key caps. This is in addition to shipping with 100% recyclable packaging. The laptop itself will also be easy to repair, thanks to a design that uses standard screws to secure the bottom cover.
CES 2022: HP
For some time now, HP has claimed its ambition is to become the world's most sustainable and ethical technology company. When the HP Elite Dragonfly was released in 2019, it was among the first true mainstream environmentally responsible business devices. HP claims the latest edition, the G3 model, will be among the first to incorporate ocean-bound plastics, with its speaker enclosure component made from 50% post-consumer recycled plastic. Moreover, the Elite Dragonfly is a small part of a wider ocean-bound plastics initiative for the company.
"Others include the HP EliteDisplay E273d, the world's first display manufactured with ocean-bound plastics, and the Original HP ink cartridges made with plastic bottles collected in Haiti," the company announced. "To date, HP has sourced over one million pounds – or more than 35 million plastic bottles or more than 450 metric tonnes – of ocean-bound plastics from Haiti for its products."
CES 2022: Samsung
RELATED RESOURCE
The sweet spot of modern enterprise computing
Achieve security, reliability, scalability, and sustainability with hybrid IT infrastructure
Samsung took a different approach to its competitors, announcing an "everyday sustainability" concept rather than demonstrating its credentials by launching eco-friendly hardware. Through this initiative, the firm suggests it'll put sustainability at the heart of everything it does.
Samsung, for example, announced it has embraced new, low-impact product manufacturing practices and footprint-reducing packaging. This is alongside a more sustainable approach to customer experience, including the responsible disposal of products at the end of their life cycles. Samsung also said it plans to make all of its TVs and phone chargers operate on near-zero standby power by 2025.
CES 2022: Scratching the surface
In an age of disposal electronics and endless growth, hardware manufacturers bear some responsibility for our environmental predicament, given these firms continue to ship non-recyclable packages all over the world, while mining for rare minerals.
This year's CES shows that major industry players are starting to pay attention to this trend, and believe their costumes are increasingly factoring in the environmental factor into their buying decisions. For all the intentions, it's also clear businesses need help too, with research showing, for example, that organisations struggle to implement sustainable mobile computing strategies because many are forced to switch their mobile devices within just two years. With CES showing that sustainability is a key issue on the tech agenda for 2022, whether driven by a genuine commitment to changing the status quo or cynical marketing manoeuvres, it's evident the green agenda is serving as the new frontier for innovation.
Get the ITPro. daily newsletter
Receive our latest news, industry updates, featured resources and more. Sign up today to receive our FREE report on AI cyber crime & security - newly updated for 2023.
Carly Page is a freelance technology journalist, editor and copywriter specialising in cyber security, B2B, and consumer technology. She has more than a decade of experience in the industry and has written for a range of publications including Forbes, IT Pro, the Metro, TechRadar, TechCrunch, TES, and WIRED, as well as offering copywriting and consultancy services.
Prior to entering the weird and wonderful world of freelance journalism, Carly served as editor of tech tabloid The INQUIRER from 2012 and 2019. She is also a graduate of the University of Lincoln, where she earned a degree in journalism.
You can check out Carly's ramblings (and her dog) on Twitter, or email her at hello@carlypagewrites.co.uk.