It's time to ditch software subscriptions
Software firms may have grown addicted to subscriptions, but that doesn't mean we all need to blindly follow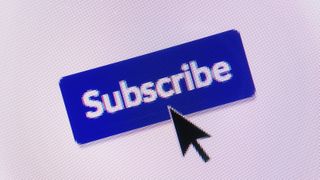 String me up on charges of shooting fish in a barrel, if you will, but I'm 99% sure we're all sick of paying subscriptions for software.
Two companies that are having no trouble living with themselves are those who arguably swung the pendulum towards subscriptions in the first place: Adobe and Microsoft. Adobe first launched Creative Cloud back in 2012, moving from the big one-off cost of Creative Suite to the subscription model, since when the company's net income charts have taken on the appearance of Tour de France mountain stage. Microsoft financial reports, meanwhile, reveal that Microsoft 365 Consumer subscriptions have increased by almost ten million over the past year alone to 54.1 million, while Office 365 commercial seat growth is up 17% year-on-year.
So, subscriptions are the gift that keeps on giving for the software giants, which is why almost the entire industry has latched onto the idea. If your small business files accounts, you're almost certainly paying QuickBooks, Sage, Xero or someone else a monthly stipend to record your financials; password managers want a monthly fee to spit out the f%djfDBbe3!d's for you; even gaming is swinging heavily towards subscription plans.
In my experience, most people won't grumble too much if software switches to a subscription model and offers something in return. There's a growing and obnoxious trend, however, for companies to switch to subscriptions and offer nothing extra – or to even withhold features from customers who previously paid for a one-off licence in full expectation of being able to use them for as long as they liked.
This was the case recently with the iPad/Mac note-taking app Notability. In a blog post with more spin on it than a Shane Warne delivery, the developer announced the app was going free! Free, that is, except for the $14.99 per year subscription that you'd have to pay to access most of its useful features. The company would generously give customers who'd previously bought the app one year's grace before the subscription kicked in, but then they'd be expected to pay again for some features they'd already bought.
That went down about as well as a Jacob Rees-Mogg lecture on Glastonbury's Pyramid Stage and within 24 hours the company was forced to yank the handbrake, spin round and promise not to take features off customers who'd already paid for them. But the apology came with a slab of emotional blackmail. "We are a small company, so we designed the original one-year access plan as a precautionary measure since we were not certain if we could support lifetime access," the Notability team wrote on its blog. "We sincerely apologise for putting our current users in this position."
RELATED RESOURCE
Flexible IT for agile service providers
Leverage consumption-based economics to create competitive advantage
Then there are companies that justify shuffling to a subscription by throwing in features you don't necessarily want in the first place. Acronis True Image 2021 got a five-star review, even though we grumbled about the one-off £34 cost. Now, however, Acronis True Image is no more and is replaced by Acronis Cyber Protect Home Office, which has "made the leap from backup to a complete cyber protection solution – combatting the full scope of data threats, from accidents and hardware failure to device theft and cyberattack". In other words, it's thrown in a series of security features that you might already have and is charging customers, you guessed it, £34 per year for the privilege.
Notability and Acronis are far from alone in being sucked into the subscriptions model – they're just the two most recent examples I had to hand. Although there are plenty of free alternatives to subscription-based software, the direction of travel is clear.
This, I fear, is bad for customers. Not only because there's a finite limit to how many subscriptions most people can afford to maintain, but because the monthly payout makes software firms complacent. They don't need to tempt you every year or two with killer new features that will persuade you to buy a new version – they've got you in the keep net. Especially when – as with Microsoft and Adobe – their software has a virtual monopoly on their particular sectors. Name a recent addition to Microsoft Word, or Excel, or Photoshop that would have tempted you to pay hundreds of quid for an upgrade? Bet you can't.
Stay up to date with the latest news and analysis from the world of cloud computing with our twice-weekly newsletter
Barry Collins is an experienced IT journalist who specialises in Windows, Mac, broadband and more. He's a former editor of PC Pro magazine, and has contributed to many national newspapers, magazines and websites in a career that has spanned over 20 years. You may have seen Barry as a tech pundit on television and radio, including BBC Newsnight, the Chris Evans Show and ITN News at Ten.