Capita outsources jobs to robots, despite own report saying nothing to fear
IT outsourcing firm will hand more than 2,000 jobs to robots as it fights "headwinds"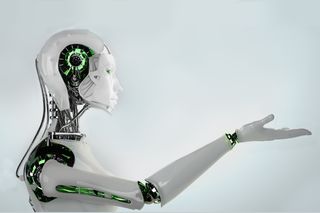 Don't think robots will take your job? Tell that to Capita employees.
The outsourcing company is slashing 2,250 UK jobs after posting another profit warning, with 200 of the roles headed to India and others automated to hand to robots.
Capita manages a host of public sector projects, including collecting the BBC licence fee and overseeing the London congestion charge, but has struggled as clients cut their spending due to "near-term headwinds".
CEO Andy Parker said in the Guardian that robotic staff don't remove the need for humans entirely, but will speed up how they work and require fewer employees. "They can then do ten times the amount they used to, so you need less people to do the same amount of work," he added.
Academics have predicted as many as a third of existing jobs will be lost to robots and automation in the coming years, but a Capita report released at the end of last month ironically suggested that 85% of employers believe workplace automation will create more jobs that it will replace.
The perhaps poorly timed report, called "Workplace More Human", admitted 72% of workers surveyed were afraid of downsides losing their jobs or "de-socialisation" of the workplace. However, a quote from Capita Resourcing managing director Jo Matkin said: "Automation holds considerable advantages for companies and employees alike. Yet employee fears and concerns could present a significant barrier to realising its full potential."
With the now-announced job cuts, it appears those surveyed workers were right to have some fears. Capita hasn't said exactly what types of jobs are at risk, detailing in a pre-trading update that it would invest "in a proprietary robotic solution to achieve scale automation across some of our operations and, more significantly, to deliver benefits to new clients".
Alongside the job cuts, Capita said it will sell its asset services division, as the wider company's shares fell to their lowest in a decade.
Parker didn't directly pin the company's troubles on Brexit, but said spending was falling this year - particularly at its IT services division. "There's been a fall away in what we would call discretionary spend, like training and (providing) employee benefits. People are delaying making decisions on implementing technology, so there is a whole host of things going on," he told Reuters.
A daily dose of IT news, reviews, features and insights, straight to your inbox!
A daily dose of IT news, reviews, features and insights, straight to your inbox!
Thank you for signing up to ITPro. You will receive a verification email shortly.
There was a problem. Please refresh the page and try again.