Foreign entrepreneurs run 1 in 5 UK start-ups
Brexit would threaten UK's "thriving" digital economy, says Coadec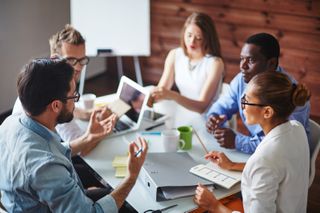 More than a fifth of UK start-ups are run by foreign entrepreneurs, according to new research from data intelligence company DueDil, up 133 per cent since 2010.
Of the 35,193 directors of new UK companies founded in 2014, 7,426 were foreign nationals, compared to 3,185 of 18,822 directors in 2010.
Additionally, the number of tech directors from European Union (EU) countries has risen by 176 per cent (3,188 from 1,155) during the same period.
Damian Kimmelman, co-founder and CEO of DueDil, said: "Our figures show that foreign entrepreneurs are playing a key role in the UK's tech ecosystem, and that their influence is becoming more pronounced. As a US national, I founded my company, DueDil, in the UK because of the opportunity provided here to scale into a truly international tech champion, based in London. An exit from Europe would potentially make that journey more difficult, for us as well as other companies."
The figures were produced using the DueDil tool, which analysed a total of 104,909 companies with an annual turnover up to 200 million founded each year between 2010 and 2014.
Recent research has revealed the majority of UK start-ups wish to remain part of the EU following the upcoming referendum, citing access to a large single market and free movement of labour as their main reasons to stay.
Guy Levin, executive director for Coadec, a non-profit trade body for start-ups, said: "The UK's digital economy is thriving, with London the best place in Europe to launch a digital start-up. Brexit would put this at risk, threatening the abilities of British tech companies to scale and trade across a single market of over 500 million consumers, and hire from a talented pool of workers."
There is growing concern among start-ups that it may become harder to hire skilled workers, with immigration reforms leading to major changes to Tier 2 visa guidelines, which were branded "disappointing" by industry trade body techUK.
"London has been hugely successful as a hub for new tech start-ups, not least because it is the best place in Europe for companies to scale," said Russ Shaw, founder of Tech London Advocates. "However, there is still a shortage of tech talent in the UK, and companies frequently have to scour Europe to get the specific expertise they need to fill key roles.
"Withdrawing from the EU would greatly complicate that process, resulting in entrepreneurs looking at alternative homes for their new businesses."
A daily dose of IT news, reviews, features and insights, straight to your inbox!
Caroline has been writing about technology for more than a decade, switching between consumer smart home news and reviews and in-depth B2B industry coverage. In addition to her work for IT Pro and Cloud Pro, she has contributed to a number of titles including Expert Reviews, TechRadar, The Week and many more. She is currently the smart home editor across Future Publishing's homes titles.
You can get in touch with Caroline via email at caroline.preece@futurenet.com.
A daily dose of IT news, reviews, features and insights, straight to your inbox!
Thank you for signing up to ITPro. You will receive a verification email shortly.
There was a problem. Please refresh the page and try again.