IBM: "Are you in danger of over-collaborating?"
Collaboration expert Danny Wilks warns businesses that they need to be much more effective with their workflows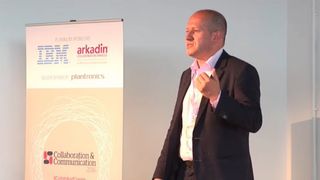 Your company could be wasting time and hindering productivity by "over-collaborating".
So claims Danny Wilks, IBM's business unit executive for collaboration and smarter workforce solutions.
Speaking at London's annual Collaboration and Communication summit, he warned that while cooperation within the enterprise is a good thing, companies should be wary of relying too much on a handful of key employees.
"We've got people inside IBM who we always go to," he said, "because they're the ones who know how to get things done."
"So how do you avoid a scenario where people are hounding those people, and going to them asking for information, and over-collaborating?" he asked. "Because that can be a double-edged sword."
Wilks also pointed out that the changes in workplace technology which have occurred over the past two decades have had a substantial negative impact on productivity. He cited a statistic from a Harvard Business Review report which stated that 80% of the working week is taken up with collaborative tasks like conference calls, working via email and conducting meetings.
"I can certainly relate to the fact that you start work in the morning with good intentions, and you're working through the items that you really want to get done and things start coming in, interruptions start coming in, and breaking the flow of what you're doing," Wilks said.
In fact, Wilks said, after every interruption, it takes time for employees to get back into the flow of working - up to 25 minutes, in some cases. "These interruptions happen, on average, every 11 minutes," he said. "This is the collaboration equivalent of a cyber attack."
In order to fix this problem, IBM says that companies need to adopt a more user-focused approach to application design, building their tools around ease of use rather than utilitarian functionality.
"Rather than taking an email platform as-was and simply building in more functionality," Wilks said. "We're taking a step back, and we're thinking about what does a collaborative platform need to look like now? What are the outcomes that different users require?"
To find out how IBM plans to help businesses overcome the challenges surrounding collaboration and communication in the modern workforce - including cognitive computing, in-depth analytics and the power of the cloud - register for free now to watch Danny Wilks' full keynote speech from the event.
A daily dose of IT news, reviews, features and insights, straight to your inbox!
A daily dose of IT news, reviews, features and insights, straight to your inbox!
Thank you for signing up to ITPro. You will receive a verification email shortly.
There was a problem. Please refresh the page and try again.